Userfeel is another UX tool of many on the market, which not only offers a tool for Usability Testing, but also its own testers from all over the world who will evaluate your website or app using the Userfeel app. For people who are not familiar with this tool, we have prepared a Userfeel review for you.
If you happen to be looking for a Userfeel alternative, we haven't forgotten about that in this article either. Read along!
What is Userfeel?
Userfeel is a remote usability testing platform, which offers around 150 000 testers speaking 40 different languages that will visit your website or mobile app and evaluate it in the scenario you'll design. You will receive a response along with a video of them utilizing it and their remarks.
To assist website owners to enhance the user experience of their websites, Userfeel teaches testers how to record videos that provide insightful feedback.
If a tester is puzzled or experiencing problems, you should be able to hear them express their difficulty by speaking out as they scroll thanks to Userfeel. 
You may test your website using Userfeel without any subscription. Simply pay 60€ for each tester. Alternatively, you can pay 30€ for each tester you bring. 
Is Userfeel worth it?
Userfeel is an excellent place to start if you are the owner of a website or app that you have never tested before or if you are not particularly familiar with UX. However, we advise using one of the 4 options listed below if you're seeking a greater variety of capabilities or want to perform more complex tests.
Userfeel also offers the opportunity to earn extra money as a tester to anyone who passes their qualification test. Here, however, many people criticized Userfeel that the approval of your application can take several months.
4 best Userfeel alternatives:
UXtweak

UserTesting

UserZoom

Userlytics
Here's a quick comparison of their reviews and pricing:*
| | | | | |
| --- | --- | --- | --- | --- |
| | | | | |
| | | | | Pro plan – $80/month Billed annually |
| | | | | Upon request, starting at $15K/year |
| | | | | Upon request, starting at $50K/year |
| | | | | Pro plan – $399/month Billed annually |
*based on the ratings from Capterra
Below we will compare each tool's pros, cons and pricing.
UXtweak
UXtweak is an all-in-one UX research tool, which offers a variety of great features all in one place. With UXtweak, you can test your websites and web/mobile applications at every stage, from prototype to production, as well as conduct research on information architecture and study user behavior analytics.
This platform is the greatest substitute for Userfeel since it combines all of your demands and more into a single, user-friendly tool.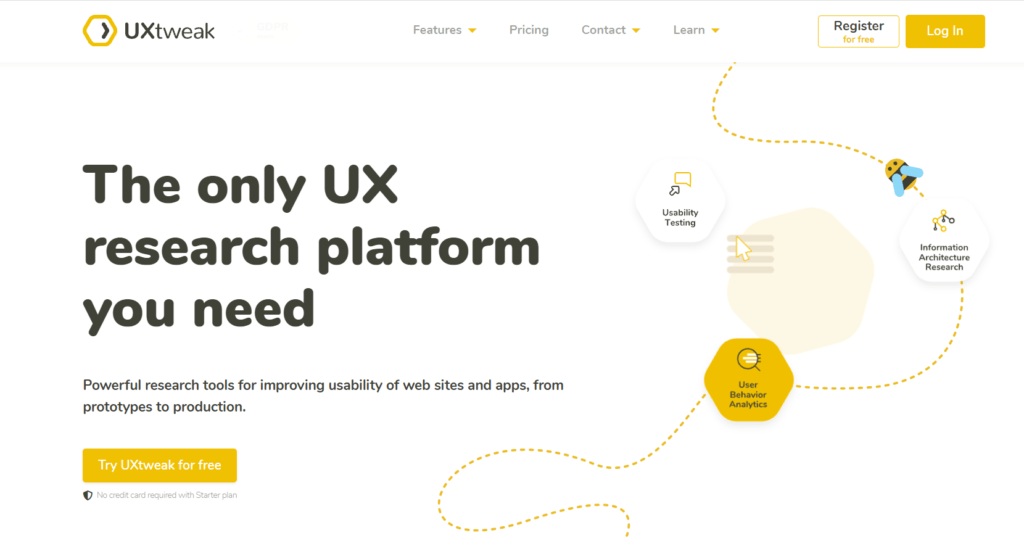 The easiest way to recruit users is with UXtweak! But why?
Because you don't have just one option but three:
Using UXtweak's

Recruiting Widget

, which enables you to freely recruit actual website visitors as research participants

Choosing users from UXtweak's

User Panel

with over 155M engaged respondents

Copying the URL to your study and sharing it with anybody you like
Other advantages of UXtweak:
Even grandma will find it easy-to-use

Advanced analytics

Intuitive UI and quick set-up

You can test as much as you want
Disadvantages of UXtweak:
Mobile testing is accessible for iOS devices only :'(
Pricing:
UXtweak offers a free starter plan that gives you unlimited access to all of its tools and has no time limits on research, perfect for smaller projects.
Additionally, you may choose between a Plus plan, which begins at 80€ per month, and a Business plan, which costs 117€ per month.
UserTesting
One of the original unmoderated testing websites, UserTesting, is still well-known for its enormous User Panel (over 1.5 million members). Product Insight, Insight Core and Marketing Insight are their three main offerings.
When combined, these three components can help with practically any type of study.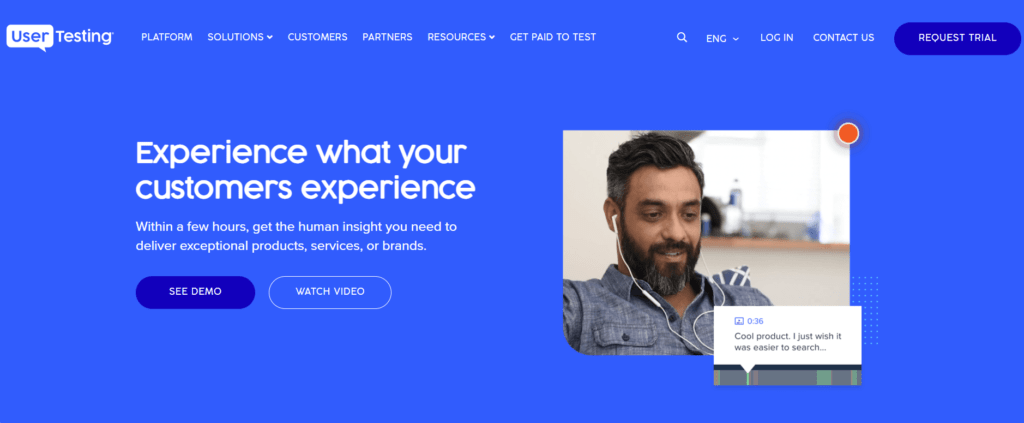 Advantages:
Advanced targeting – Users like the big participant pool's ability to let them more accurately target the desired study participants.

Instant insights—thanks to the vast number of comments, you may quickly learn everything about the situation.

With UserTesting you have the option to earn money as a tester. To become a tester at UserTesting is easier than at Userfeel. 
Disadvantages:
The biggest and most obvious problem with the site is the abundance of pointless responses. Even while UserTesting has a large volunteer base, it seems that a sizable chunk of them lack the skills necessary to contribute to worthwhile research. Some test takers are impatient, dishonest, or just appear indifferent, which clouds the overall picture of the evaluation process.

Reports with issues – some clients claim that UserTesting findings are challenging to understand and assess, making it challenging to quickly synthesize data.

No free trial.
Pricing:
Upon request. Starting at $15K/year.
UserZoom
UserZoom is a tool for a user experience that offers product designers useful UX knowledge for online interactions. The platform makes it easier to get customer feedback and insights through surveys, testing, audio, video, and other methods.
It provides tools for participant recruitment, usability benchmarking, research on information architecture, dashboard building, and more in addition to usability testing.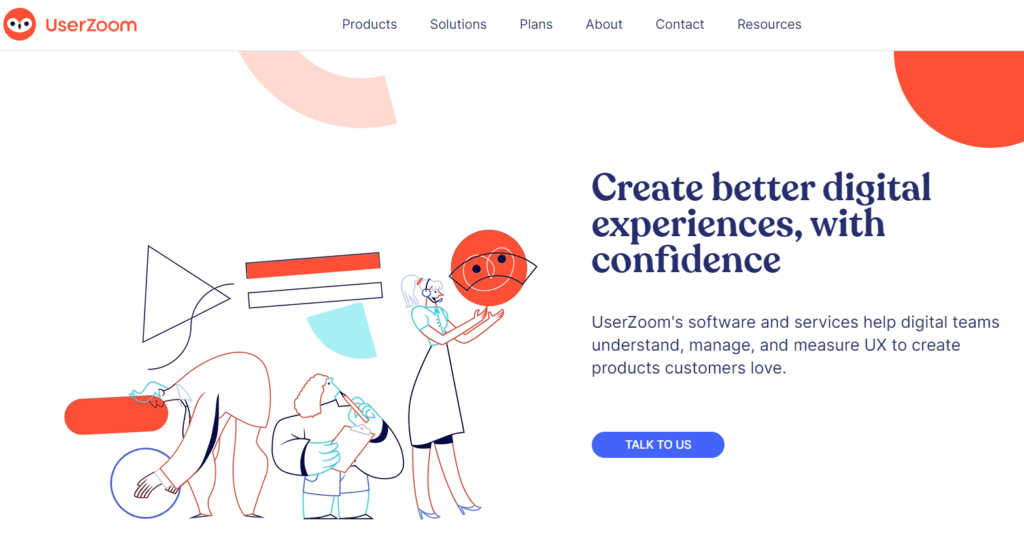 Advantages:
Useful at every step of development and launch, a comprehensive platform with a ton of options for moderated and unmoderated research.

Countless screening inquiries.

Enormous user panel.

Fantastic analytics and reports.
Disadvantages:
Not advised for individuals or small enterprises.

Pricey plans

A total newbie may find the platform's user interface (UI) to be a little confusing and difficult to use.

Even if they are thorough, study guidelines sometimes cause confusion.

There is no free trial.
Pricing:
Upon request. Starting at $50K/year.
Userlytics
Last but not least Userlytics, which is another great alternative to Userfeel. They are renowned for its rich feature set and reasonable pricing structure. As its UI is somewhat archaic, it's a great platform to keep in mind, especially if the tool's visual aspects aren't vital to you.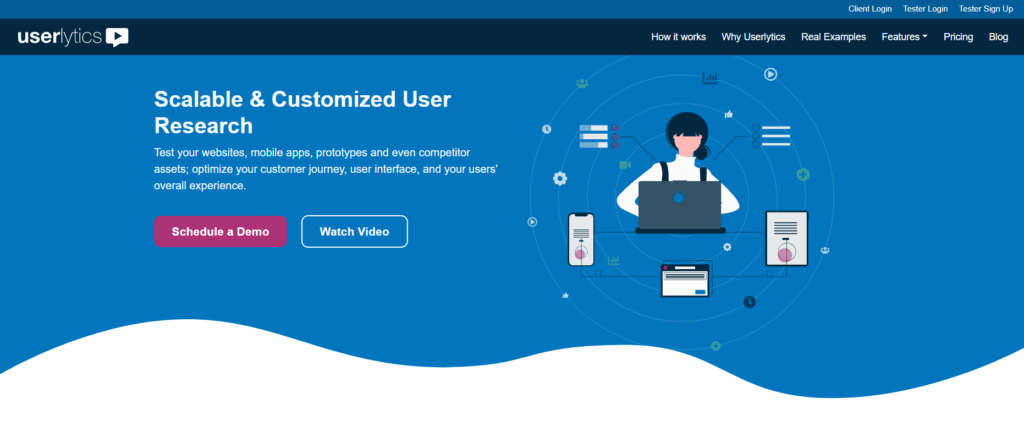 Advantages:
You may purchase automatic, multilingual, AI-generated transcriptions of your examinations.

Global participant panel: With a big responder base and deep targeting capabilities, you can get in touch with a range of user personas from across the world.

provides comprehensive reporting on quantitative metrics including time on task, SUS, NPS, and SUPR-Q.
Disadvantages:
Old-fashioned user interface – their user interface might be changed to be more user-friendly and less dated.

Several customers claimed that the testing process was a little too slow and had audio issues.

Reports in PDF format are not accessible.

There isn't much data provided by Userlytics on the demographics of the participants.
Pricing: 
While the Enterprise package is $69 per person, the entry-level Quick & Easy plan is $49 per person. Their Pro plan is $399/month (annual billing). Additionally, they may provide customized pricing.
Did you find your Userfeel alternative?
Now that you've finished this article you can finally try out one of these great Userfeel alternatives. There is no one to stop you. How about starting with UXtweak? Register at UXtweak and start creating your studies for free. Sounds like a good deal to me.