The 20 Best Retro Fonts For Vintage Branding
We love a good retro branding campaign because it has a timeless appeal. You can use retro fonts across various platforms and projects.
Whether rebranding your site or creating a fresh logo for your new venture, a retro font can help bring your brand's classic look to life. From typewriter fonts to vintage film posters, these are our favourites.
With the popularity of Pinterest, Instagram, and other image-sharing platforms, vintage-inspired graphics have become a mainstay in today's modern marketing strategy. 
From vintage logos to old-school fonts, there's no shortage of fonts that can help brands re-create the feeling of nostalgia in their advertising and brand design.
We're here with a new list of the 20 best retro fonts for use in vintage branding design. From midcentury modern to textured, retro styles are all the rage at the moment, and you can find them all online.
1 – Tangerine – Retro Fonts
When I think about retro fonts, I'm drawn to the unique shapes and bright colours of the 70s. Reminisce a set of letters with big hair and a bell-bottom vibe – Tangerine is the perfect font to accompany those nostalgic mood boards and vintage logos.
The Tangerine Font is a modern retro typeface with a 70's vibe and includes new letters. It has a unique lowercase, uppercase font, numbers, punctuation, and multilingual letters.
It has a unique combination of ligatures and the ability to include the old and new forms of letters. It is perfect for retro logos and nostalgic mood boards. Most software can support the regular fonts included in this pack. You will need software that can read OpenType fonts to use all the standard ligatures available in this font fully.
Loading Preview…
Powered by Creative Market
2 – The Bayland
These retro fonts are perfect for vintage logos and other formal projects. It'll remind you of the '60s. This typeface has the extruded version, so you can easily create your retro font. You can apply this typeface, particularly in logos and other formal forms like invitation cards, labels, magazines, books, greeting/wedding cards, packaging, fashion, make-up, stationery, novels, labels or any advertisement.
Some programs may not support OpenType features. This means that if you're using one of these programs, you won't be able to see and access all glyph variations. However, you will be able to access and use the standard font.
Loading Preview…
Powered by Creative Market
3 – TAN – NEW YORK
Tan New York is a contemporary typeface ideal for a wide range of display usage, including signage, social media, packaging, fashion, and websites. 
Inspired by blackletter typefaces, TAN NEW YORK masterfully combines vintage styles with modern typography. This bold font will give your designs a unique look. Using only capitals, you can create a highly stylised text, while combining capitals with lowercase letters will give you a highly legible text.
Loading Preview…
Powered by Creative Market
4 – Canbera – Display Typeface
Canbera is an old-style serif font which looks like a traditional printed font. It's also bold and has a rounded shape, which adds a fun, retro feel.
It is great for displaying large amounts of text, including headlines, web banners, or logos.
Loading Preview…
Powered by Creative Market
5 – Lovestruck – 70s Script Font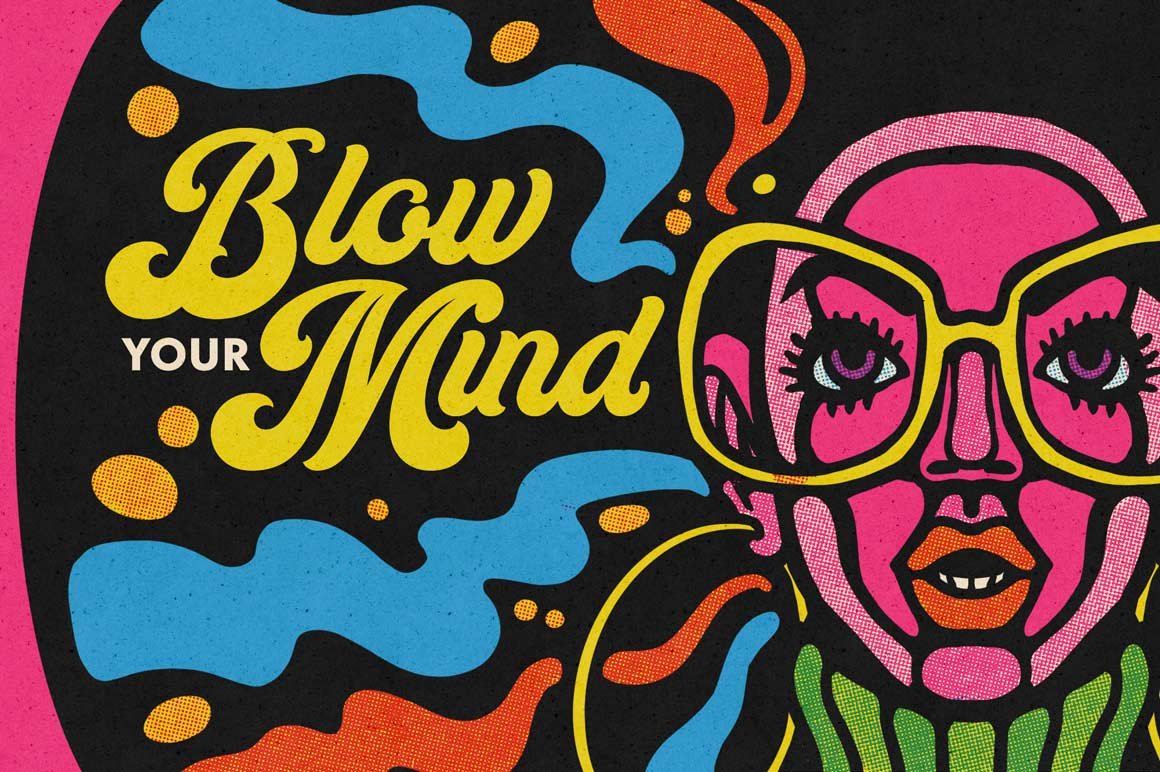 Lovestruck is a fresh new font inspired by the curvy, freeform lettering of the 60s and 70s. Art Nouveau movements and psychedelic culture are behind this new script font, and it comes with OpenType features to help you fit it into your design layout.
Old-fashioned fonts inspire the font that you see on this site. It was created to provide a modern feel to web page designs and give readers a sense of nostalgia when typing out words and sentences.
Loading Preview…
Powered by Creative Market
6 – Milkman Serif Font
Milkman is a retro typeface with a contemporary feel. It brings the curves with added contrast and modern serifs into the mix, creating an old school/new school juxtaposition. 
Milkman uses a "dragging foot" on the letters "m, n, h, a" as a retro homage with an off-axis "e" and "o", adding a deco touch. It is a perfect font for that vintage logo or layout design.
Loading Preview…
Powered by Creative Market
7 – Centrio Typeface
Centrio Typeface is a beautiful font that is perfect for use in various applications. It is a unique typeface that makes your typography stand out from the rest. 
Use it for a magazine title, poster, logo, t-shirt, sub-title, business cards, magazines, book covers, wedding invitations, templates, Instagram story posts, greetings, quotes, etc.
These letters are embedded within the font file and can be accessed in programs such as Photoshop and Illustrator. You can also access these in more basic design programs, but you'll need to use your Character Map or Font Book to get access to them.
Loading Preview…
Powered by Creative Market
8 – Regards – Modern Retro Serif
Regard is a versatile font that combines a retro and a modern look in the same typeface. Its versatility will allow you to use it in various projects. You can create elegant curves and beautiful shapes in seconds.
A display font with moderate contrast makes it an excellent choice for branding projects, logos, wedding designs, social media posts, advertisements, product packaging, product design, label, photography, watermark, invitation, stationery, and any project.
Loading Preview…
Powered by Creative Market
9 – Tropica Gardens – Font Trio
Tropica Gardens is a perfect combination of three fonts: bold serif, rounded sans, and authentic signature. This font trio also supports multilingual numbers and symbols. This font will be easy to find if you use it for any purpose. It's included in this package. In addition, this includes 12 beautiful pre-made logos.
Loading Preview…
Powered by Creative Market
10 – Thunderstorm
The thunderstorm is a versatile brush font which is great for logos and invitations. It's designed for logos and invitations, especially those with grunge or retro feel. It has been inspired by 80s-90s music, retro, disco, grunge, and pop culture.
Loading Preview…
Powered by Creative Market
11 – Creative Vintage Font Duo
Vintage Retro – A contemporary font with a retro style.
It's perfect for all occasions: Use Vintage Retro in your logo, tagline, titles, posters, magazine covers, newsletters, business cards, packaging, social media posts, blog header images and much more!
Loading Preview…
Powered by Creative Market
12 – Larken – A Beautiful Serif
Larken Essential is suitable for a wide variety of tasks. It comes in 4 different styles, which can help you meet the requirements of your projects. Choose a bold font if you're looking for a creative way to express yourself. It will make your text stand out and give you energy. Also, italics are available. They will add a stylish touch to your document.
The Larken font is based on organic curves and gentle repetition. Its regular weights have reduced contrast and optical corrections to create a warm and gentle appearance.
Larken is the result of a collaboration between type designers Chris Meyers and Jens Thielemann. The two met at a type foundry in Berlin, where they started their working relationship. They both have experience in various fields, including design, writing, and publishing, which were all incorporated into the Larken process.
Loading Preview…
Powered by Creative Market
13 – Vintage Goods Script
When the 1980s ended, a new typography style emerged from Japan, Europe, and the United States. They were all inspired by the calligraphy that had been around for centuries. The goal was to bring back the simple yet elegant designs of the past and create a font that could stand alone as an independent font family.
Loading Preview…
Powered by Creative Market
14 – Kinder Font
This font will surely add a punch to your design with a modern feel and unique style. This font's beautiful curves and unique characters make it a versatile powerhouse for logos, headlines, posters, and other things you can imagine. This typeface can make your work stand out, so pick it up today and make the world more beautiful with your creations!
Loading Preview…
Powered by Creative Market
15 – Carlson – 3 Font Combination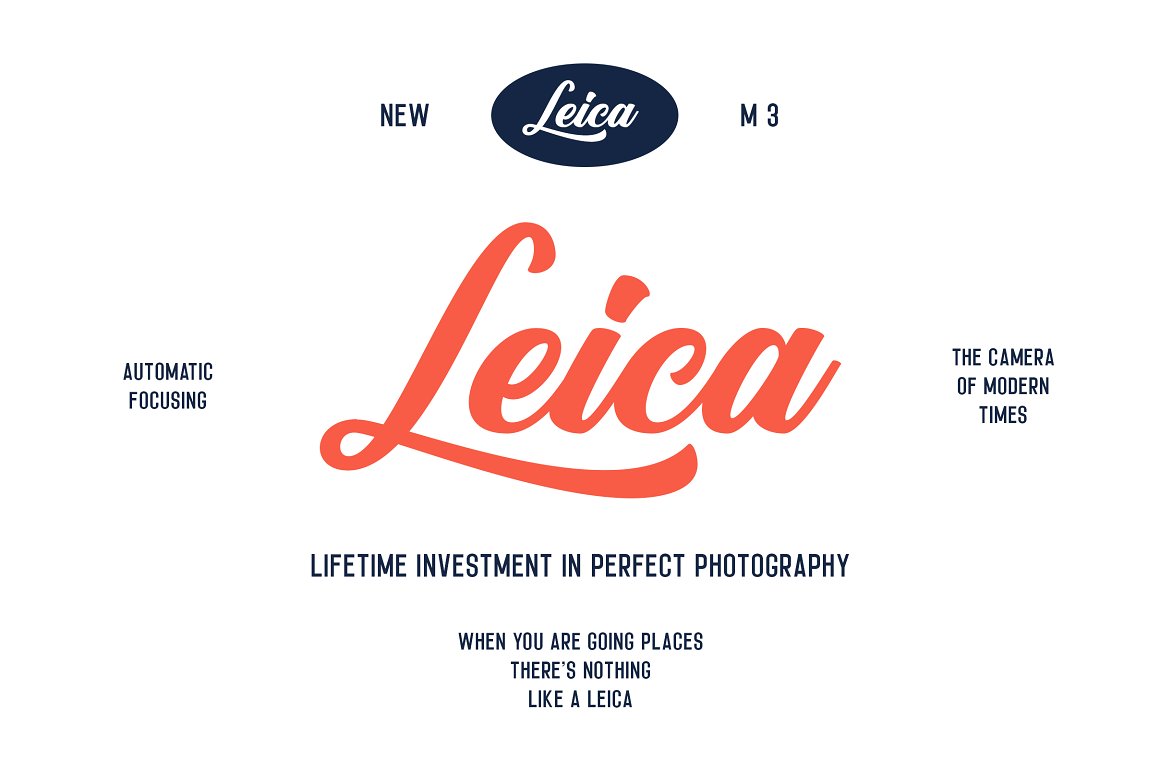 A new typeface inspired by the Nouvo art concept, combined with contemporary design. Stylish script and sans serif to create a modern, classy style. The gorgeous font comes in three families, script, bold sans serif, and condensed sans serif. 
It has OpenType features like swashes, stylistic sets, and ligatures to mix and match. This font is perfect for designing branding, logos, labels, apparel, etc. They've also included a bunch of pairings of letters to suit your needs.
Loading Preview…
Powered by Creative Market
16 – Broadway Font Pack
Inspired by the look of old-timey Broadway scripts but updated for a contemporary design. This typeface family includes four styles—two sans serif regular and two condensed. You can use this package to create a wide variety of design projects, including magazines, titles, invitations, movies, products, and brands.
The Broadway Fonts consist of 8 fonts with over 400 glyphs. The Broadway Script is a complete set of the primary characters and symbols for all the languages supported in the Adobe Suite. 
You can use the characters for any project that includes text, including print, Web, and multimedia projects. The Broadway Sans One is a condensed version of the Broadway Script. It is designed with the Broadway Script in conjunction with the Broadway Script Two for a more refined look.
Loading Preview…
Powered by Creative Market
17 – The Beardy
A new elegant retro display font called The Beardy is inspired by flourish typography and a bit of 60s-70s pop culture. 
It comes with OpenType features like stylistic alternates, stylistic set 01-18, and some of the ligatures. The purpose of this typeface is to be used for logos, headings, branding, magazine, cover album, book cover, movies, apparel design, quotes, invitations, flyers, posters, product packaging, printed quotes, etc.
Loading Preview…
Powered by Creative Market
18 – Bastro Bold Retro Fonts
Bastro is a bold retro serif font that feels casual and clean and has an incredible modern retro aesthetic. Use this Bastro serif font to add that special modern retro touch to any design idea you can think of! 
This font is PUA encoded, which means you can easily access all of the glyphs and swashes via Character Map or Character Viewer on mac!
Loading Preview…
Powered by Creative Market
19 – TAN – KULTURE
The TAN-KULTURE typeface is one of the best fonts you can use for your website. It has a beautiful design and a modern look. It is an excellent font for your site and your blog. It is suitable for all types of content, including text, graphics and video.
Loading Preview…
Powered by Creative Market
20 – The Wild Things
This font family is made up of two fonts that look great together. The first is a lovely, rounded script font with many alternate and OpenType features and a sophisticated design. The second is a sleek, rounded sans serif with a modern look and feel. Together, they're a great pair.
Loading Preview…
Powered by Creative Market
Wrapping Up
In conclusion, The 20 best retro fonts for vintage branding will help you achieve that "vintage style" look right now. Retro fonts were developed many years ago to be used on printed items such as magazines and newspapers. 
However, nowadays, they are still trendy and in use across various industries. So, if you are looking for a way to add a nostalgic touch to your branding, this article is perfect for you. This list contains the best retro fonts you can use in branding projects.
Use these to create your retro-inspired logos and web design projects.