Ecommerce Marketing: Why It's Important And How To Do It
In today's busy world, we all know that people want convenience. People are willing to give up time and energy for convenience. That's why eCommerce marketing is so important. 
You're giving customers what they want, the opportunity to buy products or services at a lower cost and without leaving their homes or offices.
There is a massive misconception that eCommerce is a relatively new form of commerce. ECommerce has been around since the early '90s. Ecommerce started when small mom-and-pop shops realised there were better opportunities to sell to a broader audience than relying on the big box stores that saturated the market. 
However, it wasn't until 2000 that eCommerce took off in the mainstream. Since then, it's been a steady stream of growth, fueled by technology, marketing and consumers' need for convenience and choice.
It's no secret that eCommerce has become one of the most popular online shopping methods. People love shopping and increasingly turn to the web to satisfy their cravings.
For many, the online shopping experience is as enjoyable as shopping in a brick-and-mortar store. But, if you're looking to increase your conversion rates and boost your sales, there's much you need to know about eCommerce marketing.
This guide will look at everything you need to know to build a successful eCommerce business. So, whether you're looking to set up your own online store or already running an established business, you'll get the information you need to improve your conversion rates and start seeing profits.
We'll look at choosing the right platform to run your eCommerce business, attract visitors, drive traffic to your site, and convert those visitors into buyers.
What Is Ecommerce Marketing?
As the name suggests, eCommerce is the sale of goods and services over the internet. Online retailers conduct eCommerce sales, often in conjunction with traditional retailers. They include eBay and Amazon, the leading online markets, and smaller sites selling clothing and furniture.
Ecommerce is an essential form of marketing for both individuals and businesses. When done correctly, it can help you tap into a vast global market and reach customers you would never have been able to reach otherwise. However, it requires a lot of skill and patience to manage successfully. 
It can be challenging to maintain an eCommerce store in addition to running your brick-and-mortar store. The work involved is time-consuming and expensive.
Ecommerce offers many benefits. It allows customers to buy products and services anywhere in the world without shipping fees and enables companies to reach more extensive customer bases than traditional marketing methods. Ecommerce also makes it easy for businesses to update their websites and provide customers with product reviews, feedback, and ratings.
On the other hand, eCommerce also comes with several drawbacks. The biggest one is cost. Online retailers must pay to host the web pages, and they must pay to advertise to potential buyers. Advertising costs can add up quickly.
For individual sellers, managing the entire process can be time-consuming. A single transaction can take several days to complete, so you may need to dedicate a significant amount of your time.
Some eCommerce platforms are very complex and can be tricky to learn, especially if you're new to online marketing. Managing a successful eCommerce store can also require an advanced understanding of technology and an in-depth knowledge of your target audience.
Ecommerce has the power to revolutionise the way that consumers shop for products and services. Whether or not it's the right fit for your business is a question only you can answer. To get started, talk to your local internet service provider. They can recommend an eCommerce platform that works for your business and help you plan your strategy.
Why Ecommerce Marketing Is Important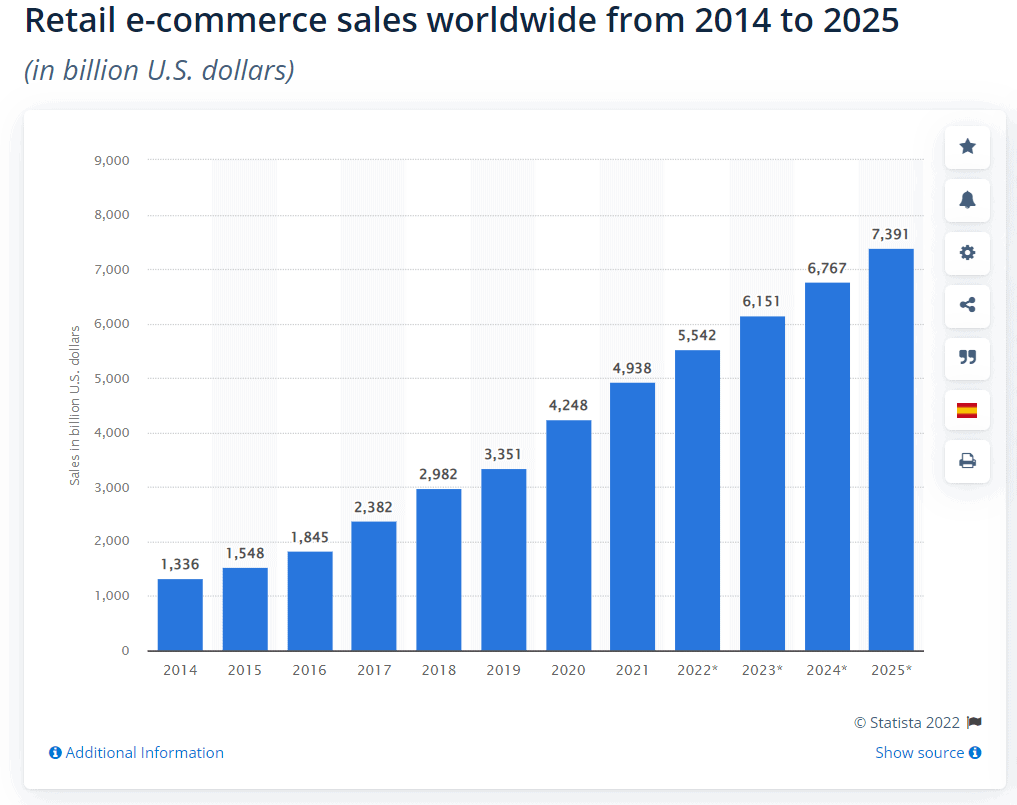 Because it's one of the most effective ways to sell products.
There are many types of online marketing, and some are much more useful than others. Some of the best include:
Social media marketing: In this type of online marketing, you target customers based on their social connections. This allows you to reach them where they already spend their time.
Content marketing: This is integral to social media marketing and involves creating valuable content for your customers and potential customers.
Mobile marketing: According to Nielsen, Retail eCommerce sales hit $360 billion in 2021, an increase of 15% over the year before. Mobile shopping is also becoming more critical.
Search engine optimisation (SEO): Using keywords on your website, blogs, and social media channels will help you reach more customers and drive more traffic to your site.
Paid search ads are advertisements purchased by businesses and placed on search engines. You can use keyword research to determine which terms generate the highest conversions.
Pay per click (PPC): In this type of advertising, you pay to place your ad on a search engine. Your goal is to rank higher than your competitors and to attract more clicks.
Affiliate marketing: This type of advertising is usually done through third-party sites and involves referring customers to your website. The affiliates make money when the customer buys a product.
A/B testing: This is a good option if you're looking to test multiple versions of your ad copy or if you're looking for something with a high return on investment.
How You Can do Ecommerce Marketing Right
Managing your content and optimising your site are very important to your success in eCommerce marketing. Without optimised content, your products won't sell, and you'll lose business.
When you build a website, the first thing you should do is write content. Content is what your customers find on your site. It should answer their questions and tell them why your product is better than the competition. Regarding eCommerce, content is king, and you want to create as much of it as possible.
While you could always hire someone to write for you, that's expensive and requires ongoing management. Instead, you can create content yourself, save money, and provide ongoing management and support.
How to Write the Perfect Product Description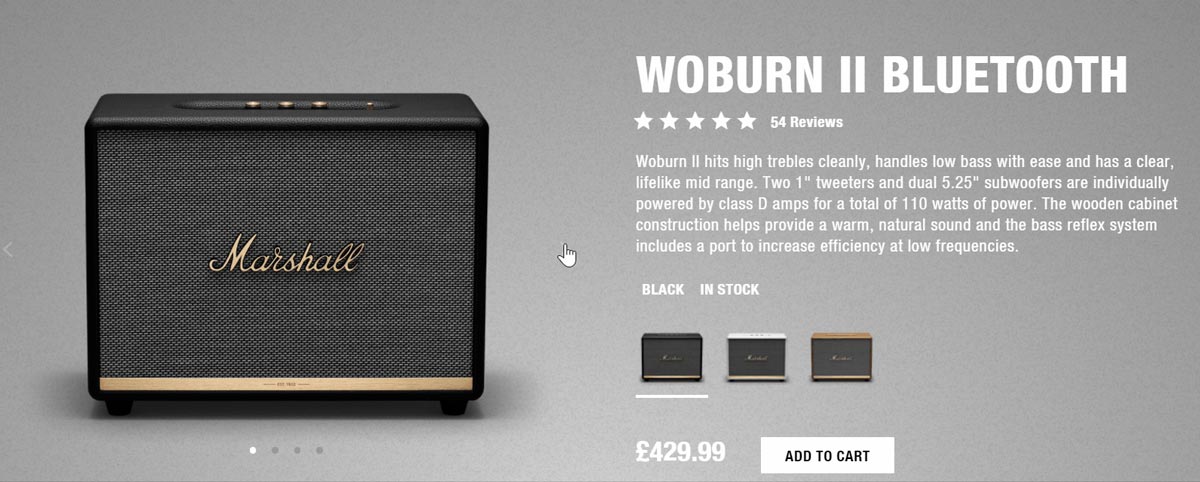 To write the perfect product description, you need to understand what is and isn't practical. While you might think your product description is unique, it's more effective when it's similar to other products. This is why product descriptions aren't compelling when they only offer one or two reasons your product is better than the competition.
Instead, you need to provide your product's main benefit in the first sentence and then add specific features and benefits. Use short sentences and paragraphs, which are easier to read and less tiring on your brain. Don't use too many adjectives, which will make reading difficult.
Finally, test the content you are writing to ensure it sounds natural. You can even write an entire article and have a friend or family member read it and tell you what works and doesn't.
What's the Right Length for Product Descriptions?
You don't want your product description to be long, but you also don't want it to be too short. People will look at a longer product description and assume it's more detailed, which can hurt your conversion rate. If you choose a product description that's too long, your site may load slowly and take longer to convert.
Instead, it's best to make your product descriptions around 500 words or about 15-20 sentences. This is just the right length to get your point across and entice the reader to click through to your site.
How to Optimise the Product Page
After you've written the perfect product description, it's time to make the product page more effective. In particular, it's essential to use a call to action. Call to action are the buttons and graphics that prompt your visitor to convert or buy your product.
Use an image of your product on the homepage, as well as on each product page. A photo helps your visitors know what your product looks like and gives them a reason to click through to your site.
In addition, use product images on each product page. This lets your visitors see exactly what their product looks like, increasing the likelihood of purchasing it.
Finally, create a video that shows the customer the product in action. If you have a product that requires assembly, you can show how the assembly process works with a video. You can still include a video even if your product doesn't require assembly. It will help you sell more by giving your product a real-world feel and showing off its capabilities.
Setting Up An Ecommerce Store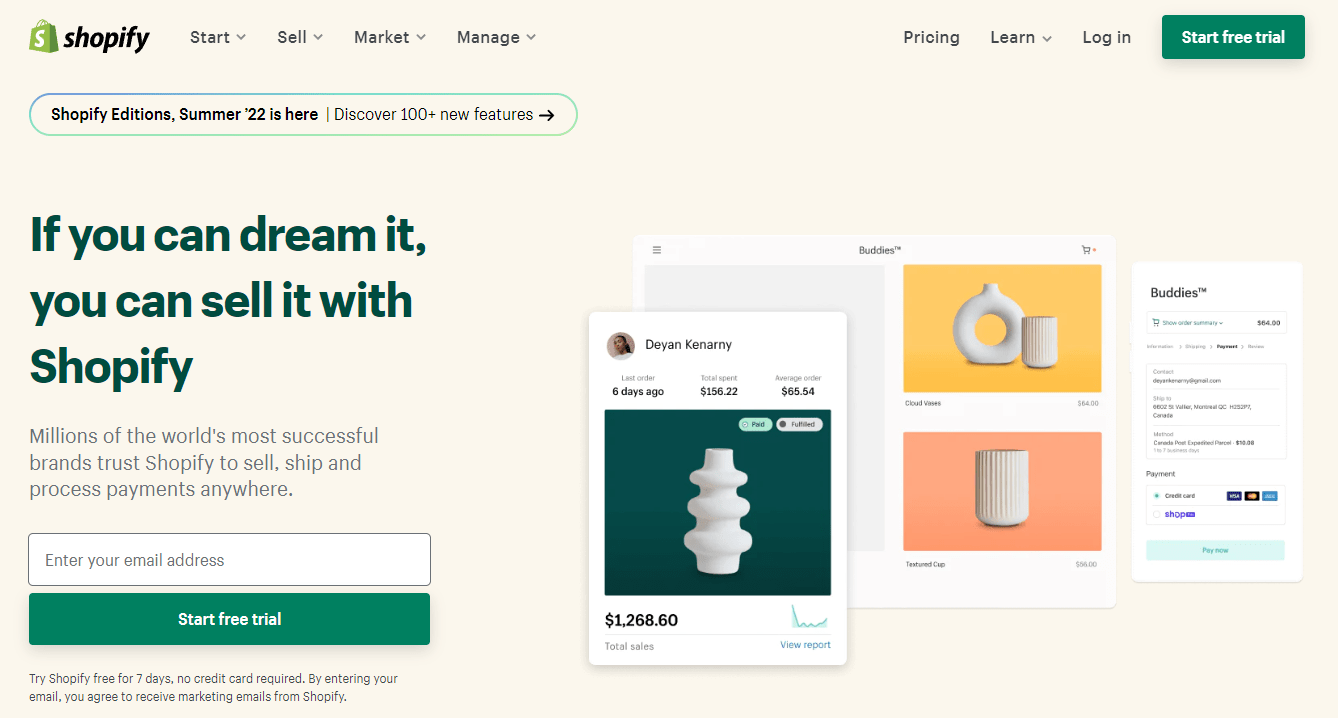 Today, almost every type of business can benefit from online commerce. The advantages of eCommerce are endless.
For example, thanks to the internet, you can start an online business anytime and anywhere. You can work from home and avoid paying for office space. If you want to make extra money, you can sell your products or services online to earn an income anywhere.
It is straightforward to set up your eCommerce store. Many tools are available to make your life easier, including websites like Shopify and BigCommerce. 
However, to start an eCommerce business, you need to know more than just how to buy a domain name and open an online store.
How to set up a store on Shopify or BigCommerce?
Setting up an eCommerce store is easy. You must decide where to display your products, how much storage space you want, and your shipping rates. Then you will need to purchase a domain name and register your website. 
The registration process only takes a few minutes and usually costs less than $10.
Once registered for your website, you'll need to set up your storefront and upload your product images.
There are plenty of online tutorials to show you how to do this. You can use Google and YouTube to learn more about eCommerce.
Do you need an eCommerce tool like Shopify or BigCommerce?
Various eCommerce tools make it easy to create your store, but they are all very similar. They all have some sort of online store builder, and you can choose from various payment options. The good news is that there are free trial versions of most eCommerce platforms, which allows you to try them out before making any long-term decisions.
After deciding which platform you would like to use, you'll need to build your eCommerce store. You can choose to create a template or start from scratch, whichever is easier for you. The templates are designed to make building your store more accessible, but you can customise them with your logo and colours if you prefer.
You can make your store completely private or make it visible to anyone. Many eCommerce tools offer additional features like reviews, coupons, and social media integration.
Once your store is complete, you'll need to start selling. You'll need to have the product images ready to go to add them to your store.
Finally, your store should be complete. Make sure you update your website and social media pages with the new address, and tell your friends and family about your new online store!
eCommerce is a great way to start a small business. It's quick, simple, and flexible, allowing you to create a unique and engaging experience for your customers.
When it comes to eCommerce, there are many options available. 
If you want to start a new business, you can try to build your store, or you can choose from one of the many eCommerce tools available. Either way, it is vital to know the basics of eCommerce so you can have a successful online business.
How To Get Customers To Buy From You
Ecommerce is all about selling products, but it can be much more. With a few well-planned eCommerce marketing strategies, you can use eCommerce to sell products and your company's story and services.
The main difference between traditional eCommerce and eCommerce marketing is that the latter is a blend of online and offline marketing. So, with eCommerce, you're leveraging both the internet and traditional media like brochures, flyers, catalogues, and other forms of advertising. It can be very effective if done correctly.
As a marketer, you've probably heard about the importance of eCommerce for companies that want to succeed. In fact, according to a recent survey by Small Business Trends, 73% of business owners think that having an online presence will help them grow. But how do you get customers to buy from you with eCommerce marketing?
Ecommerce is an effective way to reach customers on many levels. For example, you can use it to increase your sales, develop your brand, and reach more people.
You might not realise it, but the internet is already your best friend. More than 90% of Americans are connected to the internet. That means you can use online advertising to promote your product and drive traffic to your website. This alone could boost your conversion rates by 20-30%.
Here are five reasons to use eCommerce marketing to get more customers.
1. Target Your Customers More Effectively
With eCommerce, you can access a wealth of data that helps you understand what your customers want and need. You can better focus on your target market by building a solid customer base. For example, you can use data like demographics, behaviour, and location to identify your ideal customers and target your efforts to them.
2. Increase Sales by Using Coupons
When you include coupons in your eCommerce strategy, you can increase the number of sales you generate. According to one study, customers who used coupons were twice as likely to buy from a store that offered them.
3. Improve Customer Loyalty
Customers who purchase your products from an online store tend to have more customer loyalty than those who don't. eCommerce marketing is a great way to build your brand and connect with your existing customers.
4. Boost Productivity
The online world is vast. That means there are many ways to get the word out about your product, and you can choose the method that suits your needs. As a marketer, you can decide which eCommerce strategies to use to increase your conversions.
5. Save money
If you're like most businesses, you're looking for ways to cut costs and improve your bottom line. According to the U.S. Small Business Administration, using an eCommerce strategy can save money. For example, it allows you to sell items at wholesale prices and avoid paying for inventory or other expenses.
In summary, eCommerce is a powerful tool for marketing your business. Once you have the basics, it's easy to start implementing your online marketing strategy and see how it grows your company.
Ecommerce Marketing Tools
eCommerce marketing is an effective way to reach thousands of people. When it comes to getting leads, though, it's hard to compete with traditional methods, such as direct mail.
There are several eCommerce marketing tools out there to help you reach customers. Some are free, while others are paid. Here are a few that you can use to generate more sales.
1. Free eCommerce Marketing Tool: Email Marketing
One of the best ways to promote your eCommerce business is to offer email lists for new and existing customers. This tool works like a charm for generating new sales. Many of your customers will have signed up for this service while shopping online, so don't be afraid to start using this tool to reach more people.
To ensure you're not spamming people, you can use the filters to limit who gets the emails. If you've signed up to receive emails from someone, you can always unsubscribe, which makes it easy to start fresh.
2. Free eCommerce Marketing Tool: Social Media
Social media is a great way to connect with potential customers. Most social media sites are free, so it doesn't cost anything to reach many people.
The best part is that you can choose to follow them without having to sign up. Remember that if you want to follow all of your customers, it may become difficult to track them.
Another option is to use a tool like HootSuite to manage your social media accounts. This tool allows you to follow specific customers and schedule posts on social media sites for multiple dates and times.
3. Paid eCommerce Marketing Tool: Google AdWords
Google AdWords is a popular paid advertising tool, which is why you'll find it here. This tool allows you to bid for keywords related to your products or services. You can select the ads that appear for your keywords and whether you want the ad to be shown in image, text, or video formats.
You also have the option to include images or videos in your ads. This is a great way to show your potential customers that you have what they need.
4. Paid eCommerce Marketing Tool: Facebook Ads
Like AdWords, Facebook ads are a paid advertising tool. This is a great way to target customers actively searching for a product or service you offer.
When you set up your ads, you'll choose a goal for your campaigns. For example, you can tell it to get people to click through to a specific page or to enter their email addresses. You can also specify what type of people you'd like to reach, such as male or female.
You can also target by age, gender, location, interests, and many other factors. This allows you to reach a broad audience of customers while giving you the ability to reach them in the right way.
5. Paid eCommerce Marketing Tool: Display Advertising
Display advertising is a great way to increase your brand recognition and reach. It's more cost-effective than other options, and you don't have to pay to have your ad shown on a website.
Instead, you can buy a banner that you place on other websites. This way, you'll benefit from the traffic on that website, and the banner will still look good and make people want to visit your website.
eCommerce marketing is a great way to reach more people, especially if you've been stuck in the same area. You can increase your brand awareness and sales using one of the above tools. The best thing to do is to test each of them and see which one helps you generate the best results.
What Does The Future Hold For Ecommerce Marketing?
eCommerce marketing is an industry that's been steadily growing over the past 20 years. The global market for online retail sales is projected to be more than $5 trillion by the end of 2022, up from $1.8 trillion in 2016.
According to data from Morgan Stanley, global eCommerce rose from 15% of total retail sales in 2019 to 21% in 2021. Retailers continue investing in eCommerce marketing, but consumers are showing signs of fatigue. To survive and thrive, marketers need to figure out what keeps them engaged and how they can meet their needs in a more personalised and relevant way.
Shortly, we expect more retailers to adopt omnichannel strategies and start offering cross-channel experiences that blend offline and online shopping. The next generation of shoppers wants a seamless customer experience, and the best way to do this is by connecting the dots across channels.
With the ability to collect customer data from multiple platforms, retailers have the opportunity to become much more efficient in their data collection and analysis, ultimately leading to increased revenue.
Online Customer Behaviour Trends
Ecommerce is changing. Consumers are beginning to shop online not only for products but also for services, such as home improvements and insurance, which require knowledge of the customer's interests and preferences. The next generation of customers is more informed about what products and services appeal to them, and they're looking for a more tailored and personalised shopping experience.
A Deloitte report found that 83% of millennials believe brands are more trustworthy when they offer information about the people behind the products or brands. 75% of shoppers prefer to buy from brands that share information about their employees and suppliers.
Millennials also want brands to show their commitment to social responsibility, and 62% expect brands to have a positive environmental impact, up from 43% in 2017.
These changes in consumer expectations have led to more transparency and openness on behalf of brands.
Customers want brands to show their commitment to social responsibility and are increasingly willing to pay extra.
Customer Insights for eCommerce Marketing
With these trends in mind, how can we best provide a customised shopping experience? We see a few ways brands can leverage data to create that more personal and meaningful customer experience:
Create More Relevant Offers
Customers often shop on multiple platforms at once, so retailers must be sure to understand where customers are shopping and how they're using their different channels to get what they want.
For example, in the past, retailers may have offered a discount on an item across all platforms, whether or not that's the most relevant promotion for the specific customer. Now, we're seeing retailers segment customers based on the channel they use to purchase and offer relevant discounts, promotions, and cross-selling opportunities on each platform.
We've also seen the rise of chatbots as a customer service tool. Customers expect a human being to help them with problems, but you can train chatbots to interact with customers conversationally. They're a great way to create a more personalised experience and offer immediate solutions to common issues.
Collect More Data
As the lines between offline and online shopping continue to blur, it becomes more critical for brands to track how consumers shop and make decisions. Retailers can collect more data from devices, apps, and websites to gain insights into a shopper's purchasing habits, preferences, and intent.
Brands can also analyse their mobile app usage to identify potential improvements, such as the most popular features. With the ability to collect more data, brands can better understand their customers and tailor their marketing campaigns accordingly.
Omnichannel Marketing Strategies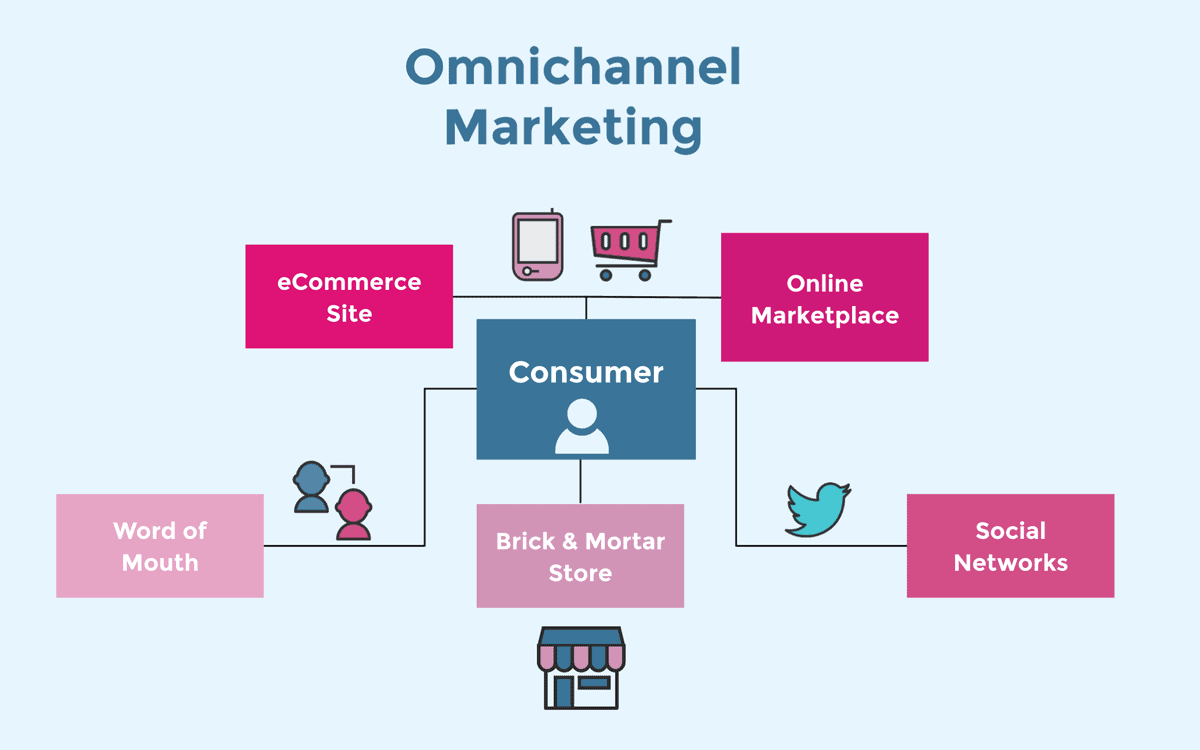 In today's eCommerce landscape, consumers expect brands to offer a seamless cross-channel experience. Brands that offer cross-channel experiences can provide customers with a more personal and engaging shopping experience. The key to this strategy is to create a seamless customer journey.
Omnichannel marketing strategies can help retailers increase conversions and close deals while ensuring customer satisfaction.
We know from our research that some of the biggest obstacles consumers have when buying online are finding items that fit their size and budget, getting the right product, and finding a product that matches their preferences. As we've seen in our survey results, those problems are magnified regarding men's clothing and shoes.
These challenges aren't exclusive to men's fashion. We're seeing omnichannel marketing efforts helping retailers sell more of any product across the board. For example, the fashion retailer H&M offers a seamless checkout process across all its platforms, including the web, mobile apps, and physical stores.
In addition, the shoe company Nordstrom offers free returns within 90 days of purchase for all of its products, regardless of their price. The company claims the policy generates approximately $1 million annually in savings.
Conclusion
There are many different ways to generate revenue online. However, if you're looking for the most effective way to make money, you need to understand eCommerce marketing.
It's the fastest-growing industry right now, and a considerable part of that growth is due to the rise of the internet.
This means that there are more people than ever before looking to purchase goods online. If you want to take advantage of this trend and make money online, eCommerce marketing is your best bet.
Want to learn more about eCommerce marketing? Sign up for the newsletter below.