User journey map is usually created to understand what happens when users interact with your product, how they go through it, and why they do so. This helps you develop better products that meet their needs more effectively.
Creating user journeys can help you fully understand your products and users. Don't worry if you don't know how to create one. This article will discuss user journey maps, their benefits, and how you can make a journey map. 
What is a user journey map?
A user journey map shows how the user experiences a product. Understanding how people reach and use  your product can make it more effective. A good user journey map will show you the order in which users need to complete tasks, what pages they visit, and where they click on a page before moving on to another space.
User journey maps show the customer's journey, including their interactions with the website, apps, and other products. You can improve your products and services by creating a user journey map. Finding out what customers are frustrated about will help you identify what needs to change and how to solve it.
Customer journey maps are interchangeable with user journey maps. Both depict a person using your product or service. However, one can argue that the term 'user' is more suitable because not everyone who uses a business-to-business product is technically a customer.
User journeys can be broken down into three main parts:
Goals: The goals that users have when using your product or service. These are usually communicated clearly through keywords related to what they want to do during the process.
Conversion Paths: These are steps that users take throughout their journey to meet their goals. These steps include important decisions that need to be made by users along the way, such as whether or not they want to buy something or sign up for an account on a website.
Experience: Users' overall impression after completing each conversion path in their journey and meeting their goal(s). This includes how easily they found what they were looking for on your website, how intuitive it was for them to navigate around it, etc. 
Why do you need a user journey map? 
A user journey map represents the different stages of your customer's interactions with your product or service. It's a way to show how users interact with each other and how they interact with your product.
A user journey map can help you determine where we need to make improvements. It gives us an idea of what we need to do before releasing our product and how we will measure its success after release.
UX designers make products fun, intuitive, and functional. User journey maps help you see a product from the perspective of a potential customer. It can be helpful in several ways. 
Understand the user flow 
UX designers use this information to create wireframes and mockups for developers to build functional prototypes that reflect the business goals.
Create personas
 Personas are fictional representations of your users and what they want from your product or service. Personas are used by UX designers as a starting point when creating stories about their users, which helps them understand their target audiences better and come up with ideas for copywriting, branding, design etc.
Product prioritization
The map makes it easier for teams to prioritize features by showing which ones are essential or optional and how users will interact with each screen.
Blind spots
A user journey map can reveal blind spots. You may discover design flaws or find new opportunities when considering how users interact with your product.
Features of a user journey map
As you map out user journeys, you'll probably find ways to adapt your maps to your business, product, and clientele. You can discover many original examples of user maps online if you search for them. Interestingly, many of these maps have several characteristics in common.
Personas
A persona represents your target customer, which includes information like their age, occupation, location, and what device they're using.
Touchpoints
Make a timeline of steps on a path that moves continuously based on the user's goals and actions.
Journey stages
The scenario is divided into high-level phases. You want to highlight what these phases are. 
Build a narrative
Use qualitative research in the timeline to illustrate user thoughts and emotions during each stage.
Opportunities
Seek ways you can improve your product's UX or how you can connect better with your customers. 
User journey map examples
 A User Journey Map template includes three parts (top – personas and scenarios; middle – thoughts, actions and feelings; bottom – insights and barriers to progress).  
The following images show how a user journey map works and provide a high-level overview of how the user navigates a site.   
This first example is a detailed user journey map of an online train booking experience by Deepika Sinha.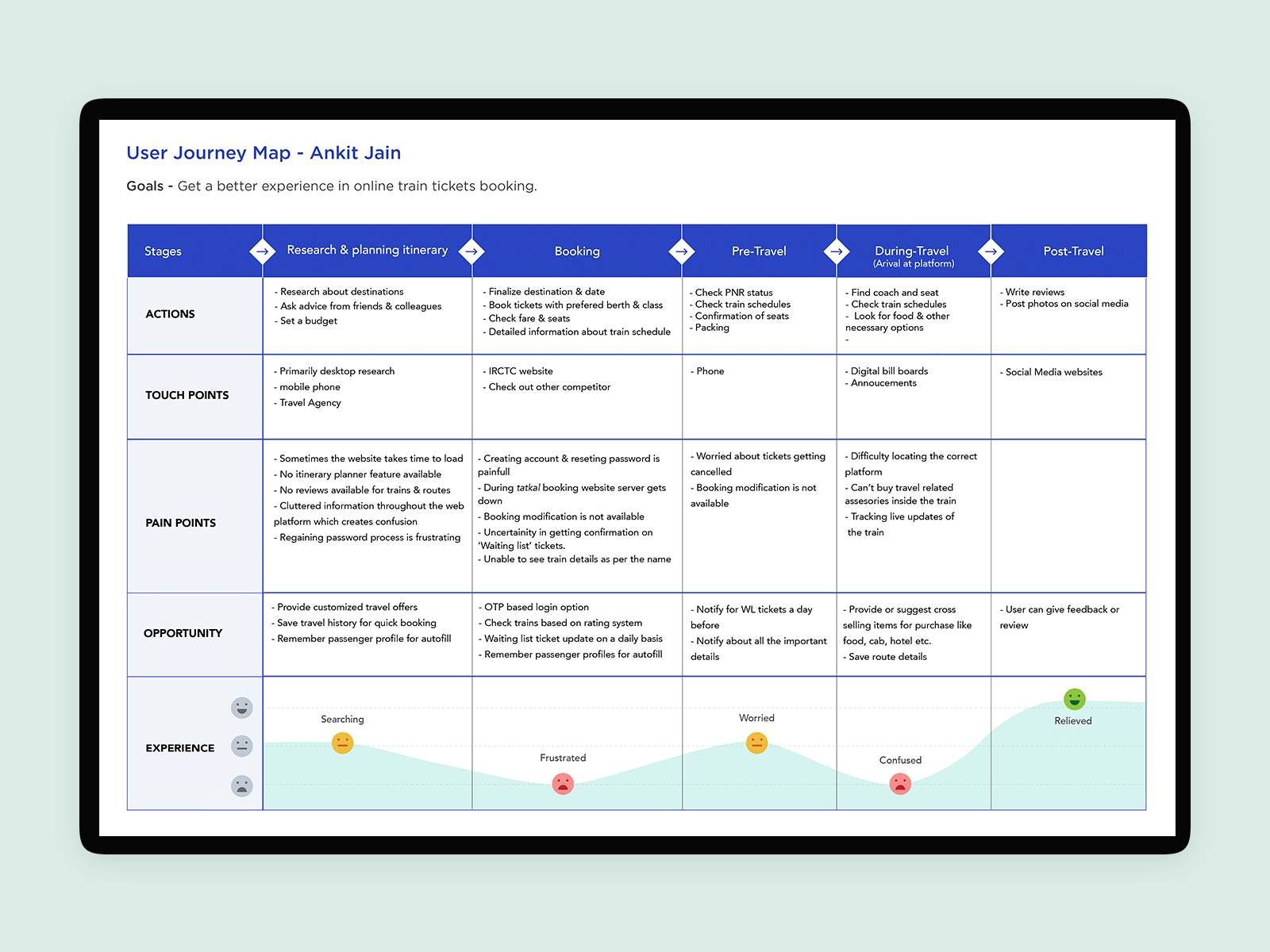 Here's another User journey map where a patient books an appointment through a mobile app by Praveen N: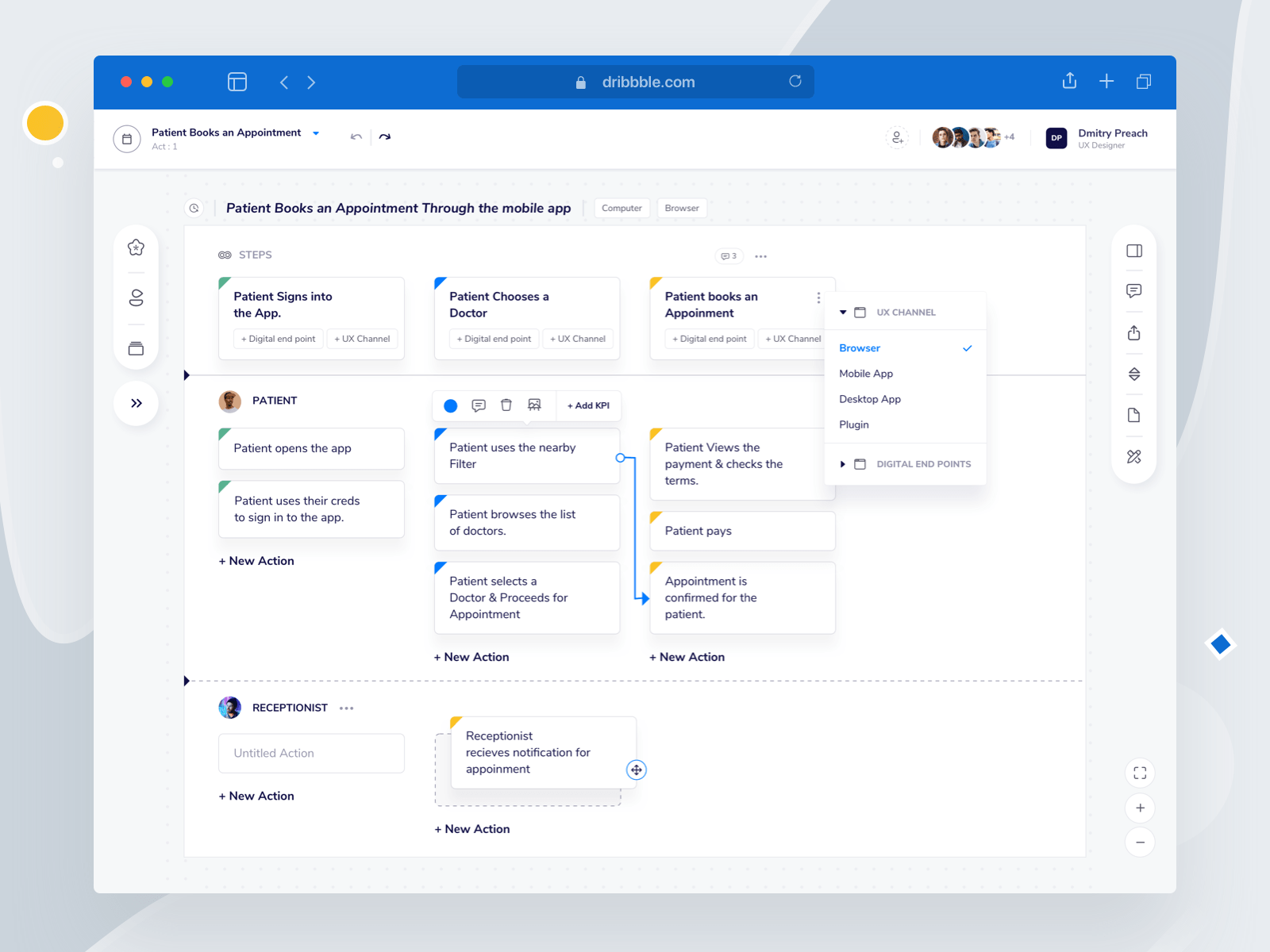 There are several sites like Canva, FlowMapp, Google sheets, and Lucidchart where you could get free user journey map templates to use as a UX enthusiast. 
Be aware that it will take much rearranging and tweaking to get to the final version from the initial draft. Thus, choosing a simple and intuitive template can be helpful.
Benefits of a user journey map
User journeys are usually created to understand what happens when users interact with your product, how they go through it, and why they do so. This helps you develop better products that meet their needs more effectively.
Here are some benefits of user journey maps. 
Improved user experience
With a user journey map, you may locate UX design flaws that evaded you during development and internal testing. The entire product team should double-check your work and assess the usability of the final product, since another team member may identify any possible issues you could not spot.
Updated products and features
Excellent use of a product is made possible by a smooth UX. The key moments that encourage customers to interact fully with your product and features will be made clear to you by your data and user analysis. When you can see your user experience visually, it's easier to see opportunities to accelerate the process of turning new users into loyal customers.
Set goals
You can set your product or service goals with a user journey map. From this, you'll be able to identify what's working and what isn't. By improving these areas, you will be able to improve the entire user experience.
Identify and correct errors
User journeys provide insights into how your site works. A user journey map will show you where users are having the most trouble, which will in turn help you fix those errors. This can also help you make decisions about things like redesigns or new features.
An empathetic company culture
Every team member benefits when the demands of the client are understood. It makes it possible for others to observe how a customer's experience influences their willingness to attract and retain, as well as keep loyal customers, or even recommend the business.
How to create a user journey map
 
Remember that there are several user journey maps, each of which serves a particular function. Here, we will explain a user journey map, why you may want to create one, and what should be included in one. Creating a user journey map is simple once you follow these steps.
1. Define your goals
Before you start creating your user journey map, make sure that you know what your goals are. The most basic plan could be to learn how to use new software or as complex as improving customer experience through updated product design.
2. Create user personas
Each group will require a distinct map. Consider your target audience and develop a persona for each group. With personas, you'll then be able to recruit users for usability studies. User research is often where this begins. 
3. Understand your audience — demographics, goals and motivations
Consider what your target user wants after understanding who they are. For example, what issue(s) could your product or service help them with? What goals might they have when they set out on their journey? What problems could they encounter or what features of your product would irritate them? You can recruit a group of people who use your products to get specific answers. 
4. Define your phases
By adding phases, you can clearly show a customer's life cycle on your map. A consumer uses your goods in an order. They need to know about your product. Setting up the proper stage structure determines how each touchpoint impacts the event.
5. Piece it together
The final step is to create a visual representation of your journey. Put it all together, whichever way you want. This can be done using any format you prefer, but I recommend using an interactive tool like Trello or Evernote, which allows you to build out your journey visually.  
Give it a try
Now you know how user journeys can help visualize your product's user experience. By tackling customers' pain points, alleviating fragmentation, and eventually creating a better user experience, user journeys reveal new opportunities to address users' needs. 
Take advantage of our free tools to make journey mapping a breeze! Sign up for your free UXtweak account and get access to all our powerful research tools. Get to know your users, analyze their pain points, and discover their needs, all with the help of one tool!