15 Tips for Designing the Best Real Estate Apps
The real estate industry has been changing rapidly in recent years. More than half of buyers find their homes on the internet, according to research by the US National Association of Realtors in 2020.
With the rise of smartphone usage and greater access to online resources, consumers have begun to expect more from their real estate agents than just a phone number or email address. They want convenience and a seamless experience when searching for properties or communicating with those who can help them achieve their dreams of homeownership.
Real estate apps provide an excellent opportunity for agents to reach out to potential clients by improving how they search for homes or manage listings. However, not all real estate apps are created equal. Some offer more listings than others while remaining user-friendly enough for any customer to navigate quickly without feeling overwhelmed by too much information. If you're looking for aesthetic appeal and functionality in your next project on real estate apps, read on!
Uptech has built various real estate apps as an award-winning app development company. We know that user-friendly interfaces are crucial to attracting and retaining visitors, and we've done some UX design reviews of real estate apps to gather data insights.
In this article, we'll explain why good UI/UX design is essential when building real estate apps, the biggest mistakes we've found, standard best practices, and examples of real estate companies exploring the benefits of custom real estate design.
Why UI/UX Design is Important in Real Estate Design
In the digital world, users are pulled in many directions. They have a lot more options than ever before. As a result, you must design your real estate app with user experience and user interface considerations in mind. Not doing so can mean losing out on potential sellers or buyers.
Before the internet, potential homebuyers would probably flip through pages of property magazines or have to physically inspect a house to learn more and know how they feel about it. Does it look like a house they would want to live in for the rest of their lives? Does it have enough space for their family? Does the environment has the amenities they need?
You can now answer these questions by visiting a real estate app with excellent UI/UX. With UI design elements like a professional image gallery, video storytelling, and prompting CTA buttons, users will have less to worry about while gathering information about their interests.
Developing a real estate app is about creating a beautiful space that makes people want to buy or rent a home. UI/UX design is vital in doing this. They help users to easily navigate through an app and find the information they are looking for faster without having to go back and forth between screens. If users struggle to use the app or find it difficult, they're less likely to use it again. 
It's worth noting that UI/UX is not just about creating great products—it's about making people enjoy using them! When done correctly, good UI/UX design can mean better sales conversions for real estate owners and help to build a strong brand identity and loyalty. For instance, real estate apps like Zillow and Trulia have given home buyers and sellers a great impression through their UI/UX.
Biggest UX Mistakes For Real Estate Sites
1 – Forcing users to register 
Forced registration is when users are required to register for an account before completing an action on the site. This might be as simple as adding their name and email address. However, it could be more extensive, like submitting their social security number, driver's license, passport number, or other personal information. 
As a product designer, you may want to use forced registration because it's easy to implement and helps collect information about your users. However, forcing someone to register before using a product could mean losing out on potential customers who aren't willing to spend that much time filling out forms. Users are more likely to abandon a site or an app if they have to fill out a form before using it. So what should you do instead?
Instead of forcing registration, try creating personalised experiences for each visitor by tracking their actions and providing relevant content based on what they've done in the past. It's important not only because people like feeling special but also because we remember things better when they're personalised.
2 – Weak Call To Action
CTA buttons must be clear and easy to understand to work well on your site or app. This doesn't just mean that they should be visible. They also need to reflect what will happen when clicked accurately (e.g. if clicking a button says "Contact Agent," then it needs to take users through the process of contacting an agent, not otherwise).
One of the best ways to ensure visitors take action is by creating strong, clear CTAs placed in a prominent location and personalised to the visitor. A good rule of thumb is to have at least one call-to-action visible on each page. If you have more than one, don't worry about making them all look the same! Make sure they are consistent with colour and font size to stand out against any other elements on the page.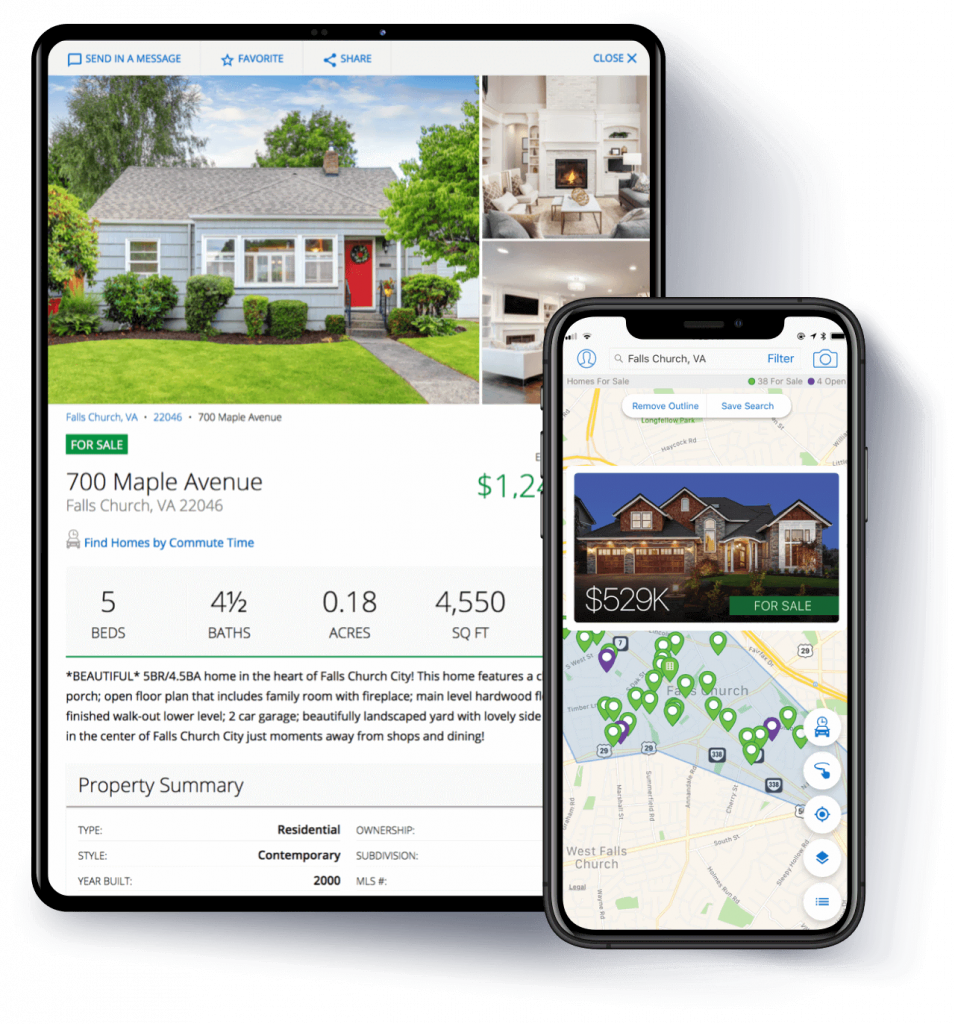 3 – Poor Search Functionality
Apps with poor search functionality typically opt for "lightweight" solutions that don't offer much beyond basic keyword-matching capabilities (which aren't always reliable). However, an excellent real estate website needs comprehensive and immersive search functionality to be truly special! For example, integrating an interactive map or using the radial search method will give users an engaging experience.
Not only should your search function be easy to use (no advanced settings or confusing dropdown menus), but it should also be accurate, fast, and relevant. Users don't want their searches returned with irrelevant results or pages no longer available on the server. Instead, they need assurance that when they type in their query, the search engine will return exactly what they're looking for—and nothing else!
4 – Complex User Flow
A user flow represents the series of steps a user will take to complete a particular task. If a buyer visits a real estate app, the user flow might be:
preview homes
propose offer
inspect home
finalise purchase
Mortgage approval
The problem with complex user flows is that they make users do more than they need to. If there are unnecessary steps in your app's user flow, it can lead to frustration and confusion for users. The only way to avoid this is by keeping things simple. As a product designer, if you can't explain your app's user flow in three sentences or less, there's room for improvement!
5 – Not Showing Adequate Photos on Property Pages
One of the most critical elements of listing information is the photos. Photos help people decide whether or not they want to visit a property, and you can also use them to show the condition of a property. If you don't have any photos, it looks like you're hiding something from potential buyers.
Real Estate App Design Examples to Inspire Your Next Project
Mobile apps are a great way to showcase your real estate business. They have a high conversion rate because they are easier for customers and can be tailored to suit specific needs. 
The real estate apps that are most successful have tapped into the needs of their clients and provide an outstanding user experience. Here are five great real estate apps that make things easier for their users.
1 – Zillow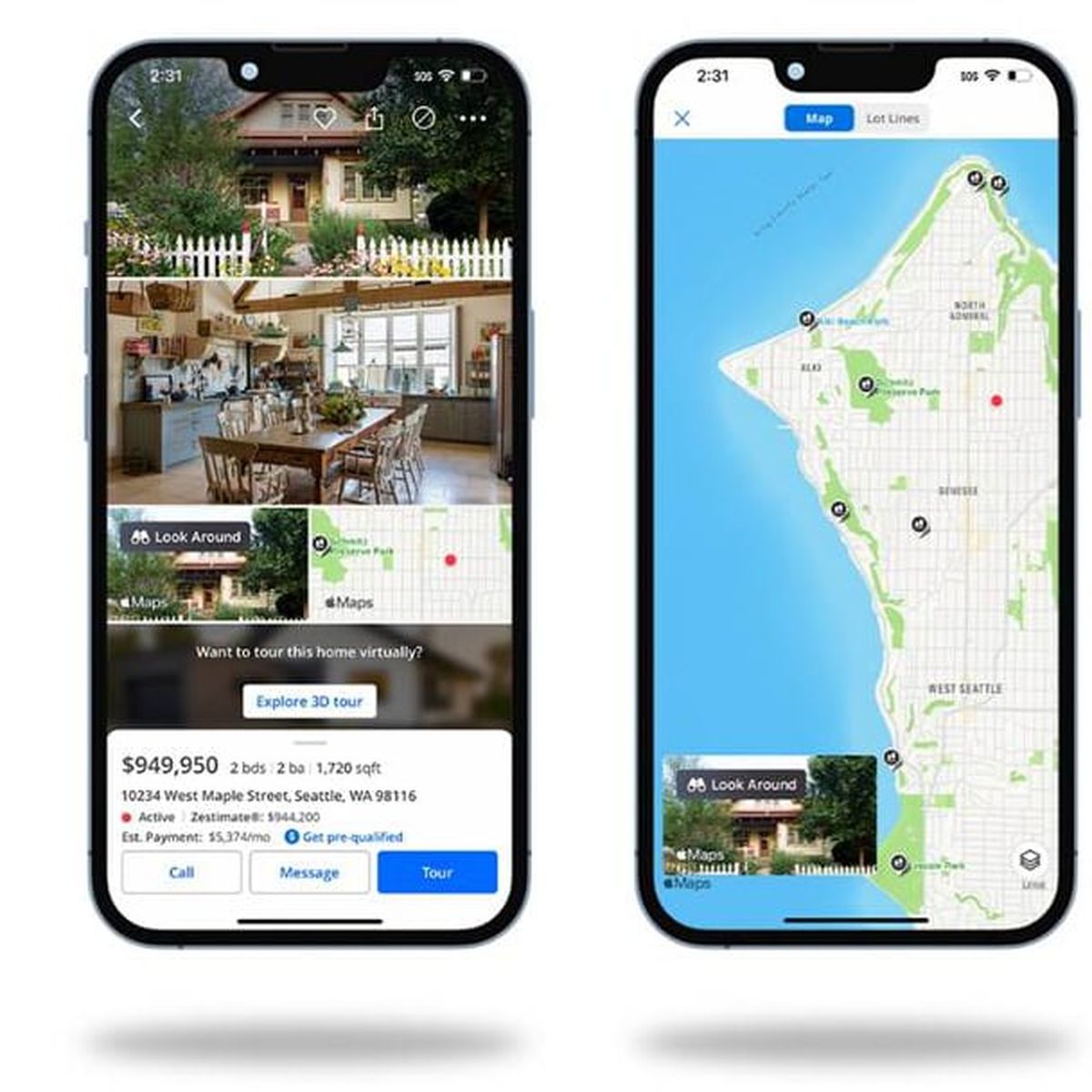 Zillow is a real estate marketplace that allows buyers and sellers to find and put homes for sale respectively in their area. Zillow also has an app that allows users to search by location, price, or size of the home. In addition, the app will enable you to schedule visits online or in-person and call/message property owners.
One of the outstanding UI elements is Zillow's map feature which allows you to view all available homes in your area on one screen. With this, it's easy to compare properties side-by-side when deciding which property best fits your needs. In addition, users can view the properties in full HD photos and videos and see the history of the houses they have explored and considered to make buying decisions.
2 – Redfin
Redfin is a real estate brokerage that provides online home searches, home listings, and property information. With over 5 million downloads on Google Playstore, Redfin is known to have a large inventory of homes for sale. 
The first thing you'll notice when using Redfin's app is its beautiful design. The interface is clean, intuitive, and easy to use. The company has also done an excellent job creating a user experience that makes it simple for people who need quick answers about homes in their neighbourhoods or across the country. For example, there's a page for people who want to book an in-person house tour and another dedicated to a virtual house tour.
For one thing, the app's design is eye-catching. It has a mixture of red and white backgrounds, bright HD photos and bright-coloured tags and fonts that can sustain users' interest.
3 – Trulia
Trulia has a responsive design that looks great on mobile and desktop. The colour scheme is simple and consistent. It uses more icons than text for many actions, like adding a new property to your list or accessing more information about the one you've already saved.
You'll also notice that Trulia uses large buttons for its immediate actions, making it easy to tap them without accidentally tapping an adjacent button.
More importantly, Trulia offers interactive maps of cities that let you see how life is going in different neighbourhoods. For example. It shows you survey data on how close a property is to restaurants, schools and hospitals.
4 – Property Finder
Property Finder is a real estate app that uses a map-based interface to show properties for sale in the user's area. The app has an excellent colour scheme and a flat design, making it easy to navigate on mobile devices and desktop computers.
5 – Xome Real Estate Auctions
Xome is a real estate auction company. Its app uses many visuals to display data and dramatically relies on icons and images. It doesn't have virtual tours or interactive maps, but the search feature is excellent.
Best Practices For Common Real Estate Design 
When you're designing a custom app for the real estate marketplace, you have the opportunity to create an intimate environment that emulates what a home should feel like—a place of comfort and belonging. 
Custom real estate apps are a great way to stand out from competitors and make the most of marketing efforts. The following practices can help real estate companies design engaging mobile apps that ultimately lead to sales.
1 – Optimise Your Search Filters
Search filters typically help your customers find the information they need, but you can also use them to draw attention to specific details. For example, if you're introducing a new listing with different price ranges and locations, you could easily use search filters to filter out everything that isn't relevant. You could also include additional attributes like "brand-new" to filter out all irrelevant products for users looking for something of that nature.
Also, use location data to provide relevant information about properties nearby that may interest users based on their current location or preferences. Location data helps streamline the search process by providing more accurate results tailored specifically toward what each user wants from their next home purchase. So whether they're looking for a cosy environment or want some land where they can raise horses, the app should offer a comprehensive search feature.
2 – Seek Feedback From Users
If your app isn't getting much use and you're looking for ways to improve its user experience (UX), gathering feedback from users or potential users is one of the most effective ways to do this. You can then use that feedback to improve your app's UX and make it more appealing to potential customers or clients who may be interested in what you offer.
To ensure that those you consult represent a wide range of users and their needs and desires, try asking for feedback through forums explicitly dedicated to custom real estate design topics. Houzz is an excellent platform for this.
3 – Create an engaging Map UX
Home buyers are always interested in comparing the pricing of different properties and the amenities around the location. They will consider properties based on their closeness to schools, hospitals, and grocery stores. As such, they would need an interactive map.
You should follow several best practices when building the map on your platform. The first is ensuring the map is integrated into search results and that it is easy for users to find their location on the map when searching through properties. If it makes sense for your app's UX design, you could include links allowing users to explore property listings by neighbourhood or city block.
Secondly, ensure the map is easy to use and provides users with an optimal experience. This means your platform should allow users to zoom in or out of a map, provide them with clear directions on how to use it, and provide additional information about the property they're viewing. We recommend providing directions from where a user currently resides right up until their desired destination.
Finally, ensure you've optimised the map size and do not include any unnecessary elements.
4 – Use Interactive Content
Interactivity is a vital part of any app. Interactive content is a great way to engage users and help them find what they want. It allows the user to interact with the content rather than simply viewing it. When building real estate apps, interactivity can be accomplished in many different ways, including:
3D virtual tours of the unit, including 360-degree views
Street views maps that show where the unit is located on a map and help users determine if it's close enough to public transportation or other amenities they need in their daily lives.
Videos depicting the interior of the property
These are great features because they give users a sense of what the property looks like without physically going there. For example, the property may be in a remote area, or it could be a place that users are not familiar with. The more information users have about the property and its location, the better equipped they will be to make an informed decision about whether or not it's right for them to buy or rent.
5 – Provide Updated Information
Your app should be like a living document. Ensure you're constantly working to improve it. Keep track of new developments in the real estate world, and incorporate them into your app as they arise. This will help potential customers to feel confident about their decision to work with you. 
If a client is searching for a custom home designer in any area, they may not want to hire someone who doesn't have any recent projects and development listed on their platform. It shows that you're not keeping up with trends in the industry and could potentially be outdated in your knowledge. Be sure that what you include on your site is relevant and valuable. Include pictures of the project, testimonials from past clients, and real-time updates on views for a specific property.
You can also use push notifications to keep users engaged and remind them about new features that have been added to the app.
Summary 
As you can see, there is much to think about in custom real estate app design. First, it's essential to consider your business's brand image, audience, and content. Following the standard best practices mentioned here should help you to create a quality custom real estate app that represents your company well and is easy for users to navigate through.
Custom real estate app design is an integral part of real estate's business strategy —and there are many reasons why it should be at the top of yours too! You can't just put a photo of a house on an app and expect it to sell itself. It would be best if you had something that would catch people's eyes and make them ready to buy. 
If the tips in this article have gotten you thinking more about how customising could benefit your company, then now might be the perfect time to start making those changes happen!