15 Best Keyboards For Graphic Designers
Keyboards for graphic designing should have excellent keys and the potential to increase productivity. It can be difficult for you to choose a keyboard for graphic designing. 
This is because the market is flooded with different sizes and colours of keyboards. You are in luck if you are looking for the best keyboards for graphic design. 
This is because your good luck has brought you to the perfect place. We have a list of the top 15 best keyboards for graphic designers. 
Keep on reading this page till the end to know more about it. Let's get started!
Things To Keep In Mind Before Purchasing A Keyboard
Switches:
Checking the keystrokes is the first step before buying a keyboard. Just look how comfortable you are while pressing the keys. The keystrokes should be relatively easy and sensitive.
You can use keyboardtester.io to test your keystrokes.
Keyboard Design:
Most gaming keyboards have ergonomic designs. Even designers should look for ergonomic keyboards while buying. 
Ergonomic keyboards don't put too much pressure on your hands. A lousy keyboard design can also lead to carpel tunnel syndrome.
Pricing:
Pricing plays an important role when buying a keyboard. The more features you look for, the more expensive a keyboard becomes. 
Choosing the most expensive keyboard is only sometimes an ideal choice. Look for a keyboard with all the required features and within your budget.
Wired or Wireless:
There are various wired and wireless keyboard options, especially for graphic designing. 
It is normal to be confused between these keyboards and buy none. Here is a simple solution if you have difficulty choosing a wired or wireless keyboard. You can choose a wired keyboard if you want to avoid dealing with input lag and battery loss. 
There can be times when there can be interference between wireless keyboards. But if you want to use a keyboard from a distance, then wireless is a better option. It also helps you to get rid of wires and mess. 
Therefore, it does not matter whether you choose a wired or wireless keyboard. This is because we have the best options for both types of keyboards for graphic design. 
These keyboards would allow you to take advantage of all standard features for graphic designing. Here is the narrow-down list for these keyboards. 
Logitech Craft
Many graphic designers have their eyes on this keyboard. This is because of its versatility as well as creativity. 
You can quickly use this keyboard because it is wireless and easily Programmable. 
Your experience will be comfortable enough because you can connect this keyboard to three different devices simultaneously. 
This keyboard is one of the best keyboards, especially if you are looking for graphic design purposes. 
Sale
Bestseller No. 1
Logitech Craft Advanced Wireless Keyboard with Creative Input Dial and Backlit Keys, Dark grey and aluminum
THE CROWN – A UNIQUE CREATIVE INPUT DIAL. The Crown is a tactile aluminium dial that adapts to the app you're using – giving you instant control of the tool you need. Touch the Crown to access context-specific functions, tap to change function and turn to change the selected function's value.* *Requires Logitech Options on Mac OS X and Windows.
OPTIMISED WORKFLOW. Install profiles in Logitech Options to enhance the Crown for use with Adobe Photoshop, Illustrator, Premiere Pro, InDesign, as well as Microsoft PowerPoint, Excel and Word. Adjust brightness in Photoshop, instantly create a chart in Excel and enlarge text in InDesign with a turn of the crown.* *Requires Logitech Options on Mac OS X and Windows.
PREMIUM TYPING. Type with confidence on a keyboard crafted for efficiency, stability and precision. Your fingers glide effortlessly between the matt surface of the keys. The large strike area and spherical dishing mean you can touch type with precision. Increased key stability reduces noise while optimising responsiveness.
SMART ILLUMINATION. The backlit keys light up the moment your hands approach and automatically adjust to suit changing lighting conditions.
INTUITIVE USER EXPERIENCE. Enjoy a balanced and natural creative experience. Use the Crown to adjust your work, the mouse to navigate and the keyboard to type with precision. Be more efficient by using intuitive controls that fit seamlessly into the way you work – instead of relying on complicated shortcuts and unnatural movements.
Features
Brand- Logitech
Color-Graphite
Style-Craft Keyboard
Number of Keys- 108
Item Dimensions-16.94 x 5.86 x 0.39
Operating System: Mac OS 10.11, windows 7 & above.
Pros
Lightweight
Multi-function dial
Ideal keys for typing
Con's
Apple Magic Keyboard
Undoubtedly, the Apple Magic keyboard is one of the best that impresses many graphic designers. 
Once you charge it entirely, you can use it for up to a month. Isn't it amazing? There is an exception with the apple magic keyboard because it offers you a minimalistic approach. 
Sale
Bestseller No. 1
Apple Magic Keyboard (Wireless, Rechargable) – US English – White
Magic Keyboard delivers a remarkably comfortable and precise typing experience
It's also wireless and rechargeable, with an incredibly long-lasting internal battery that will power your keyboard for about a month or more between charges
It pairs automatically with your Mac, so you can get to work right away
And it includes a woven USB-C to Lightning Cable that lets you pair and charge by connecting to a USB-C port on your Mac.
System Requirements: Mac with macOS 11.3 or later, iPad with iPadOS 14.5 or later, iPhone and iPod touch with iOS 14.5 or later
Features
Connectivity Technology-Wireless
Colour- Silver
Number of Keys-78
Brand- Apple
Operating System- Mac OS X and Mac OS X El Capitan
Item Dimensions-11.5 x 5 x 0.8 inches
Pros 
Wired and wireless
High battery life
Compact
Cons
CORSAIR K95 RGB
This keyboard is perfect for people who love mechanical keyboards and graphic design. Then not only manufacture came in products but also mice and keyboards. 
You can feel comfort and premium at the same time with its lightweight body. This keyboard has many vibrant colour effects, making it more interesting for you to use. 
Sale
Bestseller No. 1
Corsair K95 RGB Platinum XT Mechanical Gaming Keyboard, Backlit RGB LED, Cherry MX Speed RGB Silver, Black (CH-9127414-NA)
Per-key RGB backlighting and a 19-zone LightEdge across the top of the keyboard delivers dynamic and vibrant lighting effects with near-limitless customization
Tuned for low noise operation even at full load; MTBF hours
Gain an in-game advantage with six dedicated macro keys fully programmable for complex macros and key remaps or swap to the included S-key keycaps and program special streaming commands through Elgato Stream Deck software
Cherry MX Speed RGB Silver mechanical key switches provide ultra-fast 1.2 millimeter actuation and proven reliability with 100 million keystrokes
A detachable soft textured cushioned leatherette palm rest offers the plush comfort to breeze through marathon gaming sessions
Features
Brand- Corsair
Color-Black
Connectivity Technology- USB
Item Dimensions -18 x 6.7 x 1.4 inches
Operating System- Gaming console
Number of Keys-110
Pros
Affordable
Eye-catching lighting
Comfortable palm rest
Cons 
Low keycap
Low upgradable 
Logitech K480 Keyboard
Latest one of the best keyboards for graphic designing with multipurpose features. With minimum work, you can easily use this keyboard as it is small. 
The keyboard is integrated, compatible, eye-catching, and attractive. It is versatile because it can be connected to Android, Windows, and Mac devices. 
Sale
Bestseller No. 1
Logitech K480 Wireless Multi-Device Keyboard for Windows, macOS, iPadOS, Android or Chrome OS, Bluetooth, Compact, Compatible with PC, Mac, Laptop, Smartphone, Tablet – Black
Type on Any Device: A new type of wireless computer keyboard for your desk that also works with your tablet and smartphone; connect with any Bluetooth-enabled device with external keyboard support. Wireless range: > 10m wireless range
Easy-Switch Dial: Simply turn the dial of the Logitech K480 keyboard to switch typing between 3 connected Bluetooth wireless devices, you can work with Windows, macOS, Chrome OS, Android, and iPadOS
Familiar Keyboard Layout: Find all the shortcut keys you use the most, but in a space-saving design that lets you place your mouse close to you, for less arm reaching and better posture
Integrated Cradle: A cradle to hold your phone or tablet at just the right angle for you to read while you type; fits most phones and tablets up to 0.4 inches thick and 10 inches wide
Reliable Power: This portable, wireless Bluetooth keyboard comes with 2 pre-installed AAA batteries which can last up to 24 months (2) and is compatible with wired, wireless or Bluetooth mice
Features
Brand- Logitech
Colour- Black case
Item Dimensions – 12.2 x 7.91 x 1.61 inches
Operating System- Windows; PC; Mac; Android; iOS
Connectivity Technology-Wireless
Pros 
Versatile connectivity
Very affordable
Instant switch 
Cons 
Kinesis Advantage2 LF
This keyboard will increase not only comfort but also productivity. You can easily use your hand with this keyboard without any injuries. 
The overall design of this keyboard is beautiful, with minimal threads to your arms and hands. The process of typing feels very comfortable because it has minimal sound. 
Bestseller No. 1
Kinesis Advantage2 Quiet LF Ergonomic Keyboard (KB600LFQ) (Renewed)
Contoured ergonomic shape proven to increase comfort and productivity: patented design features split key wells with concave shape, thumb keys, orthogonal layout, 20 degrees of tenting, and integrated Palm Supports with cushioned palm pads.
Genuine Cherry mechanical switches for premium typing feel and performance with less noise: Cherry MX "Silent" Red mechanical switches feature a low activation force, linear feel and are rated for 50M key presses for unmatched durability. Function row features new Cherry ML mechanical switches.
Full onboard programmability with the Driverless Smart Set engine: custom layouts in QWERTY or Dvorak, on-the-fly macro recording, one-touch key remapping, Windows, Mac, and PC modes, settings saved to keyboards 4MB flash memory, and the Smart Set app GUI for Windows.
Plug-and-play with all major operating systems: Windows 7-10, Mac OS X, Linux, Chrome.
3 year manufacturer's : buy with confidence knowing that KINESIS engineers all our products in the USA to the highest standards and stands behind them 100 percent since 1992.
Features 
Brand- KINESES
Colour- Black case
Number of Keys-102
Connectivity Technology-USB
Item Dimensions -8 x 16.5 x 2.875 inches
Operating System- Windows and Mac. Linux and Chrome
Pros
Programmable
Comfortable palm rests
Optimised shape
Cons 
Microsoft Foldable Keyboard
As the name suggests, this is one of the best keyboards because it is foldable. It not only allows you to work but also to store this conveniently. 
This keyboard is ideal for graphic designers, especially those who dislike carrying bulky keyboards around. It is portable and foldable, making it safe for travel. 
Features
Brand-Microsoft
Colour- Black
Connectivity Technology- Wireless
Item Dimensions -11.61 x 4.92 x 0.21 inches
Operating System-Tablets
Pros
Ideal for tablets
Light & thin
Useful while travelling
Cons 
Dangerous split 
Expensive
Anker Wireless Keyboard
This is one of the best keyboards because it increases your passion for graphic design. It is a Bluetooth keyboard that is Ultra affordable. 
Your typing experience will improve because you get matt finished keys with low sound. 
This is one of the most versatile keyboards because it can be easily connected to different types of devices, such as Apple devices and Android devices. 
Bestseller No. 1
Anker Ultra Compact Slim Profile Wireless Bluetooth Keyboard for iOS, Android, Windows and Mac with Rechargeable 6-Month Battery (White)
Ultra Compact: Takes up only two thirds the space of a traditional keyboard (11.3 × 5.0 × 0.5in).
6-Month Battery Life: Rechargeable lithium battery with an industry-high capacity of 800mAh lasts for 6 months between charges (based on 2 hours non-stop use per day).
Comfortable & Intuitive: Low-profile, matte finish keys enhance your typing experience. Automatically connects to your last-connected device.
Broad Compatibility: Use with all four major operating systems (iOS, Android, Mac OS and Windows).
Package contents: Anker Ultra Compact Bluetooth Keyboard, 2.3ft Micro USB charging cable, welcome guide, our fan-favorite 18-month warranty.
Features
Brand-Anker
Colour- White
Number of Keys- 78
Connectivity Technology-Wireless
Item Dimensions -11.28 x 5.01 x 0.51 inches
Operating System- iOS and macOS. Android and Windows.
Pros
Ultra affordable
Fast charge 
Ultra-compact
Cons 
Low responsive
Suited for gamers
AULA F2088
This is one of the best mechanical keyboards you can buy for graphic design. There are many cool features in this keyboard. 
There are many backlighting effects on this keyboard. There are 22 rear lights in this keyboard, out of which 19 backlights are present. 
The other three backlights are customisable. You can easily use this keyboard with your Windows PC and other laptops, including Mac. Your typing experience will become more comfortable and better than ever.
Sale
Bestseller No. 1
AULA F2088 Typewriter Style Mechanical Gaming Keyboard Blue Switch, with Removable Wrist Rest, Media Control Knob, Rainbow Backlit, Retro Punk Round Keycaps, Full Size USB Wired Computer Keyboards
💻⌨️🖥️【Retro Typewriter Style Round Keycaps】Mechanical blue switch offers a quicker and springier response, crisp click sound, precise tactile feedback for ultimate gaming performance. Double-shot injection molded Vintage steampunk round keycaps for clear backlight and extreme durability, The stepped floating keycap fit your fingertips perfectly for precise positioning, prevent fatigue and wrong typing. Comes with keycap puller for easy keycaps cleaning.
🖥️⌨️💻【Multimedia & Backlight Control Knob】This wired mechanical keyboard effortlessly controls media thanks to its dedicated media control keys. Quick-access buttons for media volume, backlight effect, music play/pause/switch. You can switch 19 different lighting effects or adjust the backlit brightness and speed. And you can create 3 customized backlight as you like. Long press knob for three seconds to switch between media and lighting modes.
💻⌨️🖥️【Metal Panel & Magnetic Wrist Rest】The computer keyboards panel was made of top-grade aluminium alloy material, with matte-finish texture, sturdy and robust enough to protect it from scratch. The ergonomic ABS palm rest provides firm support that alleviates pressure on your wrist from gaming at an elevated angle. The surface has a smooth and comfortable touch that enhances the feeling of the. USB connector for a reliable connection and ultimate gaming performance.
🖥️⌨️💻【104 Keys Anti-Ghosting Programmable】This mechanical gaming keyboard features Anti Ghosting Technology which ensures your simultaneous keystrokes register the way you intended, allow multi-keys to work simultaneously with high speed. Each key is controlled by independent switch, let you enjoy high-grade games with fast response, boosting your performance! The PC Gaming Keyboard has been ergonomically designed to be a superb typing tool for office work as well.
💻⌨️🖥️【Stylish Durable & Wide Compatibility】Modern and sleek design with superior performance. High low key layout with suspended round key fits fingers effectively, help reduce hand fatigue, aluminum alloy metal panel, matte texture, sturdy and robust, protect it from scratch. Support PC Mac Laptop, Tablet, Desktop computer, compatible with Windows 7/8/10/XP/Vista, Linux and Mac OS systems. USB wired conection, plug and play! No drivers or softwares are required.
Features 
Brand-AULA
Compatible Devices for this Keyboard-Laptop and PC. Tablet And MAC.
Connectivity use-USB
Keyboard Technology-Mechanical Keyboard has Clicky and Blue Switches. 
Pros
Ergonomic wrist rest
Media control keys and backlight
Blue mechanical switches
Cons
RAPOO 9550M 
If you are looking for a compact graphic designing keyboard, this is one of the best choices. 
This keyboard has a thin body which comes with a multifunctional mouse. This keyboard is versatile because there can be at most four devices that you can connect with this keyboard.
This is a wireless keyboard. If you charge it for about 2 hours, this keyboard can work for about 180 days. You can connect not only the keyboard but also the mouse with four devices at maximum. 
Sale
Bestseller No. 1
RAPOO 9550M Multi Device(Bluetooth 3.0/5.0/2.4G) Wireless Keyboard and Optical Mouse Combo, Easy-Connect Up to 4 Devices, Extremely Thin Keyboard and High-Precision Sensor Multi-Functional Mouse
【Multi-device connection】Reliable multi-device connection via Bluetooth 3.0, Bluetooth 4.0, 2.4G USB receiver. 4 devices can be switched freely by keyboard and mouse. Wireless transmission guarantees minimal interference with other wireless, Bluetooth and Wi-Fi devices.
【Ultra-thin keyboard and multi-function mouse】The ultra-thin keyboard is only 4.0mm thick, which is thinner than any Blade series products.
【Top Appearance and User Experience】Stainless steel base, precise scissor key structure and floating chic buttons make the keyboard a stylish, stylish and durable tool.
【Multifunctional wireless mouse】6 custom button mouse, 4 DPI (600/1000/1300/1600), meet different precision requirements, laser engine mouse with PTFE foot pad, easy to use, suitable for various surfaces , no mouse pad required.
It's definitely a boutique and the ultimate must-have for the most sensitive of perfectionists. You deserve the best.
Features
Brand-Rapoo

Connectivity use-Bluetooth/USB
Batteries need-No
Number of total Keys-110
Source of power-Battery Powered
Pros
Multimedia shortcut keys for windows
Compatible with four devices
High battery life 
Cons
Software issues
No backlight
Logickeyboard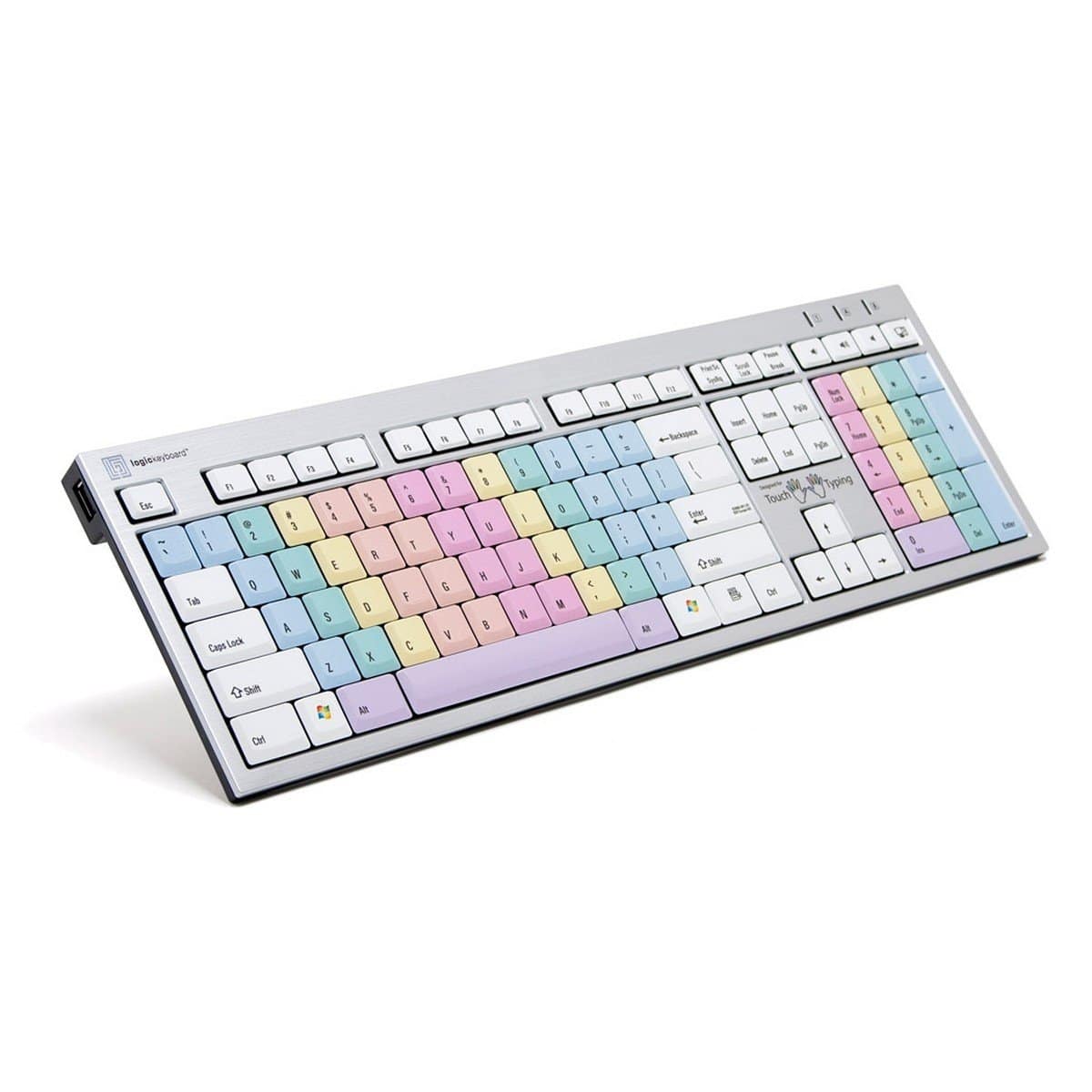 This is an excellent keyboard for graphic designing, which comes with backlighting. One of the significant features of the backlight of this keyboard is that you can customise it. 
You can dim the backlights with five different modes or levels. There are colour-coded Keys in this keyboard with graphical shortcuts. 
There are a total of 104 keys on this keyboard. You can also connect this keyboard to Mac. 
Features
Brand-Logickeyboard
Compatible Devices of this keyboard-Laptop
Connectivity use-USB
Keyboard-Multimedia
Unique Feature of this keyboard-Backlit
Pros 
Easy to use
Different modes of backlight
Comes with USB
Cons
You cannot customise the backlight
It does not come with a mouse
COSTOM XVX M84
If you are looking for a graphic designer keyboard with a unique look different from others, this option is one of the best.
This is a wireless keyboard with 75% keys. This is a custom tkl Keyboard which is ideal for Mac as well as Windows users. 
This is a customisable keyboard which comes with high battery life. Even though it is a wireless keyboard, it can also support wired connections. 
Bestseller No. 1
COSTOM XVX M84 75% Wireless/Wired Mechanical Keyboard, Compact 84 Keys Hot Swappable Gaming Keyboard, N-Key Rollover RGB Custom Keyboard for Windows Mac PC Gamer (Coral Sea, Gateron Yellow Switch)
【Coral Sea Theme Ergonomic Keyboard】XVX's new 75% layout mechanical keyboard in fusing art and modern technology as one, showing the coral sea pattern in 360 degrees. Compact 84 keys with unique XVX profile keycaps, curved keys match the shape of your fingertips, offering satisfying feedback with every tap.
【Dual Modes Connectivity】Supporting both wired and wireless connection. Forget about drop-outs and delays thanks to a strong, reliable 2.4G wireless connection with up to 33 ft (10 m) range. You can also charge and play simultaneously with the included type-c cable, perfect for home, office, outdoor and casual gaming.
【Hot-swap Switches Keyboard】You can alter every gateron switch on the M84 keyboard without the need to solder. Hot-swap PCB is compatible with almost all 3-pin/5-pin switches on the market, personalize your typing experience with ease.
【Ultimate Personalization RGB Keyboard】The keyboard itself comes with 19 RGB backlight modes, 9 colors selection, 5 brightness levels and 4 customization mode. This RGB gaming keyboard can enhance your gameplay atmosphere at its maximum, and the light can also be turned off if you don't need it for saving power.
【Compact TKL Mechanical Keyboard】 Tips: ●After you download the software, if the keyboard cannot be used normally, please don't hesitate to contact our after-sales support through Amazon message function, we will assist you to solve all problems you had met with our product.● Unlike bulky full-sized layout, this 75% mechanical keyboard saves more desk space but keep the arrow keys, multimedia and control keys, and is ideal for gamers and office workers who prefer a minimalist desktop.
Features
Brand-COSTOM
Compatible items-PC
Keyboard Description-Gaming keyboard
Special Feature/ forte-Backlit
Colours available-Izakaya Theme and Gateron Red Switch
Pros 
Hot-swap Switches Keyboard
RGB Keyboard with Ultimate Personalization
TKL Keyboard
Cons 
Irresponsive keys 
Difficult to learn
Microsoft Designer Bluetooth Desktop
This is a handy keyboard with modern look features. It is a wireless keyboard that can connect with other devices through BlueTooth technology. 
It is a full-size keyboard which comes with a mouse as well as a keypad. This keyboard also has media keys that you can use to control sound and media. 
This keyboard mouse is versatile and can be used by either of your hands. 
Sale
Microsoft Designer Bluetooth Desktop Keyboard and Mouse – Black. Utra-Thin, Wireless, Bluetooth Keyboard and Mouse Combo. Works with Bluetooth Enabled PCs/Mac
Modern Design: Ultrathin and modern design complements your desktop. Media center: Control media playback from your keyboard. Built-in Number Pad: The keyboard is full-sized with a built-in number pad.
Bluetooth Smart: Clutter-free and reliable experience utilizing the latest in Bluetooth 4.0 technology.
BlueTrack Technology: Combines the power of optical with the precision of laser for remarkable mouse tracking on virtually any surface. BlueTrack Technology does not work on clear glass or mirrored surfaces.
Keyboard Dimensions (L x W): 15.32 inches x 4.41 inches. Mouse Dimensions (L x W): 4.21 inches x 2.36 inches.
What's in the box: Keyboard, Mouse, 4x AAA batteries.
Features
Brand-Microsoft
Colours available-Black
Connectivity Technology used-Bluetooth
Special function-Wireless
Compatible Devices with keyboard-Surface 
Pros 
Bluetooth 4.0 technology
soft touch keys
minimalist design
Cons 
No backlight
Battery required
V630 Wireless 
This is a wireless keyboard which comes with a mouse. This is a cute keyboard with aesthetic looks. There are a total of 101 keys on this keyboard. 
There are a total of two colours on this keyboard. You can easily connect this keyboard to Windows PC and Mac.
The appearance of this keyboard is stunning, which will improve your mood while you are graphic designing on this keyboard. 
Bestseller No. 1
V630 Wireless Keyboard and Mouse Combo, MageGee 2.4G USB 101Keys Wireless Typewriter Keyboard, Waterproof Cute Round Retro Aesthetic Keyboard for Computer,PC,Desktops,Laptop, Mac(White Blue)
【Colorful Design & 2.4G Stable Wireless Connection】 White Blue color design, will not repeat and fade. Fashionable and fresh appearance can bring you visual enjoyment and a good mood when working. Strong reliable 2.4GHz technology ensures a strong and reliable connection, just plug and play.
【Compact 101 Keys & Convenient Design】 The 101keys keyboard has multi shortcut keys which make you can easy and quick access to Homepage, Email, Favorites, etc. It has a built-in universal phone holder, which allows you to check messages or something else on your phone or iPad easily without picking it up.
【Perfect Stroke Keys & Ergonomic Design 】Oval keys match the shape of your fingertips, which will rebound quickly and is more suitable for the habit of typing. The touch on the keyboard is so light and requires little strength to use. You can use it more comfortably and will not feel fatigued and painful after typing for a while.
【Auto Power-Saving& Silent Mouse】 The keyboard and mouse have characterized by energy-saving feature. Power shut off timer extends battery life. Inactive within 8 minutes and press any key to wake up. Nearly quiet feedback form the mouse as well as the mouse makes a quiet working environment.
【Wide Compatibility & Great Present】 Compatible with Computer, Laptop, Desktop, PC, Notebook, Windows XP / Vista / 7 / 8 / 10 /11/Mac OS or later. Note: the shortcuts maybe not compatible with Mac system. Also a great present and gift for your families and friends .
Features
Brand-MageGee

Color-White and Blue
Connectivity Technology used-RF, and USB
Operating System compatible with keyboard-Windows XP and Mac OS
Number of total Keys-101
Pros 
Ergonomic Design
Silent Mouse
Auto Power-Saving
Cons 
No backlight
A bit uncomfortable
HUION
This is a high battery-life keyboard which is ideal for graphic designing. This is a versatile keyboard. 
This is because you can easily connect this keyboard to a tablet, Windows, PC, Mac, and other compatible devices. 
This keyboard has many new and upgraded features, allowing it to connect with Mac iOS 13 and above devices. 
You can experience reliability, comfort and productivity with this keyboard. There are also five keys in this keyboard that are Programmable.
Bestseller No. 1
HUION Inspiroy Keydial KD200 Bluetooth 5.0-Wireless Graphics Drawing Tablet with Keyboard Dial 5 Customized Express Keys Battery-Free Stylus PW517 Tilt for PC, Mac, Android, 8.9×5.6inch Pen Tablet
Stable Bluetooth 5.0 Connection:you can easily connect the KD200 digital drawing tablet to your Mac, PC or Android devices wirelessly with the built-in Bluetooth 5.0 technology, offering a strong connection up to 33ft and clutter-free workspace. The high-efficiency battery enables you to enjoy the continuous creating for 18 hours minimum with only 1.2 hours charging time.
Productive Keyboard Design: Huion Inspiroy Keydial KD200 is a innovative graphics tablet and keypad combos. The keyboard is designed with 23 standard keys you use the most on Windows and Mac to give you instant access to your favourite shortcuts, so that you'll experience hassle-free and efficient work with this pen tablet. Also, the ergonomic wrist rest can reduce the fatigue of high-intensity creative work.
Dial and 5 Customized press keys: besides, KD200 is also equiped with a dial for zooming in/out, adjusting brush size and 5 user-defined press keys to streamline work and boost work effecient. 8.9×5.6inch working area and paper-like matte surface brings you the most natural and comfortable drawing experience.
Huion PenTech 3.0: powered by the new Huion PenTech 3.0, the battery-free pen PW517 is ultra responsive to every pen movement with amazing accuracy and control. Along with ±60° Tilt function and 8192 levels of pressure sensitivity, you'll feel like using a real pen. Slim and lightweight design makes KD200 is easy to carry so you can use it at home, on the go, or at your favourite cafe.
Great Compatibility: Huion KD200 can work seamlessly with devices running Windows 7 or higher, MacOS 10.12 or higher and Android 6.0 or higher, and It is well compatible with most creative softwares like Adobe Photoshop, Clip Studio Paint, SAI etc. KD200 drawing tablet is a powerful creativity tool for a variety of scenarios like hybird teaching and learning, working from home, web conferencing, etc.
Features
Brand-HUION

Connectivity Technology used- USB-C and Bluetooth 5.0. It also has a Bluetooth receiver
Operating System used-Mac OS 10.12 and higher. Android 6.0 and higher. Windows 7 and higher. 
Device name- Inspiroy Keydial KD200
Specific Uses For this keyboard- photo and video editing
Pros
Driver V15
Bluetooth 5.0
Compatible
Cons 
No backlight
Difficult to install
Logitech K350
This is one of the best keyboards for graphic design. It is a wireless keyboard. You can easily travel with this keyboard and work in the office. 
There is no need for you to be tired because this keyboard comes with a wrist rest. It has a Palm rest and curved keys specially designed to keep you comfortable all day long. 
Media control keys are also present on this keyboard on top. You can easily connect this keyboard with the Windows version.
Sale
Bestseller No. 1
Logitech K350 Wireless Wave Ergonomic Keyboard with Unifying Wireless Technology – Black
Wave design with Constant Curve layout: Curved layout guides hands into just the right position
Ease and comfort: Cushioned palm rest makes work easier and fun more fun
Longer battery time: This feature gives you up to three years of battery life. (Battery life based on a calculation of an estimated 2 million keystrokes per year in an office environment. User experience may vary.)
Logitech Unifying receiver: The tiny Unifying receiver stays in your notebook, so there's no need to unplug it when you move around. And you can easily add compatible wireless mice and keyboards to the same wireless receiver
Features
Brand-Logitech
Compatible Devices- Windows XP, Vista, Windows 7, Windows 8, Windows 10, and above. 
Connectivity Technology used-Wireless
Keyboard-QWERTY
Recommended Uses-Office
Pros 
Media Controls
Keyboard with wave shape
Wrist and palm rest 
Cons 
Frequently Ask Questions (FAQs)
What keyboard is best for graphic design?
Logitech Craft, Kinesis Advantage2 LF, Apple Magic Keyboard, etc., are best for graphic designing. There are many other keywords, too, that are best for graphic design.
Some of these keyboards are also mentioned on this page, giving you all the standard features for a keyboard that is ideal for a graphic designer.
What are helpful keyboard shortcuts for designers?
Save, find, copy, etc., are helpful keyboard shortcuts for designers.
Graphic designers must learn many other helpful keyboard shortcuts. Some of these keyboards are specific for graphic designing, while others can be used in other applications such as MS Word, Gmail, etc.
Is 60% or 65% keyboard better?
65% keyboard is better than 60% keyboard. The primary difference between 60% and 65% of the keyboard is that 65% has four additional keys.
These keys are present on the right side of the keyboard, which can be very useful. These additional four keys are not present in 60% of the keyboard.
What is the most popular keyboard size?
60%, Full-Sized, and TKL are the most popular keyboard sizes. One hundred four keys are present in the full-size keyboard, while 87 keys are in the keyboard.
Every key is unique, and they have a unique feature and role in the keyboard. The layout of the keys is also very different.
Is a 65% keyboard good?
The 65% keyboard is one of the best, especially for graphic designers.
They offer extra four keys, different layouts, and different features essential for graphic designing. These keys make this keyboard Ultra compact and comfortable for typing and graphic designing.
Why do people buy 60% of keyboards?
Even though a 65% keyboard is better than a 60% keyboard, most people still prefer to buy a 60% keyboard.
This is because the 60% keyboard is smaller than the 65%. It makes it much easier for people to have room for their mouse.
This makes it a much easier and more comfortable place for people to game and do graphic designing because they can quickly move their mouse.
Is a 60% keyboard better than a full size?
A 60% keyboard might be a little more complicated than a full-size keyboard. It would be best to consider many things before having a 60% keyboard.
Multiple keys are missing in this keyword, such as the Arrow key. So it cannot be easy to learn using this keyboard without these keys and features.
You would be typing and graphic designing without these keys, so it can be extra skilled, which can be difficult for you to learn in starting.
How do I choose the right keyboard?
There are many things that you should consider before having the right keyboard. It would help if you decided whether you wanted a wireless or wired keyboard.
Think about the job or cause of the keyboard and the number of keys you want. Decide a budget and look for the design and the number of extra function keys you require.
Why do people buy 40% keyboards?
The main reason people buy 40% keyboards is that it is less expensive. This is because they are made from relatively less overall material.
You can quickly type and play games on a 40% keyboard as soon as you learn how to use the keys. 40% of keyboards are optimised for their movement and use.
How many switches do I need for a 40% keyboard?
It depends upon the size of the 40% keyboard and how many switches you need. For a small size 40% keyboard, you would need about 50 switches.
If you have a full-size 40% keyboard, then you need about 110 switches.
Conclusion
The market has plenty of keyboards. But now, this narrowed list of top keyboards for graphic designing will help you to choose one. 
You can match the standards of graphic designing. Which one would you choose?
Last update on 2022-11-07 / Affiliate links / Images from Amazon Product Advertising API