To provide your users with a great experience, a well-executed UX design process is a base. The first step is to know, what exactly this process actually involves.
This article is an overview of the UX design process. We will talk about what it is and what are the steps of the process.
What is the UX design process?
User experience (UX) is every interaction between your website or different product and its users. Great UX design is focused on the user, understanding them to create products according to their needs and requirements. UX design shouldn´t focus only on creating usable products, other aspects such as efficiency and authenticity should also be taken into consideration.
It is about creating products that let your users do what they wish to do in a way they expect it without any issues. Our goal with the user experience design process is to make them feel comfortable when they interact with your product.
What is a good User Experience?
UX design should not focus just on creating usable products. We should also take into consideration other aspects of the user experience, such as efficiency and even that if the interaction with the product is fun or unique. Therefore there are a lot of ways to define a good user experience. Simply put, a good user experience is the one that meets a particular user's needs in the context where they use the product.
What are the steps of UX design process?
The User Experience (UX) design process should consist of three main stages: 
Research

– learning about and understanding users

Design

– create your design with the information you acquired

Testing

– evaluating your design with end-users
Each of these stages has further steps as follows.
Research
This stage is all about learning and preparation. The research will allow you to get crucial insights. User research consists of using various methods to uncover problems and opportunities, as well as to learn as much useful information as you can to simplify the design process.
We divided the research phase into these parts:
1. Defining the problem
The first thing to do is to identify the pain points your users currently have and how you intend to solve them with your design. After this, you should think about the various options to accomplish that task. To successfully compete in the market, you must have a great understanding of your users. Consider questions like:
What is the ultimate goal of this project?

Who is the end-user of this product?

What is the pain point that this product will address?

How will your design address the pain point?

How will you measure the success of your design?

How will your product compete with existing products on the market?
2. User Research
After you have identified the problem, the next thing is to know how the user feels about it. A designer is in a permanent need to review user expectations where design can make a difference. Research teaches us the behavior, motivations, and needs of the user. A good designer has to always think from the user's perspective. They not only need to listen to the user but observing them is also essential for a successful design. To achieve this goal, designers need to take the following steps.
Create User Profiles (User Personas)
These profiles represent your typical audience. Here you collect their demographics, habits, interests, and behavior patterns. 
A user journey is a particular path that users follow to complete a specific task within your product or service. Involve a diverse specter of people from your target audience to get insights from their user journeys.
At this step, you analyze the data collected from stakeholders and users. Then you create a document containing all the product requirements specified.
Your research can end here, and now you can start working on the design.
Design
In this stage, you transfer your ideas and all the insights you learned from research to an actual design. Designing a product is a complex process and requires multiple steps and testing to ensure you are on the right track to create a user-centered product. You can find the steps below.  
1. Information Architecture
Information Architecture is the organization of information within digital products. While creating a website, for instance, the designer lays out each screen so the user can easily find the information they need. He will also create a flow that lets users easily navigate between screens. 
The purpose of Information Architecture (IA) is to structure, label, and organize the content of a website or app in a way that is ideal for the user experience. Effective information architecture is based on research by employing methods like Card Sorting and Tree Testing. The goal is to create an IA that enables the user to find what he needs without even thinking about it (or at least without getting lost and closing your website angrily).
In this step, you will create an initial draft of the IA. A great method to generate ideas for information architecture is already mentioned – card sorting, which will tell how your users expect the information to be grouped and labeled. 
After you create your information architecture with a card sorting study, you should run a Tree Testing study, which will validate the created navigation and its effectiveness. You can find the Tree Testing Tool and Card Sorting Tool in the UX research suite here.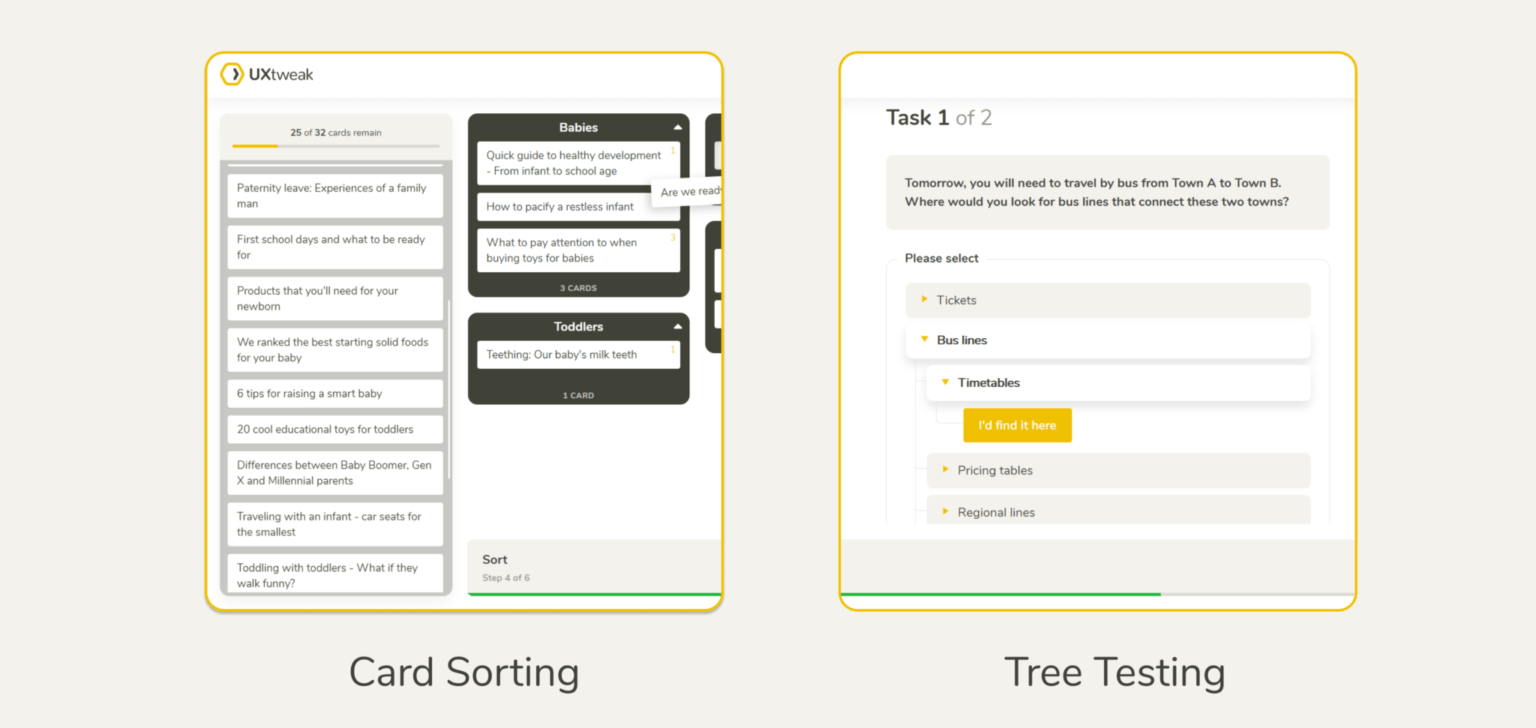 2. Wireframing
A wireframe is a low-fidelity representation of your product. Imagine it like a skeleton of the product. It contains the essential elements of your website or app. It can be drawn by hand or made digitally with the help of software such as Axure, Figma, etc. 
With wireframes, the focus is not the look or the feel of your product, but you should emphasize the problem-solving content of the product. User testing is also very beneficial during this phase, as the user feedback is crucial in establishing the design concept and will save you a lot of time later on. Remember that the earlier you test with users, the better. As fixing an unusable product too late is next to impossible.
The purpose of Information architecture (IA) and wireframes is to organize the content and flow of a website or an application, which enables the users to complete their tasks with ease and quickly. The goal here is to produce useful content structures out of complex sets of information.
3. Prototyping
 At this step, you create an interactive model of your product, aimed at detailed testing by developers, design teams, stakeholders, and end-users. A prototype is the simulation version of the website or product that represents its user interface. As opposed to the wireframe, a prototype is a visual model that mimics the finished product.
It can be presented before the designing experts or end-users to experiment with the functionality of the product. Enabling the designer to see how the overall design will work together. It then helps him to find and remove any errors. 
The actual development of the product should start after the successful prototyping phase. 
Prototyping involves the following three steps:
Firstly, you create a basic prototype. Prepare it from the insights you learned in the research phase. 
Review the Prototype with users
After you implemented your prototype, you should start running some evaluations of this design with real users. Here, multiple designers and users review the prototype. Evaluate whether it complies with the users' demands and expectations or does not.
After getting the feedback, make necessary changes to the prototype to meet the users' requirements. This should be repeated as many times as is needed.
To create a digital prototype, you will need a dedicated tool. I would recommend Axure that allows you to create a high-fidelity prototype and enables simple testing with users thanks to the integration with UXtweak users (to find more about how to set that up, click here).
4. Development of the product
At this stage, the actual development of the product can start. Do not forget all the feedback you gathered from prototype testing. Unfortunately, the process is often not as straightforward as we would like so, you may occasionally need to go back to reiterate the previous steps until you finish the product. 
Testing
Testing is a continuous process to evaluate a product's performance and make necessary adjustments. After you have launched your product, it's time to gain insight into how users use your product. 
Here again, the user feedback will be crucial for optimizing the product or developing the next version.  Only a continuous cycle of testing and improvement will enable your product to survive the rapidly growing competition. After discovering emerging issues, the next step is obvious – removing them. 
The testing phase may include the following:
1. Usability Testing
Usability testing means evaluating and benchmarking the usability of a final product with real users. Different techniques can be used for usability testing, such as:
Concurrent Think Aloud (CTA)
It involves real-time feedback from users as they interact with the product. You can apply this method even in online usabilities tests with the help of the Think-aloud protocol.
Retrospective Think Aloud 
It asks users to retrace steps they followed to complete a task. It helps in understanding whether a particular process is repeatable.
In this technique, you ask users questions while a testing session is in progress.
This technique is about asking the thoughts of users after they've completed their session. In online usability studies, you can apply Retrospective Probing with after-task and after-study questionnaires, which will enable you to gain additional information and feedback from respondents.
2. Site Analytics
Site analytics provide valuable data related to various metrics like click-path, average time spent on the website, bounce rate, etc. It gives the designer useful insights into user behavior. It is particularly important in scenarios when you already have a website up and running. With the help of these analytics, you can then enhance the IA, conversion rates, and other UX elements. Apply the changes and again keep reviewing the analytics to see if the changes resulted in any improvement.
3. A/B Testing
A/B testing is a method to test two or more versions of a product by subjecting them to experimentation and finding the version that showed better results. For example, to find out which one of the two versions of your website work better, split the traffic to each of them, and measure their performance based on metrics such as the number of conversions, bounce rate, etc. 
4. Session Recording
With Session Recording you can observe how your users use your product instead of asking them about their experience. Session recording is a qualitative research method whereby the browsing or journey of a real website or app users is recorded. These recordings are then used to gain insights into users' behavior and interaction with your design. It includes clicks, scrolls, mouse movements, and much more. UXtweak is offering matchless session recording.
Session recording is also a great way to eliminate cognitive bias, as with session recording, you are not influencing users in any way. Instead of having them come to a UX laboratory, they interact with the product naturally in the comfort of their own home.
Additional tip:
Our tip for simplifying the UX design process is to automate your data entry tasks, to save a lot of time. A tool such as Cognifirm can help you to be more efficient by automating copying and pasting data between any online system or fetching the data you need from excel spreadsheets.
Why Is User Research So Important To The UX Design Process?
A product-design cycle begins with user research, which is one of the most crucial aspects. All of your team's energy, effort, and money will be wasted if you create something that no one wants to consume. User research should always come before UX strategy since it aids in the elimination of unfounded assumptions from the design process. It assists you in locating the proper workforce to help you move your product ahead, make any necessary modifications, and iterate on your product design.
User research benefits you in identifying early consumers who are likely to use your service. To make sure that your product, whether it's a website, an app or just an early stage prototype, appeals to the users, you must first identify who those users are. What are their pain-points, wants, needs and expectations? How can your product be useful to them?
However, user research is equally important throughout the whole UX design process, not only at the beginning. By adapting and using various usability testing tools you are able to improve the product as you go and gather valuable user feedback, ensuring that there will be no usability issues left.
Bypassing the user-research stage, whether due to time limitations or any other reason, can have severe consequences for businesses. Is it possible to design a product without understanding what challenges it will fix for users? One of the key factors most products fail is that companies do not spend time and resources on user research. They begin with a data set or a concept but do not spend time comprehending the issues that users would encounter when using the product.
How do various roles fit into the UX design process?
UX is a cooperative process. At different phases, specific people are required. It's fluid. It's a collective approach. And it adapts to meet the requirements of the company.
Here's how diverse UX roles fit into the process:
UX designers

are typically involved throughout the entire design process, working at overall levels of the thinking process. They are similar to all-rounders, with broad job requirements.

Senior UX/Product designers

are UX creators, but with a significant amount of experience. They play a similar function to the UX designer in that they are present throughout the process. They also assist in visualizing the product's mid-to-long-term guidelines from a strategic viewpoint.

UI/Visual designers

are experts in the prototyping stage. They begin by designing pleasing, convenient, and useful interfaces and visual elements. They provide mockups, visual guides, icon libraries, design specifications, and other services.

UX researchers

serve as user attorneys. Their core concern is on the user, and they participate in the empathize, define, and test stages. They conduct usability tests, interview users, create road maps, accessibility analyses, and more.
UX writers and content strategists generate a version that is informative, obvious, and consistent with the brand's image. Their key focus is during the prototype phase. They provide a sample and editorial/language standards that define the tone of the product's content.
The Bottom Line
This overview of the UX design process reveals that a perfect design is not about pure aesthetics only. If you want to create a successful product, it must be user-oriented. Creating user-oriented products will not happen by a chance, and is a result of the continuous cycle of testing and optimization.
" I confirm the subscription of this blog to the Paperblog service under the username tadeux"