TikTok for Business: How to Market your Brand
If your business has yet to try TikTok marketing, 2023 is the right time to make the most out of this social network and use TikTok for business.
It's no secret that TikTok has become the most popular social media platform and the most downloaded app in the world. It is primarily used for entertainment as people share funny, educational, and branded videos on this platform. Interestingly, nearly 90% of TikTok users are a younger audience, as it targets millennials and generation Z. However, many established businesses and large corporations use TikTok to increase brand awareness and engagement.
It is an excellent opportunity for startups and small businesses to use TikTok to promote their services or products. The newer social media platform with more than 1 billion monthly users lets you create short-from, music-focused, entertaining videos. Since TikTok is an excellent platform for businesses to maximise user engagement, it is the best time to harness the power of this social media app.
Let's discover how TikTok can help your business grow and how to use TikTok to market your brand in 2023.
Why It is the Best Time to Use TikTok for Business?
TikTok has become a top player in the social media platform in a very short period. According to statistics, TikTok exceeded 3.5 billion all-time downloads. The social media app is available in more than 141 countries and is considered the best platform to share video content. It gives brands and influencers an excellent opportunity to connect with a younger audience and share informative, educational and entertaining content.
TikTok allows marketers to focus on gaining more target users by creating exciting content and increasing their audience reach quickly. The platform lets you create short videos that can be used to promote your products, attract the target audience, and garner user engagement. If you are still determining whether it is the right time to use TikTok, here are a few benefits of using TikTok for your business that can help you make a well-informed decision.
Benefits of TikTok for Startups and Small Businesses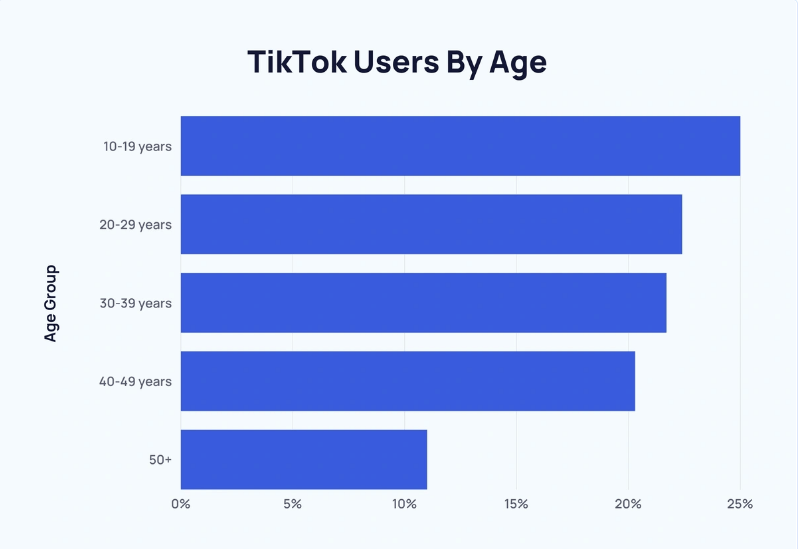 Reach a Younger Audience
TikTok is an excellent platform for brands targeting generation Z and millennials. The platform has a large number of younger users and middle-aged users. According to recent statistics, nearly 25% of the TikTok audience is below 19 years, 23% are 29, 22% are 30-39 years old, and 20% are 40-49. The platform lets you connect with the target audience in a fun and authentic way.
A survey suggests that TikTok users are interested in buying a product after seeing it. Furthermore, TikTok users connect with brands that create interesting branded content. In short, TikTok will help your business reach a younger audience and promote your products or services.
Boost User Engagement
A survey suggests that TikTok users spend an average of 19.6 hours per month on the app daily. It shows that marketers have an excellent opportunity to engage a wider audience and engage with them. By creating more engaging video content, marketers can catch their audience's interest and increase user engagement.
Wide Range of Ad Formats
TikTok provides brands with several features and ad formats that you can use to increase brand awareness and drive more conversions and sales. TikTok Ads Manager platform lets you choose different ad formats, depending on your requirements. Here is a list of different types of ad formats available on TikTok:
In-Feed ads
Spark ads
Pangle ads
Carousel ads
Top-View Ads
Hashtag Challenges
Branded Effects
Depending on your requirements, you can choose the ad format that best aligns with your marketing goals.
Viral Content Opportunities
TikTok lets you create fun, informative, and entertaining content for your audience. It allows you to show your brand personality by creating exciting videos that are easy to consume. TikTok is all about sharing short videos, so make sure your videos are attention-grabbing and visually appealing. Whether you want to highlight a new product feature or show the benefits of using your services, you can develop an exciting idea to convey your point. Following the latest trends and using branded hashtags will increase your chances of going viral.
Increase Brand Awareness
One of the most significant benefits of using TikTok for your business is that it allows you to create brand awareness among different audiences. It is interesting to know that TikTok's engagement rate is increasing daily. Since the engagement rate is growing, small businesses have an excellent opportunity to get their videos seen and grow their following. By creating exciting content, you can garner brand awareness and put your brand in front of your target audience.  
Promote Your Products or Services
Whether you are a real estate business, mobile app Development Company, eCommerce store or web design agency, TikTok is an excellent platform to promote your brand. You can market your products, services, work culture, hardworking team, and anything you want to show your audience. You need to create engaging content regularly, follow hashtag trends, use TikTok audio features and work with influencers to promote your startup business on TikTok.  
Build Your Brand Credibility
Today's consumers prefer authenticity and prefer brands that look credible. They are over-smart and are aware of all the marketing tactics. TikTok lets you share the authentic side of your business and build trust with your audience. For instance, you can share user-generated content, customer testimonials and success stories on this famous video publishing platform to build your brand credibility.
Create a Strong TikTok Marketing Strategy for Your Business
Here are some critical steps to create a killer TikTok marketing strategy for your business. 
Determine Your Target Audience
Be Aware of the Latest Features
Figure out Your Goals
Set Your Budget
Create a Content Plan
Determine Your Target Audience
It is one of the essential steps to creating a robust TikTok marketing strategy for your business. According to TikTok, nearly 80% of its users prefer brands that understand how to tailor content for the platform. There is no denying the fact that TikTok is the best app for younger audiences and teenagers. Brands can sell their products and services on TikTok by understanding the interests and needs of their target audience. Do some research to understand the platform's requirements and create content per your audience's interests.
Be Aware of the Latest Features
TikTok has many unique features that businesses can use to improve brand awareness, drive audience engagement and earn more sales. Explore the different features available on TikTok and figure out how to use them to create exciting video content and marketing campaigns. For instance, you will find several filters, sound effects and songs and use them to produce engaging content.
TikTok lets you create marketing campaigns in collaboration with other brands. You can go live to build a strong community of users and encourage them to participate. Moreover, TikTok Ads Manager allows you to choose from various ad formats depending on your marketing goals. So, explore all the top features of TikTok ads to create a catchy and fantastic experience for your target buyers.
Figure out Your Goals
If you want to make the most out of TikTok for your business, it is advised to set clear goals that align with your business objectives. Determine what you want to achieve with TikTok marketing. If you wish to improve brand visibility, promote your products or services, build a strong community, engage target buyers, or drive more conversions. When you have clear goals in mind, it will be easier for you to make the necessary adjustments in your strategy to reach your goals successfully. 
However, if you need help setting marketing goals, get support from marketing consulting agencies.
Knowing your objectives will help you create the right content and achieve your marketing goals. TikTok's built-in analytics feature lets you measure your progress and track your goals. You can easily monitor the critical metrics and track which content works best and needs improvement.
Set Your Budget
If you are planning to spend money on TikTok, it will help you achieve the desired results faster. For instance, you can set aside a budget for influencer marketing and send giveaways to content creators for your brand promotion.
According to an Insider Intelligence report, more than 76% of marketers are willing to spend more on TikTok influencer marketing. You can also set the ad spend budget for paid advertising campaigns. TikTok lets you choose from formats like branded hashtag challenges, in-feed ads and top-view ads.
Create a Content Plan
TikTok is about creating relevant, unique, and engaging content for the target users. You can attract more users and gain brand visibility with the right content type. Therefore, creating a robust content strategy is essential to catch the interest of more users.
When creating a content plan for TikTok marketing, identify the types of content your target users like and engage with. Explore the Discover tab to check what content is trending and brainstorm content ideas for your brand. Create engaging and relevant content that attracts users, promotes your brand and encourages users to engage with your brand.
To make your video content more interesting, you can make the most of TikTok's exciting features, such as filters and music effects. You can use user-generated content to generate engagement and build a strong community of followers. Try to create unique content, as it has a higher chance of going viral than other types.
How to Promote Your Brand on TikTok?
If you are wondering how to promote your brand on TikTok, follow these steps:
Follow the Latest Trends
Show the Humorous Side of Your Brand
Create Your TikTok Account in Different Languages (Localisation)
Make the Most out of Shopping Feature
Use Hashtags
Influencer Marketing
Leverage TikTok Audio
Create TikTok Challenges
Follow the Latest Trends
When marketing your business on TikTok, it is crucial to be aware of the unique trends to catch the interest of your target audience. TikTok is a trendy social networking platform, and staying ahead of the trends on this platform will help you gain a competitive edge. You need to observe what is trending on the platform and then create content that engages your audience.
You can follow famous TikTok influencers to check what is trending. Explore the Discover Page to determine the latest audio and content topics. Hashtag research is also helpful in finding trending topics. For instance, you can create a hashtag challenge and encourage users to create videos by using the hashtag.
Do careful research and see which type of content your target audience is engaging the most. Use this information to create different kinds of video content for your audience. It will help you make maximum user engagement.
Show the Humorous Side of Your Brand
TikTok is a perfect platform that lets businesses represent their brand personality via exciting video content. It has become an entertaining platform where users share funny content and expects brands to do the same. TikTok is a creative space that lets marketers create funny and entertaining videos to maximise user engagement.
There are better places to share formal stuff than TikTok. It is advised to follow a less commercial approach and avoid branded videos. Instead, share the fun side of your business and try to represent your brand culture, values, and identity by incorporating some fun and creative ideas.
Create Your TikTok Account in Different Languages
Consider creating different language accounts if you are a web design agency that caters to global clients or an eCommerce store that ships products in other countries. It is a sensible strategy to reach your local audience and promote your products or services. Considering the geographic location of your target audience will help you create customised content according to their interests and engage the local audience. Small businesses can create videos for the local audience that will make products and services relatable to locals. You can show your location in the video caption and use a hashtag to highlight the local area.
Make the Most out of TikTok Shopping Feature
Just like the Instagram Shopping feature, TikTok also allows brands, content creators and merchants to use the shopping feature and showcase and sell their products. TikTok Shopping lets users buy products in the app without leaving the app or opening a separate web page. A dedicated Shopping tab with a Shopping bag icon allows users to select products and shop directly on TikTok.
You can create a TikTok Shop and sell your products through the product showcase tab during live streams and in-feed videos.
Use Hashtags
Using hashtags is one of the most effective strategies to increase visibility and appear in front of the right audience. Use hashtags in your video captions so that people notice your content and drive up engagement. Moreover, you can incorporate branded hashtags to promote your brand challenge to encourage users to participate.
According to TikTok's algorithm, you should use at least two hashtags to keep your post trendy. So, it is advised to use hashtags continuously to ensure your content reaches a broader audience. You can figure out viral trends and videos and create hashtags based on the relevant keywords and the local region. You can make the most out of trending TikTok hashtags and use them appropriately in your content.
Harness the Power of Influencer Marketing
TikTok is a beautiful platform for influencer marketing. You will find hundreds of thousands of influencers on TikTok and collaborate with them to build brand awareness and credibility. With the help of influencers, you can showcase your products and highlight the benefits of using your services. Influencers can put your brand in front of the right audience and increase your brand reach.
Many brands have collaborated with popular TikTok influencers and created successful campaigns. The influencer partnership plays a vital role in increasing engagement rates and taking your business towards new heights of success. Partnering with the right influencers can help boost your brand visibility and feature your products in a way that resonates with their followers.
By collaborating with influencers, you can use branded hashtags to promote your brand challenge and encourage user participation.
Leverage TikTok Audio
TikTok Sounds Library is the most exciting feature that allows you to choose from the number of famous songs available. You can use it to improve your brand visibility. Add TikTok sounds in your videos to make your content easily identifiable in the TikTok algorithm.
According to statistics, 90% of users think that sound is the most crucial element to enhance the TikTok experience. TikTok videos with audio can make them more entertaining than other social media platforms. They will lose their meaning if you don't use audio in TikTok videos. So, it is advised to make the most out of the interesting TikTok sound features and includes several popular songs to get your brand noticed in front of a wider audience.  
Furthermore, TikTok allows marketers and content creators to create unique sounds to keep their branding consistent. For instance, if you want to mash up or voiceover, you choose from various voice effects and make your video interesting for your users.
Create TikTok Challenges
Brands can create TikTok challenges to catch the attention of target users and grow their businesses. A TikTok challenge allows brands to get user-generated content that they can use to increase brand credibility. Furthermore, TikTok challenge videos with brand hashtags get more views and encourage other users to participate in the challenge.
Businesses can develop exciting ideas, find a trending TikTok challenge, and participate in an already trending challenge. With the help of a Discover tab, you can figure out trending TikTok hashtag challenges. Make sure to find the relevant challenges that suit your brand personality and niche.
For instance, you can participate in makeover challenges if you are a fashion and beauty brand. However, you can also join in generic challenges to show your audience that your brand is fun and entertaining. It reflects a positive brand image and allows more people to participate.
Are You Ready to Use TikTok to Promote Your Brand?
TikTok is the most popular social media platform that quickly earned a massive and engaged user base. If used correctly, TikTok can be an effective marketing tool for brands that want to increase brand awareness, promote products and garner maximum user engagement. If you wish to promote your products through fun video content or tutorial videos, TikTok is the right place to improve your brand visibility and gain a competitive edge. So, use TikTok for business and improve your chances of increasing leads, conversions, and sales. Good luck!
FAQs
Is TikTok marketing good for your small business?
TikTok is an excellent social networking platform for small businesses and startups for various reasons. It is the best place to find a relevant audience interested in buying your products and services. You can increase your brand credibility and visibility by sharing engaging content regularly. You can build a strong community by sharing tutorials and insightful tips. You can also partner with influencers to engage with their followers and establish a positive brand image.
How to promote a brand on TikTok?
There are many effective ways to promote your brand on TikTok. For instance, you can create funny, educational and tutorial videos to market your product or service. Run paid advertising campaigns, create branded hashtag challenges and partner with TikTok influencers and content creators to promote your business on TikTok.
How to grow your audience with TikTok marketing?
TikTok is a great platform to attract a wider audience and improve brand awareness. Here are a few tips for catching the interest of your audience and gaining a competitive edge:
· Crate authentic, engaging content
· Integrate TikTok sound effects, filters, TikTok Shop and other unique features
· Follow the latest trends and use trending hashtags
· Collaborate with TikTok influencers to grow your network