How to Create a Law Firm Website Design
In the modern age of social media, people turn to Google to get an answer to their query or look for a service. Gone are the days when you'd get a text from your friend asking for a reference. Today, your friend will most likely Google it to look for the perfect match.
Likewise, if you want your business to boom, create a strong presence online. While paper media still prevails and cannot be replaceable, it is no longer valuable. The rise of social media platforms is the new way of marketing or connecting to your audience. 
And the backbone of marketing is a well-designed website. A website is where all your social media posts, your emails will lead. Without an argument, an appealing and easy-to-navigate website can help with lead generation.
There is a vast list of do's and don'ts for a good functioning website. We can help you get that in a single article without searching for twenty different approaches and ideas.
Law Firm Websites
Creating a website for a legal service is as crucial as other businesses. Nonetheless, the market is more competitive for the legal professions than any other. Your client will reach out to you every other day to get updates. Or they will search the internet for your service reviews. 
You can get a new potential client who's been reading your blogs. Benefits of a website range from connecting to your existing clients to reaching new ones; a website can help you get your law firm out there!
You can use a website to connect to your potential clients, showcase your expertise in the field, or present your achievements with your past clients.
All you have to do is; create a responsive website that shows up on search engine results so your client can know you and decide if you're offering what they're chasing down. And if you don't have a website, you're simply handing off your client to your competitor. 
How to Create a Website?
A website with responsive design and easy to navigate that is also easy to read and provides a means to communicate. All these things are to be taken care of when creating a website.
While you try to compile all these aspects in a single website, your brain may start to burn. An easy way out would be using a Law firm website template, where you can get loads of law blog designs for selection. Or you can keep reading this article for a detailed guide.
What to consider before website creation?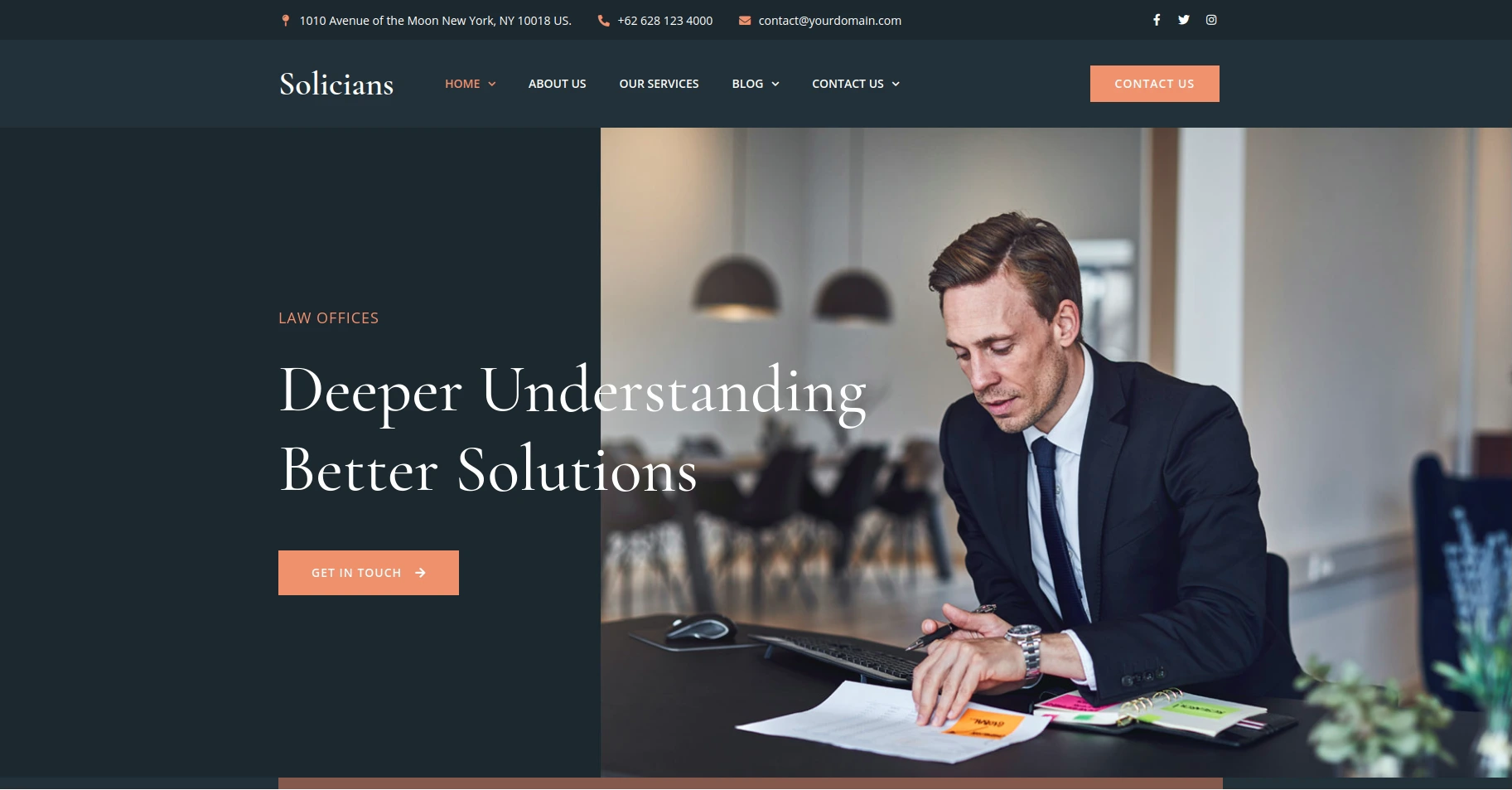 Before you begin to brainstorm for a website, sit back and evaluate your idea of a website. Reset the basic idea of what a website should have, and reconsider it with your law firm and your prospects in mind. 
Here are the four best practices to get a website that will reflect your law firm and provides the client with what they need.
Goals for Website
Why did you create a website? There are only two reasons for website creation. One is brand awareness: you want your client to know more about you or get your law firm to new prospects. 
If you want to be visible to potential clients, appear on their doorstep, a.k.a search engine result page (SERP). It can lead to more traffic and better brand awareness. For this purpose, your website should have SEO-optimised content. 
SEO-optimised content means maintaining and designing a website so that; it is ranked higher in Google or Bing's search engine to drive more traffic. 
On the other hand, did you create a website to get more leads? For this objective, create content that involves quizzes or follow-up content. Providing valuable information; so the audience will share their contact information to keep getting updates. 
All in all: you want to get your requirements straight to develop a website that meets those.
Who is your audience? 
Keeping your audience in mind can help you with content creation. If you're a worker's compensation lawyer, you know your audience. They might be tense and needs content that highlights their issues directly. 
Are you a family lawyer? Your audience is either looking for a prenuptial agreement or involved in child custody. Make relevant content that reflects your audience. 
Meanwhile, a corporate lawyer needs their content to meet every nook and corner of corporate law, describe your expertise, and that you know what you're doing.
Knowing your target audience can help your better plan your content and connect with your potential clients.
Great User Experience
An essential part of a successful website is focusing on the user experience. A user experience means collecting data from your audience's responses regarding your website and altering effectively.
It means providing them with the content and website that allows them to explore your website smoothly, which leads them to the contact page. Create content that serves as a way to demonstrate your knowledge in the field. 
This practice allows the user to trust your law firm with their issues. Write content that is easy to read. Your audience is already troubled, don't make your prospects suffer trying to comprehend what you're conveying in those complicated paragraphs. 
Make the paragraphs short, add subheadings, and add graphs, charts, and images to support your content and relate to your audience.
Quality over Quantity
We've heard this phrase many times, and you can implement it here, too. Don't burden yourself trying to create content every day. Your audience will connect if your content is relevant, not when you publish a ton load of noninformative content every day.
Be honest with yourself and set a time, budget, and effort you are willing to put into your website. Content marketing can be exhausting, especially for an attorney's busy schedule. But with proper strategy, you can benefit from it to a great extent. 
The website's content quality can determine the fate of its success rather than the amount of content you can offer. 
What does a Law Firm Website Contain?
Starting with the basics, what does a lawyer's website involve? By understanding the necessary elements of a website, we can create a more organised reflection of our law firm. So what are these elements? 
Home Page
A home page is the front of your law firm, so it should mention your firm's name, logo, and mission, along with a message that compels your audience to learn more about your firm. 
It should be visually appealing and offers clean navigation pathways to other essential pages. You can also mention some credentials, partners, areas of practice, or a CTA to allow your clients to better and swiftly connect with your firm.
However, there's no need to add a paragraph or two boasting about your law firm. Home pages need to be as precise as possible to let people instantly get who you are and what you do.
Area of Practice
A service page to state your area of expertise; it lets your audience decide if you are the right lawyer for them. If you specialise in more than one field of law: we suggest you use a service page as a vestibule leading to other landing pages for a specific area of specialisation.
A page for Lawyers
Or an About page, where you display your education, certificates, or experience. 
This page includes a bio and a picture of each lawyer in your firm with their area of expertise. This tactic helps the audience determine if you deal in the area they need and builds trust. You can mention your best lawyers on your home or service page to attract potential clients.
Awards and Achievements
A page solely dedicated to your success stories. As a legal practitioner, you may get awards or appreciation that can add value to your firm. Showcase these awards and recognition on this page. 
Discuss your area of practice and excellence in it. Mention the victories and achievements you've made for your clients. It creates a positive impact, builds authority, and allows readers to trust your firm for its capabilities.
Reviews
According to online research conducted by Pew Research Centre, 82% of US adults check online reviews and ratings before buying a product. Alike products, people also look for genuine reviews before finalising a legal practitioner.
Client reviews can encourage your visitors to contact you. Google prefers websites with client feedback and ranks higher on search engine result pages. 
Client feedback can help your build authority and trust with your readers. Refrain from offering your client something in return for their reviews or desperately asking them for reviews, as it damages your credibility. 
Contact Page
A contact page is for informing ways of contacting your law firm and includes a contact page. You can add other necessary details like office location, Google maps, office hours, and the best time to contact you to make the page more organised.
Book a Consultation
It is a page that can help ease the booking process. Attorneys have busy schedules and may take time to respond or arrange a consultation. However, with this page solely dedicated to bookings, your clients can book a consultation more feasibly so you can update your schedule accordingly. 
Other than a header, footer, and navigation menu, these are additional essential pages that can help your website be more organised. 
Website creation with templates
Let's begin with setting up your website following these easy steps:
Step 1: Select a domain name. It is an easy-to-read address of your website and helps people to access it. 
Then go for a web hosting plan: where all your website data files and resources are stored. A web hosting plan allows your website to be accessible. It is where you'll install WordPress and other add-ons we'll mention later.
A hosting plan can range from affordable to expensive ones. We recommend searching for a hosting plan with compatible packages that stays within your budget.
Finally, install WordPress! Some hosting providers have it installed in their system, while for others, you have to install it yourself. WordPress allows you to select from a range of templates and themes for your law firm website. 
Step 2: Get a WordPress theme installed. WordPress offers thousands of themes to choose from, but all those have the basic setup. For a better first impression of your law website, select a theme specifically built for law firms.
These themes can be reasonable or costly, depending on your requirements. Astra, Zakra, and Sydney Pro are among the most popular and free WordPress themes, offering a vast spectrum of templates.
Step 3: Once you've chosen a theme install a starter template. It is a plugin having many pre-made website designs or pages to be used and readjusted according to your needs. 
Check that your plugin is compatible with a page builder that allows a smooth process afterwards. 
Step 4: Hit the build your website button and select a page builder like Elementor to do its work. After selecting a page builder, you choose a law firm template. It's time for the fun part; selecting a template.
From a wide range of templates, it'll confuse you about which one to choose. They offer free or premium templates, each with a unique design that compliments its structure. 
There are many responsive HTML website templates available. Some of these templates are;
Juristic
Lawkit
Law & Order
Justico
These, with other templates, can help you highlight your desired areas or pages on your website. 
Step 5: Customise your template. Elementor provides an easy and comfortable drag-and-drop option to edit your website efficiently.
We can change the logo to your law firm's logo, colour schemes, fonts, layouts, and navigation links in this option. Add a specific Call to Action button or re-edit these changes if need be. Submit and Build My Website!
You can view what your page looks like and asses it's functionality. Not to forget that you edited your template according to your needs which involves adding pages for:
Representing your lawers
Importing statistics to showcase your cases and victories
And a FAQ section to address the common queries of the audience. 
Once satisfied with the final product, click the update button and preview the site. If all goes well and you're ready, click the button to publish it live. These are the five simple steps to follow and get a customised law firm website up and running. 
Website Creation: DIY
Wanting to stand out in the competitive market? Investing in your website creation is a great idea. Even if you're not so tech-savvy, you can create a website with the help of online tools such as;
There are many benefits to creating your website rather than relying on a template. Such as;
Less costly as web developers may charge you hundreds or thousands for web creation and maintenance. 
Small law firms can benefit from creating their website themselves. 
For obvious reasons, creating your website can take less time. Web developers are dealing with several clients at a time which can cause your website to take time to get published. 
You can revise and customise your website more quickly than waiting for a web developer.
Updating your website sounds like a smooth process. Contacting your web developer (again) to get your website updated can take another long month. 
But if you use these modern technologies, you can say goodbye to updating hassles.
Easier to attend to troubleshooting. A problem or an error in your website for long periods can impose damage to your business.
Your team can fix these issues more quickly than an agency. 
Your knowledge about your law firm, clients, the field of specialisation, and the market is incomparable. You know your audience and their requirement better. 
Therefore, you can use this information and insight to customise your website for your target audience. Your understanding helps you connect with your audience more efficiently and get your law firm marketing to the next level. 
Getting an attractive and well-functioning website is the key to attracting new customers. While creating a DIY law firm website, ensure your website aligns with your brand identity and professional appearance.
Professional law firm developers
Moving to the last approach to getting a running website is seeking professional help. Creating a DIY website can be a great option. Regardless, if you're starting in this field with no recognition, a trained web developer may help you stand out. 
They can provide you with a design scheme that presents every detail of your field and law firm with all the essential pages built. When looking forward to any additional page, it can charge extra. 
Nonetheless, you can maintain your website within your budget without any worries. Pay for website creation only and further sustain it yourself: which requires time, revisions, and experimentation to get the best out of it. 
However, you would want to avoid a not-so-great website by a scammer. Here are a few things regarding what to look for in a smooth-running website. 
Images: Use the right image, not the one with your law firm's or your lawyer's name written on it. Using images in blog posts is great for visual appearance and SEO. 
Get a graphic designer and photography team, and add professional headshots of your lawyers to the website. It will benefit the brand you're trying to create online and allows user to gather more information about your law firm. 
Accessibility: Create a website that is accessible by all devices. Having a mobile-friendly website is preferred by Google for ranking purposes. You can also make sure about another aspect of accessibility. 
Asses if your website has a colour contrast scheme that is beneficial for colour-blind users or people with vision impairment that depend on on-screen reading. Create content that supports these aspects to provide a user-friendly experience.
Website Structure: A website with smooth navigation options will allow a better experience and present every detail of the law firm right in front.
Ensure your website is well organised, with straight forward structure. When a potential client can effortlessly gather information from your website, most of them will also be sealing the deal with you. 
Improve Loading Time: A website that functions slowly will drive the prospects away. In contrast, a fast-paced site will provide a better user experience and get your clients hooked. 
Use optimised, high-quality images to improve the loading time of your website. Avoid risking the quality of your pictures and webpage, as it damages your brand identity. 
These are a few aspects that can determine the success or failure of your website. By providing a good user experience, your webpage can rank higher hence a steady flow of traffic and potential clients.
Tips for a Successful Website
Lastly, invest in your website's SEO. SEO is a way to stand out in the Search Engine Result Page (SERP) and gain organic traffic.
It can be exhausting to understand the concept of SEO at first, but once you get a grip on it, it can expose your website to many prospects. 
SEO Optimisation: Google crawls through pages to find relevant information that is helpful to the audience. If you create blogs with valuable information, it will benefit your SEO ranking.
Localised Keywords: Use keywords that are trending in your area of expertise. Double-check these keywords with the local searches.
It means keeping the audience from your region, city, or country as a priority. Attending to those keywords will make your content relevant and help with SEO.
Search Intent: This means using keywords for the exact purpose other than only SEO ranking. Understanding your audiences' queries regarding an issue and addressing those concerns will help them gain insight. 
Keeping this intent in mind while website creation can tremendously help with Google SEO as it is relevant, helpful, and proves your law firm's credibility in the field.
Content Strategy: Develop a strategy that better reflects your law firm. Create content that is suitable for your audience and area of practice.
Why did you create this website? For lead generation or to gain traffic? Adjust your Key Performance Indicator (KPIs) and develop a strategy around them. 
Understand your audience, their likes and dislikes, and the content they engage with the most. Create a publishing schedule to create quality content by then. Also, take advantage of recent events or evergreen topics.
Finally, remember the power of social media. Promote your content on social platforms and in emails to get to new users and get steady organic traffic. 
In Conclusion
We created this article to help you build a website from scratch. Either a DIY or through professional help, you can assemble a functioning website in no time. Apply these SEO tips to gain new prospects and get the word of your law firms out in the world. 
However, these SEO practices and Google's algorithm for ranking keep changing. Keep up with these changes, know where to invest your energy and which part of your website needs attention to get a fully functioning online presence.
Lastly, adhere to the official guidelines and regulations to run a law firm website. Remember to follow an ethical way to deal with clients and concerns; avoiding these guidelines can lead to legal troubles. 
We hope this article helps you as much so you can kick start your work for creating a professional and reliable online presence.