50+ Best Tools for Freelancers to Scale and Grow
I'm thrilled to introduce you to the ultimate resource for scaling and growing your freelance business. As a seasoned entrepreneur and brand strategist, I know firsthand just how challenging it can be to build a thriving freelance career. That's why I've compiled this list of 50+ top-notch tools to help take your business to the next level.
Whether you're a graphic designer, writer, marketer, or freelancer, these tools will help you streamline your workflow, improve your productivity, and ultimately increase your revenue. From project management software to time-tracking apps to invoicing tools, this comprehensive guide has everything you need to succeed as a freelancer.
So if you're ready to take your freelance business to new heights, dive into this article and discover the 50+ best tools for freelancers to scale and grow. Let's get started!
Project Management Tools
1 – Trello
In today's business world, spreadsheets, emails, and endless notifications can impede teamwork, regardless of a team's size. Project assignments, tasks, and daily to-do lists can become misplaced, and transparency can be sacrificed, reducing productivity. Freelancers must manage this constant overload, build projects, track progress, and achieve important business goals. They need a clear overview of the entire process to ensure everyone is on the same page.
That's where Trello comes in; a visual collaboration tool that enables users to share a common perspective on any project in a fun, flexible, and rewarding way.
Sales and marketing, HR, and operations teams can all design and personalise Trello to meet their unique needs and work styles. You can seamlessly integrate Trello with over 100 vital tools like Google Drive, Slack, Jira, and more. This means that Trello is a living and breathing project hub, allowing for cross-team collaboration, no matter where your work needs to happen.
Trello's core features are as simple as organising sticky notes on a wall, making it easy to go from idea to action in seconds. There's no cumbersome onboarding process to get started, so getting group participation is easy.
Trello brings joy to teamwork by making it transparent and easily shareable across boards and teams. Users can make Trello their own and have fun while doing it! The platform offers features like board backgrounds, emoji reactions, and stickers.
Trello is trusted by millions and powers teams all around the world. It offers a range of options, including a free version for individuals looking to be more productive, a standard version for teams that need to manage more work and scale collaboration, and a premium version for people that need to track multiple projects and visualise work in a variety of ways.
2 – Asana
Asana is a work management platform that stands out from the competition. It was built with a focus on quality over quantity of features, which means it prioritises the scalability and reliability of its platform. This results in a platform you can always count on, no matter how much work you have.
Moreover, Asana has an intuitive design and user-friendly interface that make starting easy. You don't need to be a tech whiz to use it – log in, create a project, and start assigning tasks. Asana also offers a range of features that help you stay on track, including project timelines, team calendars, and customisable templates.
But what sets Asana apart is its flexibility. You can use it for almost any project, from small personal tasks to extensive team collaborations. And with its mobile app, you can stay connected and on top of your work no matter where you are.
So, try Asana if you're tired of feeling overwhelmed by your work assignments and projects. It's a reliable, scalable, and intuitive platform that can help you execute according to plan. With Asana, you can finally focus on the work that matters most and leave the rest to the platform that does it best.
3 – Todoist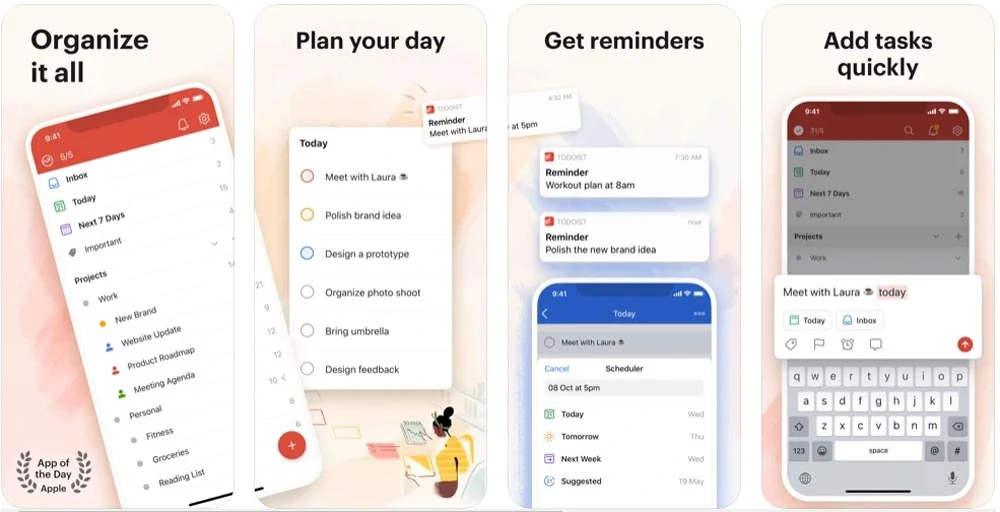 Are you feeling overwhelmed by all the tasks swirling around in your head? Do you wish you could bring clarity and calmness to your life and work? Well, let me tell you, Todoist is the answer you've been searching for!
With Todoist, you can easily organise your tasks and to-do lists, no matter where or what device you're using. It's simple yet powerful, and it's been ranked best-in-class by Apple, Google, The Verge, Forbes, and many more.
And the numbers don't lie, folks! Since 2007, over 25 million people have turned to Todoist to help them organise their work and life. That's more than two billion tasks completed along the way – and that's some serious productivity!
So why not join the millions of satisfied Todoist users today and start getting those tasks out of your head and into the app? Trust me; you won't regret it.
4 – ClickUp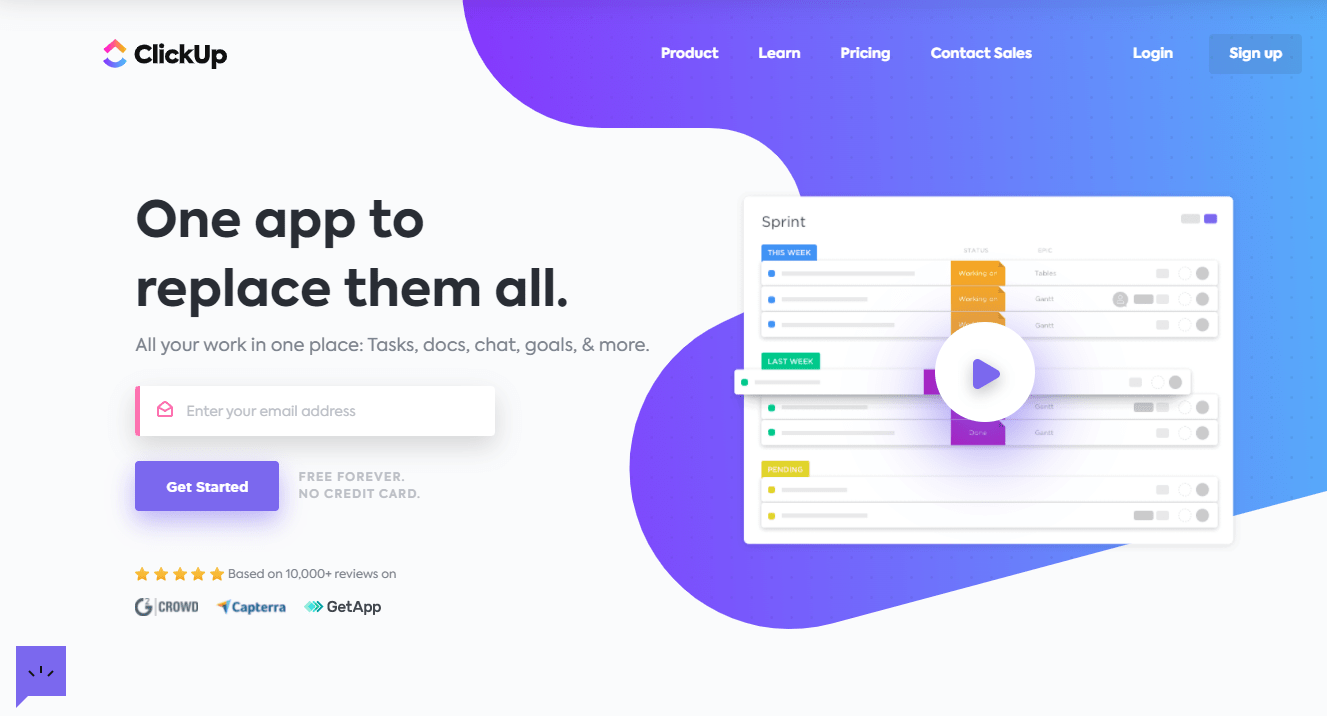 ClickUp is the ultimate hub where teams can plan, organise, and collaborate on work using various tools like tasks, Docs, Chat, Goals, Whiteboards, and more. It's like having a Swiss Army knife for productivity at your fingertips!
What's really impressive about ClickUp is that it's easily customisable with just a few clicks. Whether you're a small team or a large organisation, ClickUp can be tailored to meet your unique needs and workflows. It's the perfect platform to help groups of all types and sizes deliver work more effectively, boosting productivity to new heights.
With ClickUp, you'll have all the tools to stay on top of your work, collaborate with teammates, and get things done faster and more efficiently. And let's be honest, who doesn't want to boost their productivity to new heights?
5 – Basecamp
Basecamp is the go-to platform for teams working on projects, communicating, and getting organised daily. Whether you're collaborating with teammates across the room or clients across the world, Basecamp is the right tool to get things done.
One of the coolest things about Basecamp is how easy it makes it for teams to see what everyone is working on. With the ability to collaborate on documents, schedule projects, and more without the need for endless meetings or a never-ending stream of emails, Basecamp is a true productivity powerhouse.
With Basecamp, you'll have everything you need to stay on top of your projects and collaborate with teammates in one handy platform. So if you're looking for a collaboration tool that can help streamline your team's workflow and boost productivity, look no further.
6 – Monday.com
By combining building blocks like apps and integrations, freelancers can customise whatever they need to improve how their business runs. With monday.com Work OS, you can boost your alignment, efficiency, and productivity by customising any workflow to fit your business's needs.
The possibilities are endless with monday.com Work OS – you can create workflows for project management, sales tracking, HR processes, and so much more. It's a one-stop shop for all your business needs.
And the best part? It's super easy to use! With monday.com Work OS, you don't need to be a tech expert to customise your workflows. Drag and drop the building blocks you need to create the perfect workflow for your business.
So why not take your team's productivity to the next level by customising your workflows with monday.com Work OS?
7 – Wrike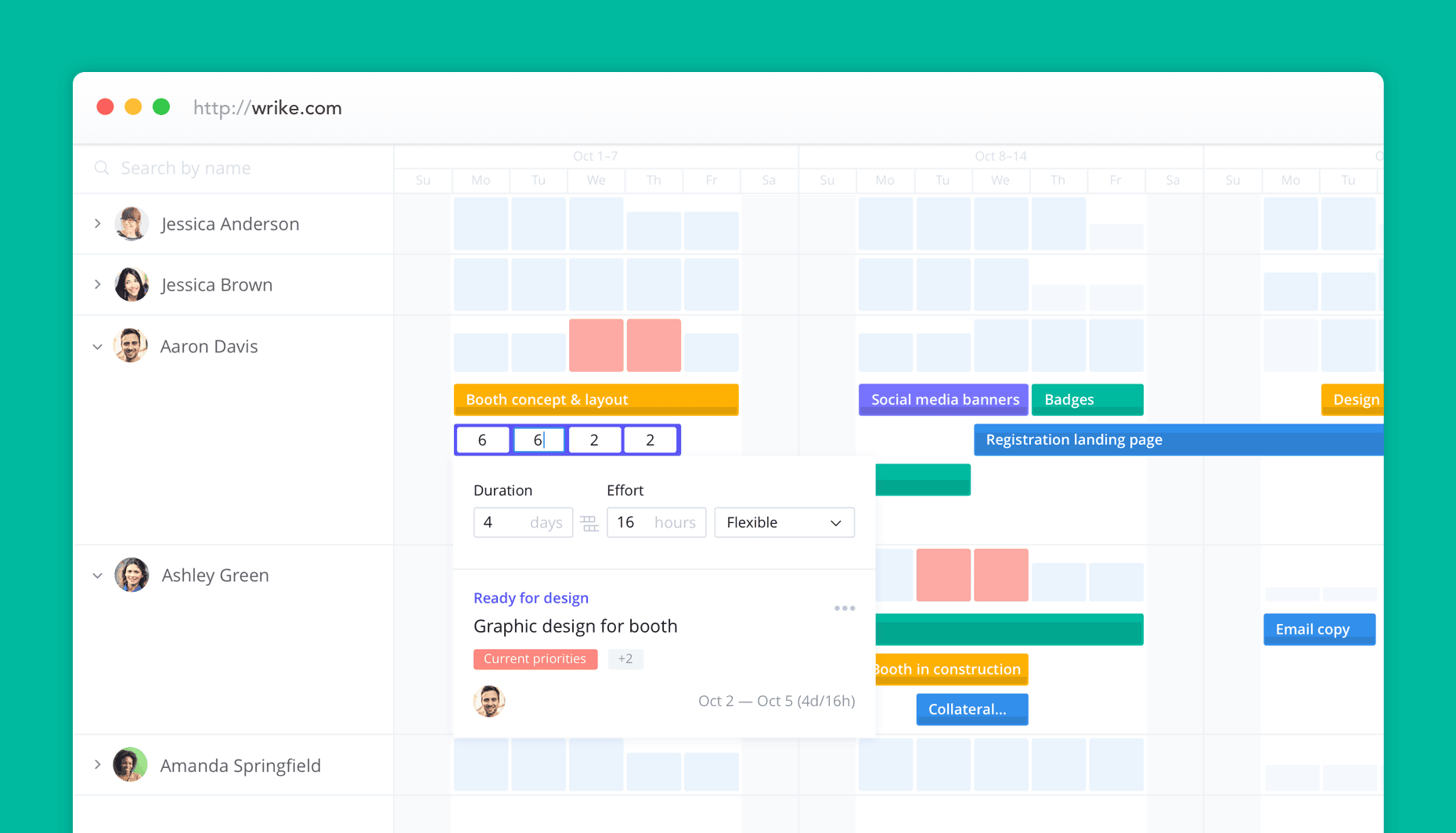 Designed for freelancers and teams looking to collaborate, create, and exceed daily, Wrike brings all work and team members into one place. With power, versatility, and intuitiveness, Wrike is the only work management solution you'll ever need to scale, optimise, and move fast in today's competitive world.
With Wrike, you can access powerful tools to help your team work together seamlessly. You can organise your projects, assign tasks, collaborate with your team members, and track progress in one easy-to-use platform.
Wrike's versatility means it can be customised to suit any business need, from marketing to product development to HR. No matter what kind of team or organisation you're a part of, Wrike has the tools to help you succeed.
8 – Airtable
Airtable is more than just a database or spreadsheet tool. It's a platform allowing you to create customised apps tailored to your business needs. With Airtable, you can develop apps for project management, sales tracking, inventory management, and more.
The best part? You don't need to be a tech expert in using it! Airtable's intuitive interface lets you easily create apps like tables, fields, and formulas using building blocks. Plus, with the Airtable Connected Apps Platform, you can connect your people and data to achieve your most important goals.
Over 300,000 organisations, including 80% of the Fortune 100, rely on Airtable to power their most critical workflows. Whether you're a small startup or a large enterprise, Airtable has the tools you need to succeed.
9 – Smartsheet
Smartsheet is more than just a project management tool. It's a comprehensive platform that allows organisations of all sizes to manage projects, automate processes, and gain visibility into programs and portfolios at scale. With Smartsheet, you can manage everything in one place, on one real-time, centralised platform accessible from anywhere, on any device.
What sets Smartsheet apart from other work management tools is its flexibility. Smartsheet is highly customisable, allowing you to create workflows, dashboards, and reports that fit your business needs. With a drag-and-drop interface and pre-built templates, you can easily create new projects and automate repetitive tasks, freeing time for more critical work.
Smartsheet is also highly collaborative. With features like comments, alerts, and reminders, your team can stay connected and up-to-date on project progress. And with the ability to share your sheets and collaborate with external stakeholders, you can bring everyone together on the same page.
10 – Microsoft Teams
What sets Microsoft Teams apart from other collaboration tools is its seamless integration with Office 365. You can directly access all your favourite apps like Word, Excel, and PowerPoint from Teams and collaborate on documents in real time with your colleagues. Plus, with the ability to integrate with hundreds of third-party apps, you can customise Teams to fit your business needs.
But Microsoft Teams is more than just a collaboration tool. It's a hub for teamwork that allows you to streamline communication and increase productivity.
With features like video calls, screen sharing, and instant messaging, you can easily connect with your colleagues and get work done faster. Plus, with the ability to set up channels for specific projects or topics, you can keep conversations organised and easy to find.
And with built-in advanced security and compliance features, you can be confident that your data is safe and secure. Microsoft Teams is compliant with industry standards and regulations like GDPR, HIPAA, and more, so you can rest assured that your data is protected.
Accounting and Invoicing Tools
1 – Freshbooks
FreshBooks is a cloud-based accounting and invoicing platform that provides businesses of all sizes with an effortless solution to their bookkeeping needs. It saves you valuable time, streamlines administrative processes, and professionally organises financial records. With FreshBooks, you can focus on what matters – growing your business.
They understand that managing your finances can be daunting, so it offers a simplified approach to financial recordkeeping that's easy and fast. With intuitive features like automated time tracking, expense tracking, and recurring invoices, you can stay on top of your finances without any hassle.
It is the ultimate solution for small business owners who value their time and need an efficient, streamlined accounting solution. Whether you're a freelancer, consultant, or small business owner, FreshBooks has everything you need to manage your finances and keep your business running smoothly.
2 – QuickBooks
QuickBooks is a powerful financial management software that makes it easy for businesses of all sizes to organise their finances in one place. With it, you can complete your frequent accounting tasks with fewer steps, giving you more time to focus on growing your business.
One of the best things about QuickBooks is that you don't need any accounting knowledge to use it effectively. The software is designed to be user-friendly and intuitive, with step-by-step instructions that guide you through setting up and using the platform.
One of the most significant benefits of using QuickBooks is that it ensures reliable records for tax time. With accurate and up-to-date financial data, you can easily prepare your taxes and avoid any penalties or fees associated with inaccurate reporting.
3 – Xero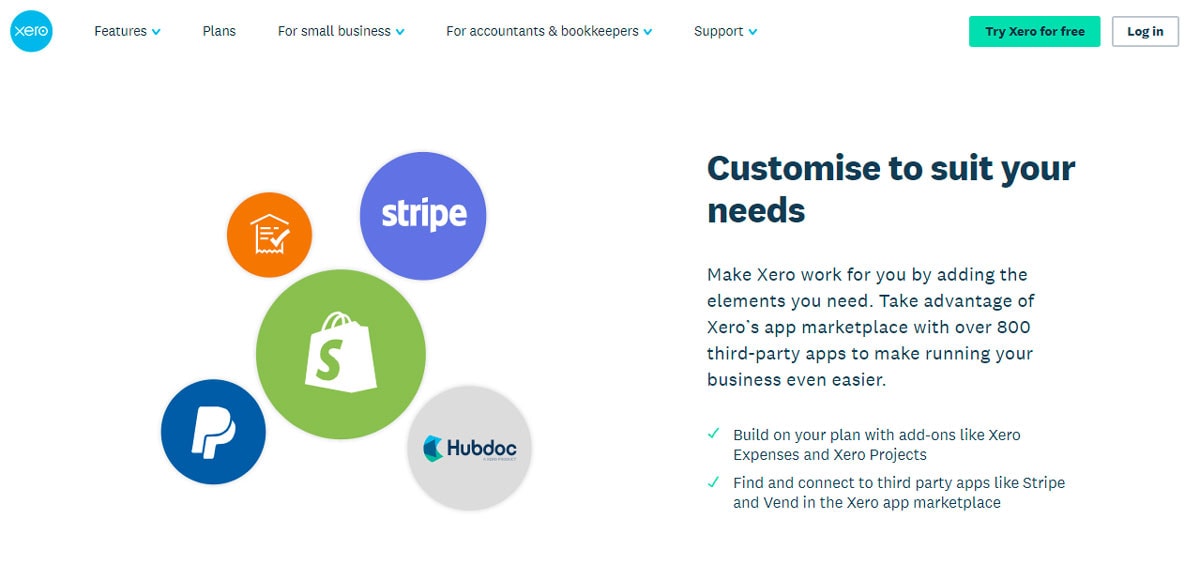 Xero is the ultimate small business platform, with over 3.5 million subscribers worldwide. Xero offers a comprehensive suite of solutions that includes core accounting, payroll, workforce management, expenses, and project management.
But that's not all – Xero's true power lies in its expansive ecosystem of connected apps and integrations with banks and financial institutions. This allows small business owners to access a range of solutions and tools from within the Xero platform, helping them run their businesses and manage their finances more efficiently than ever before.
With Xero, you can streamline your accounting and payroll processes, track employee hours and expenses, manage projects and budgets, and more from one centralised platform. Plus, with Xero's robust network of third-party apps and integrations, you can customise your experience to meet the unique needs of your business.
4 – Wave
Wave Accounting is the ultimate financial management platform designed specifically for micro-businesses, contractors, freelancers, and other service-based businesses on a budget.
With its user-friendly and approachable interface, Wave Accounting is the perfect solution for those without accounting experience. But don't let its simplicity fool you – this fully functional platform offers a comprehensive suite of tools to help you manage your bookkeeping, accounting, and invoicing all in one place.
Wave Accounting's internal integrations allow you to streamline your financial management processes, saving you time and money. And with its powerful invoicing features, you can easily create and send professional-looking invoices to your clients, track payments, and manage your cash flow like a pro.
But what sets it apart is its commitment to helping small businesses succeed. Their platform is designed to be affordable, accessible, and easy to use, with no hidden fees or surprise charges. Plus, their friendly and knowledgeable support team is available to help you every step of the way.
5 – Harvest
Harvest's dedicated apps and integrations seamlessly fit into your team's workflow, making it easy for everyone to stay on track and work more efficiently. Plus, with its powerful reporting and analytics features, you can gain valuable insights into your team's productivity and identify areas for improvement.
But that's not all – Harvest also makes getting paid for your work easy. With its intuitive invoicing features, you can quickly create and send professional-looking invoices to your clients, track payments, and manage your cash flow like a pro.
And with Harvest's commitment to customer support, you can trust that you'll always have the help and resources you need to succeed. Whether you're a solo freelancer or part of a large team, Harvest has everything you need to streamline your workflow, increase productivity, and grow your business.
6 – ZipBooks
ZipBooks has all the features of a mature accounting software solution. From the ability to automate transaction imports and reconcile your bank accounts to customising reporting and tracking your time, ZipBooks has it all.
And if you're an accountant, you'll love the more innovative bookkeeping operations that ZipBooks provides. With built-in time tracking, client texting, and payroll integration, you can streamline your workflow and provide better service to your clients than ever before.
So whether you're a small business owner or a freelancer, ZipBooks has everything you need to simplify your financial management processes, save time, and increase your bottom line.
7 – Square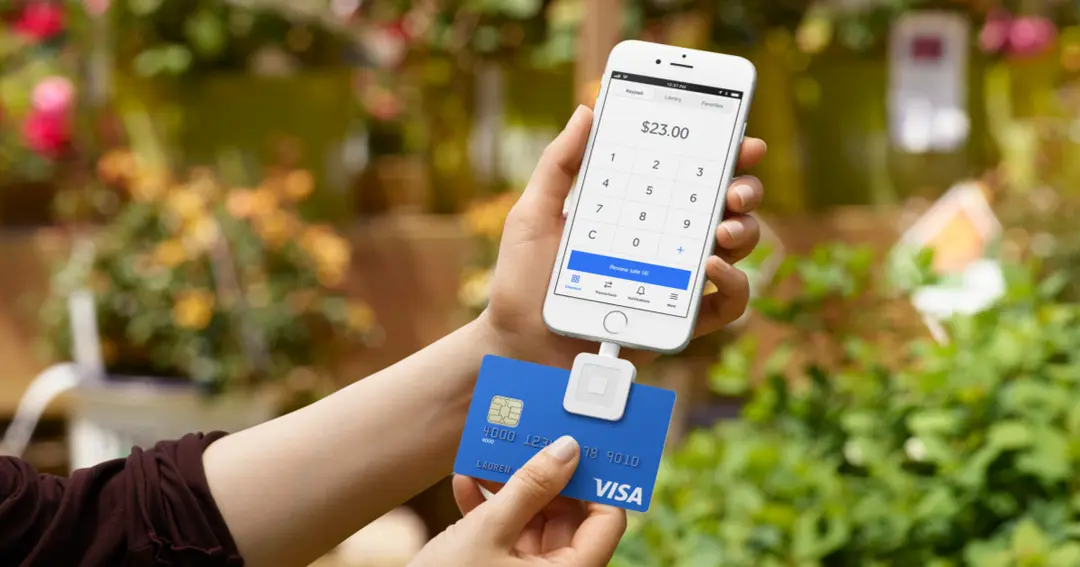 With Square, you can easily accept payments in-person or remotely via credit card, Apple Pay, Google Pay, or bank transfer. This means your clients have the flexibility to pay using the best method, making transactions a breeze for both parties.
But Square offers three different plans to suit your needs. The Free plan is a great starting point, but if you need more advanced features, the Plus plan ($29 a month) or the Premium plan (custom pricing) may be more suitable. And with Square's plan filtering options, you can easily find the right plan for your specific business type.
Square also offers a range of compatible hardware for in-person transactions, so you can seamlessly integrate your invoicing system with your brick-and-mortar store. And if you need to add additional tools to your website, like an online store, checkouts, or digital gift cards, Square has covered you. Many of these free tools make Square an affordable and versatile option for businesses on a budget.
8 – Invoice Ninja
Gone are the days of using Word documents or nondescript PayPal forms to send out your invoices. With Invoice Ninja, you can easily create and send beautiful, branded invoices that showcase your professionalism and attention to detail. And the best part? It requires a minimum of effort on your part.
Whether you're a freelancer or a small business owner, Invoice Ninja has everything you need to streamline your invoicing and payment processes. You can easily track your time, expenses, and projects and manage your clients and payments in one place. Plus, Invoice Ninja offers a suite of payment options, including credit cards, ACH transfers, and PayPal, making it easy for your clients to pay you in the best way for them.
And if you're worried about the cost of invoicing and payment tools, fear not – Invoice Ninja offers free and paid plans to suit your specific needs. With the paid plans, you can access additional features like custom branding, multi-currency support, and recurring invoices.
9 – Bloom
Bloom is the ultimate solution for anyone who wants to simplify their invoicing workflow and get paid faster. With its feature-rich interface and customisable templates, you can create professional-looking invoices that reflect your brand and impress your clients. Plus, you can easily set retainers, accept tips, and even offer zero-interest financing options to your clients – all within the same platform.
It is also one of the most affordable invoicing tools on the market, which means you get to keep more of your hard-earned money. With two pricing plans, you can opt for the Starter plan for free or upgrade to the Premium plan for just $42 per month (or $33 per month if you choose the annual plan).
The Starter plan is a powerful option that gives you access to Bloom's invoice generator, allowing you to create and send invoices to your clients in just minutes. This plan is perfect for freelancers or small businesses that don't have a large client base yet but still need a reliable invoicing solution.
If you're ready to take your invoicing game to the next level, you need Bloom.
10 – Bonsai
Bonsai is a game-changing platform offering many features to help you manage your clients more efficiently. With Bonsai, you get top-notch functionality for client management, proposals, automatic payment reminders, and tax calculation, all in one easy-to-use platform.
While Bonsai may not offer scheduling or instant booking, it makes up for its robust features that help you stay organised and on top of your billing. One of the standout features of Bonsai is its customisable invoice templates, which are perfect for designers or creatives who want to add some flair to their billing process.
In addition, Bonsai seamlessly integrates with ACH, Stripe, and PayPal, so you can easily accept payments from your clients using the payment method of their choice. And with three pricing plans – Starter, Professional, and Business – you can pick the one that best fits your needs and budget.
The Starter plan is available for just $24 per month, while the Professional plan is priced at $39 per month. And if you need even more advanced features, the Business plan is available for $79 per month. Plus, if you pay a one-time annual fee, you'll receive two months' worth of Bonsai free – an excellent deal for anyone who wants to save some cash.
Communication Tools
1 – Slack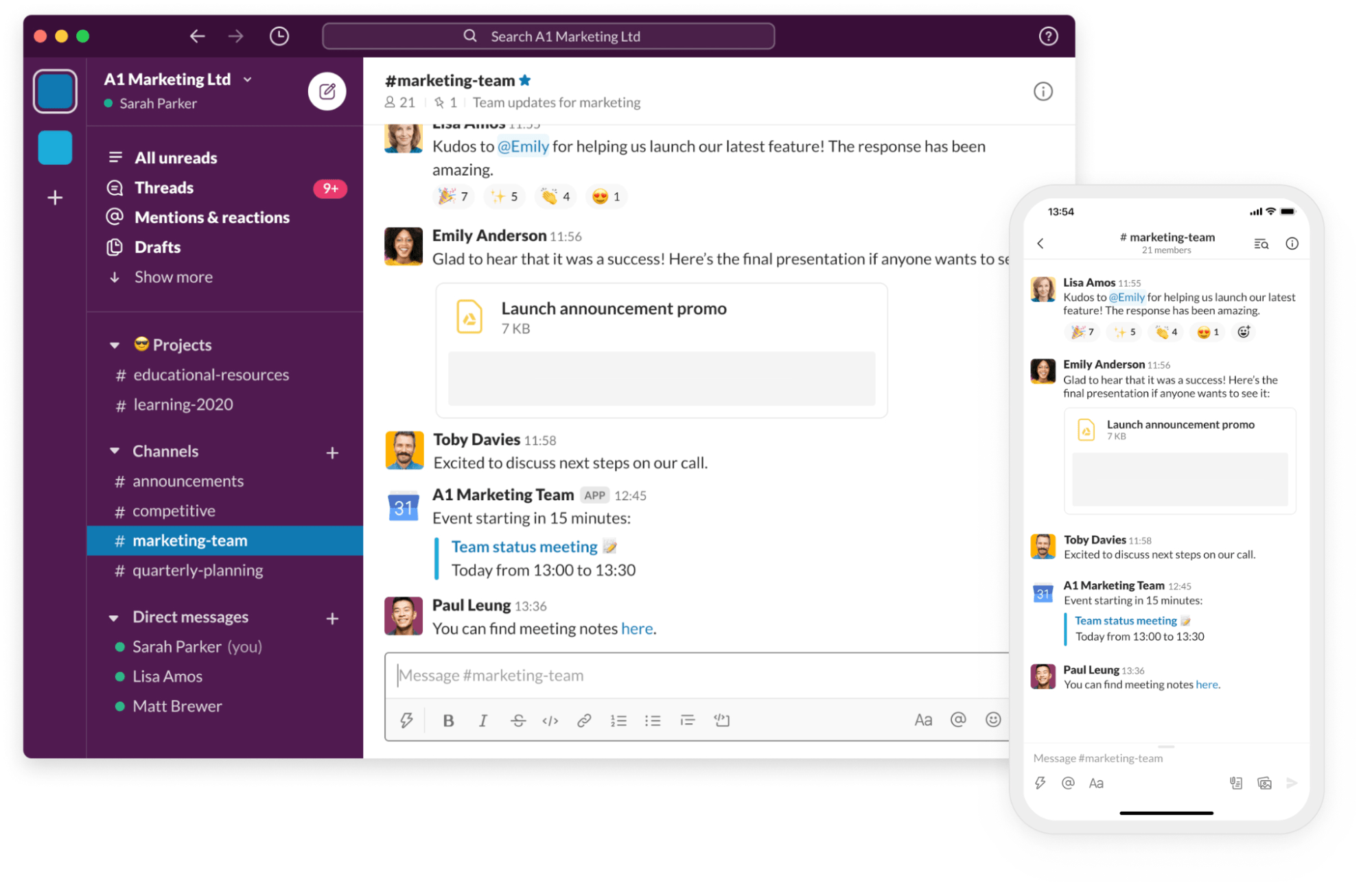 Slack is the ultimate single workspace that connects you with the people and tools you work with daily, no matter where you are or what you do. With Slack, you get real-time messaging through calls and chat to communicate with your team members and clients seamlessly and efficiently.
It also offers a searchable record of all your files and conversations, so you can easily find and reference past discussions or documents. Integrations with many handy bots and apps allow you to streamline your workflow and automate repetitive tasks.
Slack is the perfect tool for teams of all sizes, whether you're a freelancer or a large enterprise. It's easy to set up and use, and with its intuitive interface, you'll be up and running in no time.
Now everyone can finally be on the same page and get their work done, no matter where or what they're working on. Slack is where work happens, and it's the ultimate tool for anyone who wants to stay connected and productive.
2 – Zoom
Zoom is a complete communications solution that combines team chat, phone, whiteboard, meetings, and more in one robust offering. Designed from the ground up to work seamlessly together, Zoom offers an intuitive user experience that simplifies management and delivers the flexibility that modern teams need to stay productive and efficient.
With it, you get all the communication tools you need to stay connected with your team members, no matter where they are. From team chat to video conferencing, phone calls to whiteboarding, Zoom has you covered. And with its easy-to-use interface, you'll be up and running quickly.
But what sets it apart is its ability to integrate all these communication tools into a single offering – you no longer have to juggle multiple apps and services to stay connected with your team. Everything you need is at your fingertips, making it easier to keep up with your work and get things done.
3 – Skype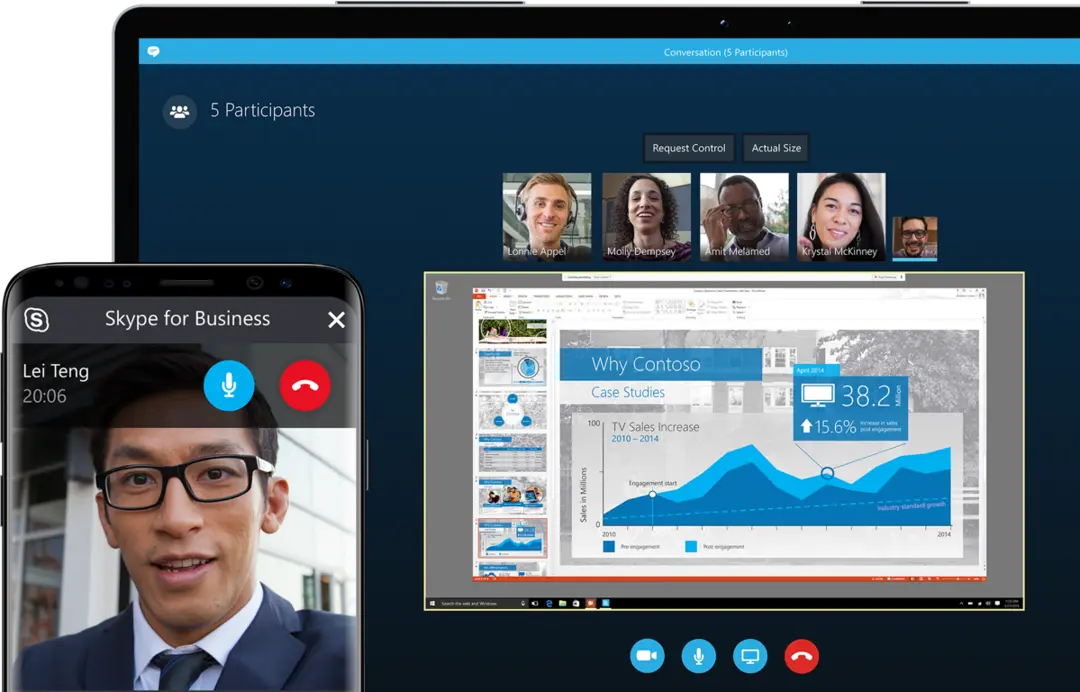 Although Skype now positions itself as Microsoft's answer to business communication tools, it had much more humble beginnings. Its predecessor was a text-based communications platform called MSN Messenger, which Microsoft discontinued in favour of Skype's video-led offering.
Skype is a market leader in international calls, with around one-third of the market share. And it's easy to see why – Skype supports conference calls, video, and screen-sharing for up to fifty individuals, making it the perfect tool for team collaboration and communication.
But what sets Skype apart is its commitment to security. Skype supports end-to-end encryption, which means all your communications are secure and protected from interception by third parties. This makes it an excellent choice for businesses of all sizes, from freelancers to large enterprises.
4 – Google Workspace
Google Workspace is an all-in-one solution that combines email, chat, files, meetings, and your favourite apps into a people-first experience. And with the power of Google AI behind it, Google Workspace makes it easier to connect, create, and collaborate with your team members.
One of the standout features of Google Workspace is its commitment to security. With built-in security and compliance tools, Google Workspace ensures that your data is always protected from unauthorised access. This makes it an excellent choice for businesses of all sizes, from startups to large enterprises.
But what sets Google Workspace apart is its focus on people. With its intuitive interface and powerful collaboration tools, Google Workspace makes connecting with your team members and staying productive easier than ever. And with its integration with other Google services like Google Drive and Google Docs, you can seamlessly collaborate on projects in real time, no matter where you are.
5 – Redbooth
Redbooth is an everyday task and project management platform that provides a great collaboration space for teamwork. With its wide range of task management tools, Redbooth makes it easy to stay organised, on track, and focused on what matters most.
One of the things I find particularly interesting about Redbooth is its instant notification feature. With this feature, users can configure their notifications to arrive instantly in their email inbox so they never miss an important update or deadline. This is a great way to stay on top of your projects and ensure that everyone on your team works together seamlessly.
Another critical feature of Redbooth is its accessibility. Whether you're working on a desktop computer, laptop, tablet, or smartphone, Redbooth is accessible on all devices. This means you can work from anywhere, anytime, and stay connected with your team members.
In addition, Redbooth's reporting system is top-notch, providing detailed insights into different aspects of your project. This can help you identify areas to improve, optimise your workflow, and ensure you're on track to meet your goals.
6 – WhatsApp
WhatsApp, the popular messaging app, is a go-to choice for people worldwide, thanks to its end-to-end encryption that ensures the privacy and security of messages. However, there are concerns over the app's ownership by Facebook's Meta, which has raised questions about the privacy-first status of the app.
WhatsApp's encryption feature is on by default, meaning that messages sent through the app are only visible to the sender and recipient, providing users with high security and privacy. With more than two billion users worldwide, it's easy to connect with friends and family, no matter where they are.
Despite privacy concerns, WhatsApp remains a popular choice for many users who appreciate the app's ease of use, a wide range of features, and strong encryption. However, it's essential to be aware of the potential privacy risks associated with using the app and take steps to protect your data and privacy when using any messaging app.
7 – Telegram
If you're looking for a messaging app that's fast, secure, and available on all your devices, Telegram might be the solution you're looking for. With its open-source nature and emphasis on user privacy, Telegram has quickly become a go-to messaging app for millions worldwide.
One of the standout features of Telegram is its ability to sync messages across multiple devices, allowing you to stay connected with friends and family no matter where you are. Whether you're using your phone, tablet, or computer, you can be sure that your messages will always be up-to-date and accessible.
But what sets Telegram apart is its commitment to user privacy and security. With end-to-end encryption as the default setting, you can rest assured that your messages are protected from prying eyes. And unlike other messaging apps, Telegram doesn't share your data with third-party companies or advertisers, giving you complete control over your personal information.
With over 500 million monthly active users and a spot among the world's top 10 most downloaded apps, Telegram is doing something right. And with its focus on speed, security, and accessibility, it's no wonder that many people are choosing Telegram as their go-to messaging app.
8 – Discord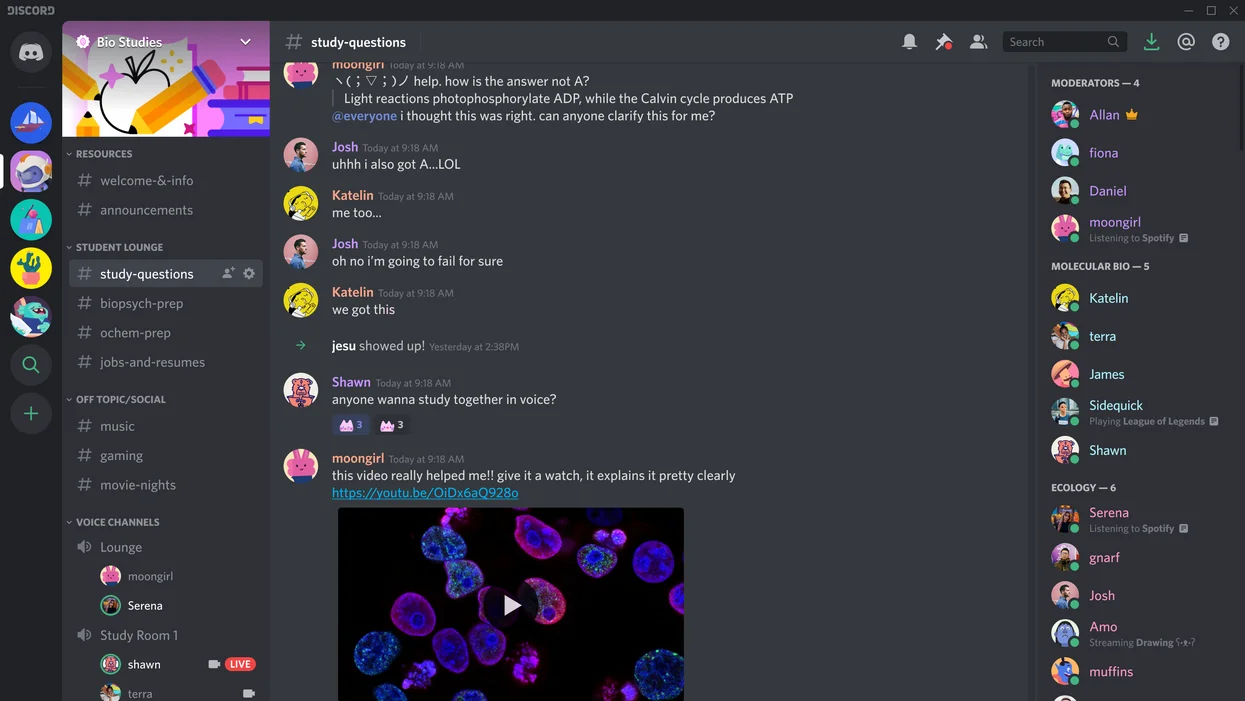 Discord is the chat tool that has taken the online world by storm. Its popularity is so immense that Microsoft had tried (and failed) to buy it for billions of dollars. And once you try Discord, it's easy to understand why it's so coveted. Its user-friendly chat platform allows you to effortlessly set up chat servers and communicate with your friends or strangers via text, audio, and video.
Even if you're not a gamer, Discord is a valuable tool you'll use frequently. Discord lets you stay in touch with family, friends, colleagues, and communities with shared interests.
Discord's interface is easy to navigate, and the app is available on all major platforms. Its versatility is a significant advantage. Discord makes connecting and communicating simple, whether you're a gamer, a content creator, or want to chat with friends.
9 – Krisp
We've all been there – you're on an important call with a client, trying to impress them with your ideas and insights, but all you can hear in the background is your dog barking or your kids demanding snacks. Or you're in a busy office or coworking space, and your colleagues are conversing loudly about their weekend plans or the latest sports game.
Whatever the noise source, it's distracting and unprofessional and can make it difficult to focus on the task. That's why I want to introduce you to Krisp – a cutting-edge video conferencing system that uses AI technology to remove background noise and echo, leaving only the human voice to come through crystal clear.
Krisp is perfect for anyone who needs a quiet, distraction-free environment during important calls with clients or colleagues. With its powerful AI algorithms, Krisp can instantly identify and remove any unwanted background noise – a barking dog, a crying baby, or a chatty coworker.
Not only does Krisp make your calls sound more professional and polished, but it also helps you stay focused and engaged during the conversation. You can concentrate on what the other person is saying without being distracted by external noises, and you can respond with confidence, knowing that your voice is coming through loud and clear.
Productivity and Time Tracking Tools
1 – RescueTime
RescueTime works mainly behind the scenes, silently tracking where your time goes while you're on your computer or mobile device. With detailed reports, RescueTime helps you understand how you spend your time and identify areas where you can improve. Whether you're a freelancer, a student, or a busy professional, RescueTime can help you take control of your time and become more productive.
The best part? There's a free version that's more than sufficient for most people. But if you want even more in-depth analysis, the Premium version offers advanced features to help you make the most of your time. For a somewhat pricey fee, RescueTime Premium provides you with even more detailed reports and insights, including the ability to set goals, block distracting websites, and get alerts when you're spending too much time on certain activities.
Overall, RescueTime is a fantastic tool for anyone looking to increase their productivity and make the most of their time. It continues to impress us after many years of use, and we highly recommend trying it.
2 – Evernote
Are you tired of having your notes scattered across various devices, causing you to waste precious time searching for them? Look no further than Evernote – the note-taking app that has been a leader in the industry for years.
What sets Evernote apart is its seamless synchronisation across all your devices, including a browser version for easy access. While the company has faced criticism for hiking prices and gutting the free version, the app's functionality is unparalleled. Evernote provides a wide range of features, from note-taking to project management, making it a versatile tool for individuals and teams.
Despite its flaws, Evernote continues to be an excellent choice for its ability to streamline productivity and organisation. Say goodbye to the chaos of scattered notes and hello to the ease and efficiency of Evernote.
3 – Notion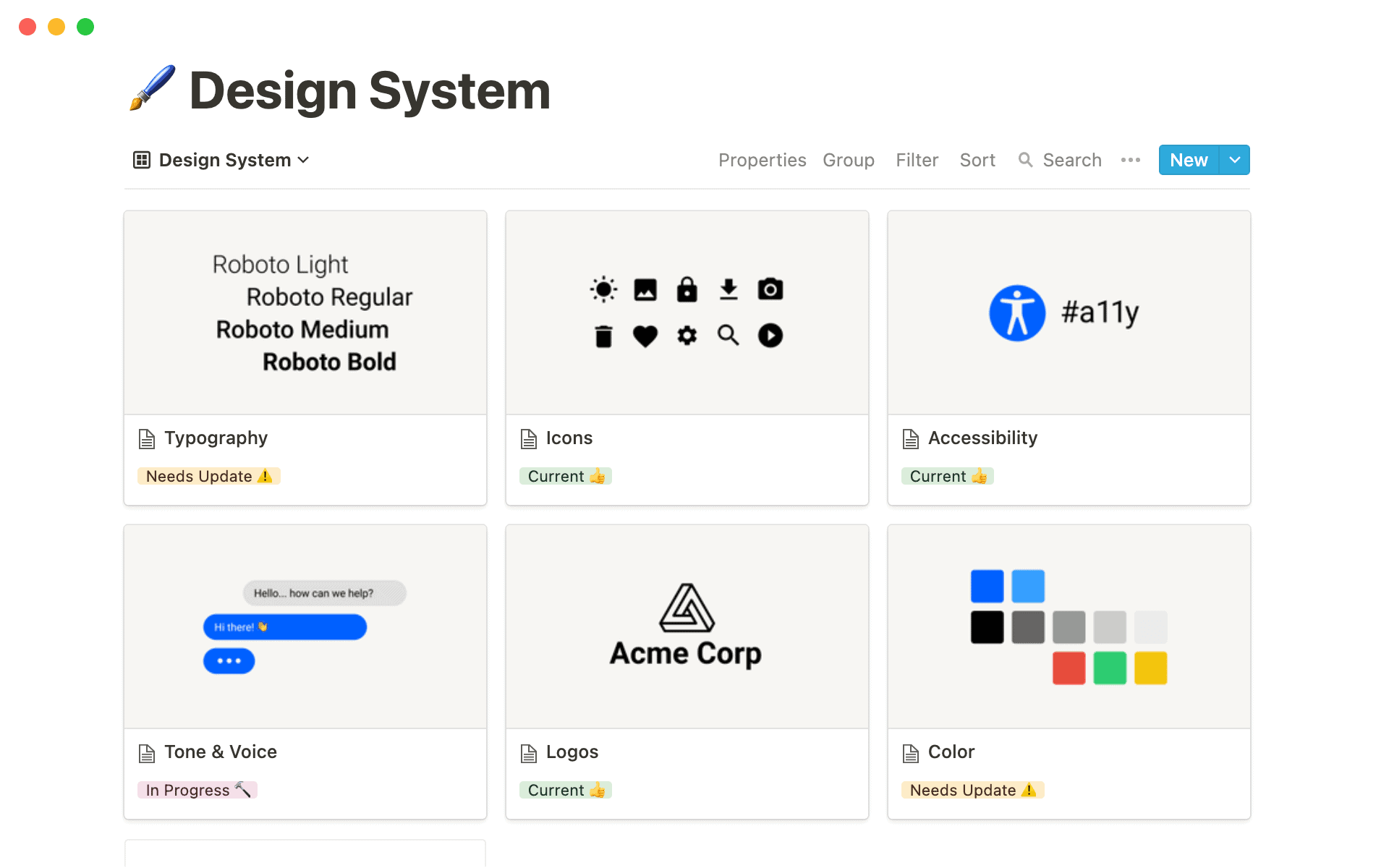 Notion is the ultimate productivity tool for those who want to elevate their organisation and collaboration game. This all-in-one platform works seamlessly across multiple devices, making it easy to stay connected and productive no matter where you are. Collaborative work is made simple, with the ability to create view-only or editing links that allow others to contribute to your work without compromising the original document. Notion is perfect for personal organisation and work tasks, such as project management, scheduling tasks, and tracking progress for each employee.
One of the standout features of Notion is its customisable access controls, which allow you to filter access to each file. This is especially beneficial for large organisations where various team members require different access levels. With Notion, you can share the same document with varying access levels, ensuring that sensitive information is kept secure.
While some users may initially find Notion a bit overwhelming, numerous tutorials and documentation are available online to help guide you through the process. Additionally, Notion and its community of users provide free templates for different use cases, saving you time and streamlining your workflow. Once you become a pro in Notion, you'll find that every aspect is a pro, making it an excellent choice for productivity tools.
4 – Grammarly
Let's face it, even the most seasoned wordsmiths make mistakes in their writing from time to time. It can be challenging to spot every little error, especially regarding higher-level grammar and style nuances. Luckily, an app can help you take your writing to the next level.
Introducing Grammarly – the ultimate writing assistant! This nifty app offers real-time suggestions for spelling, grammar, and style changes, making it a game-changer for writers of all skill levels. But that's not all! Grammarly even provides genre-specific editing recommendations, ensuring your writing always hits the right tone and style.
Now, I know what you're thinking – "how much will this cost me?" And sure, Grammarly's paid subscriptions may seem steep at first glance. But believe me; the benefits are well worth the investment. With support for multiple platforms and unparalleled ease of use, Grammarly is a no-brainer for anyone looking to elevate their writing game.
Of course, like any app, Grammarly has its drawbacks. The biggest one is that it requires an internet connection to function, meaning you can't use it offline. But most of us are connected to the internet 24/7 anyway, so it's okay.
5 – Focus@Will
Introducing Focus@Will – a little Web app here to revolutionise how you work. It's not here to make your inbox more searchable or to teach you how to create the perfect PDF. Instead, Focus@Will plays music designed to minimise distractions and help you focus on the task.
You see, our brains are wired to respond to music. It can evoke emotions, change our moods, and influence our behaviour. And that's precisely what Focus@Will does. It leverages the power of music to help you enter a state of flow and stay focused on your work.
The app offers a wide range of music genres, all specifically curated to keep your mind engaged and free from distractions. From classical to electronic, there's something for everyone. And the best part? The more you use it, the better it gets. Focus@Will uses machine learning algorithms to adapt to your listening habits and preferences so that you can enjoy a truly personalised experience.
6 – Forest
Forest is a time-tracking app perfect for anyone who wants to boost their productivity and get more done in less time. You can plant a virtual tree with Forest according to how long you plan to work. As you progress, you earn the right to choose more and more beautiful trees to add to your forest. It's like building your little oasis of productivity!
But that's not all. Forest also offers the option to block access to social media apps while you work, so you can stay focused and avoid distractions. And if you give up and check your phone, your tree dies. It's a simple but effective way to hold yourself accountable and stay on task.
As a digital marketer and entrepreneur, I know firsthand how difficult it can be to stay focused and productive, especially when working from home or on the go. But with Forest, you can turn time tracking into a fun and rewarding experience. It's perfect for freelancers who struggle with focus or want to learn to manage their time more effectively.
So, whether you're living abroad in a hostel or just trying to lead the freelancer lifestyle, Forest is a must-have app for anyone who wants to stay productive.
7 – Pomodor
Like most people, you probably rely on the timer app on your smartphone to help you stay on task and manage your time. But what if I told you there's an even better option out there? Let me introduce you to Pomodor – a sleek and minimalist web-based Pomodoro timer perfect for anyone who wants to try the Technique or only occasionally needs a Pomodoro app.
One of the first things you'll notice about Pomodor is its beauty and ease of use. With a sleek and minimalist design, it's the perfect tool to help you stay focused and avoid distractions. And if you're a fan of dark mode, you'll be happy to know it's also included.
Using Pomodor is simple. Hit the play button, and it'll start cycling through full Pomodoro sessions. The countdown is displayed right in the URL title bar, so you can constantly monitor how much time you have left. And if you need to take a break, just hit the pause button and return when ready to return to work.
Whether you're a student, freelancer, or just someone who wants to stay focused and productive, Pomodor is the perfect tool. It's a great way to try the Pomodoro Technique and see if it works for you.
8 – MindMeister
MindMeister is the solution you've been searching for if you're looking for a real-time platform that enables you to collaborate with unlimited users. With over 11 million users worldwide, it's clear that MindMeister has earned its reputation as the go-to tool for brainstorming ideas, planning projects, taking meeting minutes, developing business strategies, creating stunning presentations, and much more.
What I love about MindMeister is how intuitive it is. You don't need to be a tech whiz or a design expert. The platform is user-friendly and easy to navigate, allowing you to dive right in and start creating mind maps with ease. Plus, the interface is sleek and visually appealing, making mapping your ideas pleasurable.
But the real magic of MindMeister lies in its collaborative features. Whether working on a project with a team or brainstorming with a group of friends, MindMeister makes it simple to share your maps and collaborate in real time. You can even assign tasks and set deadlines within the platform, making it an all-in-one solution for managing your projects and staying on track.
9 – Google Keep
Google Keep is free and available on mobile and web platforms, making it an excellent option for those who are always on the go. This app is designed to capture ideas quickly, so you won't have to worry about missing any sudden bursts of creativity.
However, it's important to note that Google Keep may not be the best option for those who want to develop their notes within the app. When you're ready to work with your thoughts, Google assumes you'll transfer your notes to a more robust app like Google Docs.
One of the reasons for this is that Google Keep lacks some of the features you'd expect from a dedicated note-taking app, such as rich text formatting and advanced organisation tools. Instead, Keep relies on labels to help you sort your notes.
That being said, Google Keep still has some handy features that make it worth using, as long as you have realistic expectations about what the app can and cannot do. For example, the app allows you to set reminders, collaborate on notes, and even add images and audio recordings to your notes.
10 – Any.do
What sets Any.do apart from other to-do list apps is its signature feature, the Any.do Moment. This feature encourages you to take a few minutes each day to review and prioritise your tasks. It's a simple yet effective way to ensure you focus on the tasks that matter most and avoid the ones that can wait.
But Any.do isn't just a pretty face. This app is designed to help you better manage your tasks, which only the best productivity apps can do. With Any.do, you can create custom lists, set reminders, and delegate tasks to others. Plus, the paid Pro version unlocks even more features, such as adding attachments and subtasks.
Of course, no app is perfect, and Any.do has a few downsides. For example, the free version is limited in features, and some users have reported issues with syncing across devices. However, overall, Any.do is a solid choice for anyone who wants to stay organised and get more done.
Design and Creativity Tools
1 – Canva
With Canva, you can easily create stunning social media graphics, presentations, posters, and other visual content. This tool features a simple drag-and-drop interface, making designing a breeze, even for those without design experience. Plus, with a vast library of templates and design ingredients such as fonts, illustrations, stock photography, video and audio content, and the ability to include content from the web, such as Giphy and Google Maps, the possibilities are endless.
One of the things that I love about Canva is how versatile it is. Whether you're creating graphics for social media, print materials, or beyond, Canva has everything you need to bring your ideas to life. And with its availability on the web, iOS, and Android, you can work on your designs from anywhere.
But Canva is more than just a tool for creating pretty pictures. It's a powerful design weapon that can help you elevate your brand and stand out. With Canva, you can create a cohesive brand identity by using your colours, fonts, and logos across all your designs. You can also collaborate with others on your designs, making it easy to get feedback and make real-time changes.
2 – Adobe Creative Suite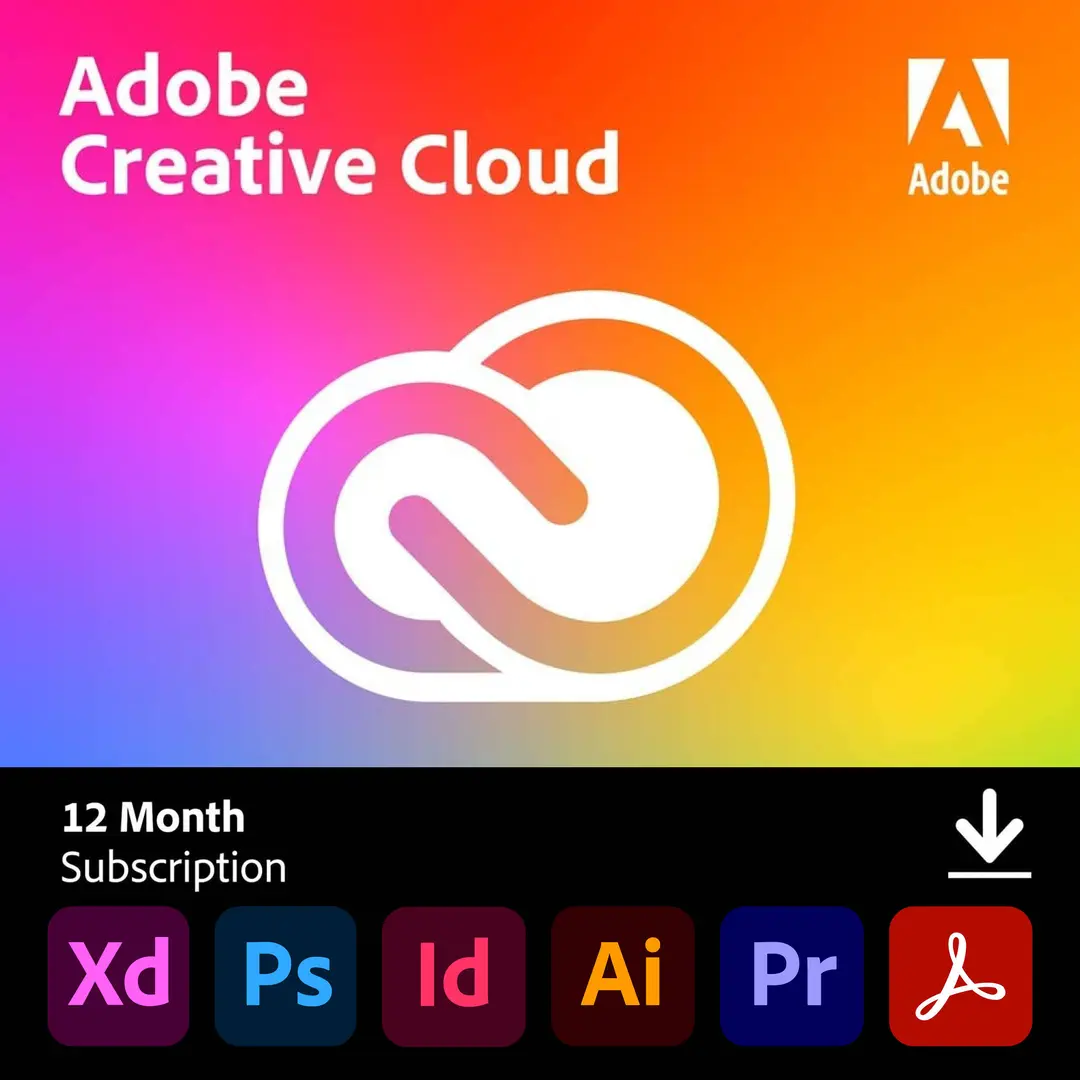 What sets Adobe CC apart from other software is that you don't have to break the bank to get your hands on it. Gone are the days when you'd need to pay thousands of dollars upfront to purchase a piece of software, only to have to pay for upgrades in the future. With Adobe CC, you can pay a small monthly subscription and access all 20+ apps in the Creative Cloud suite.
As a beginner graphic designer, you don't have to worry about investing in expensive software to start making money. With Adobe CC, you have all the tools to bring your creative visions to life, no matter what design project you're working on.
But that's not all. Adobe also provides 20GB of online storage, meaning you can access your design assets from any device you're working on from anywhere. This level of flexibility is essential for designers constantly on the go. It allows them to work on their projects from anywhere and collaborate with others in real time.
Of course, as with any software, Adobe CC has pros and cons. Some users have reported that it can take some time to master all of its features, and the subscription model means you'll need to keep paying to access the software. However, the benefits of using Adobe CC far outweigh the drawbacks.
3 – Sketch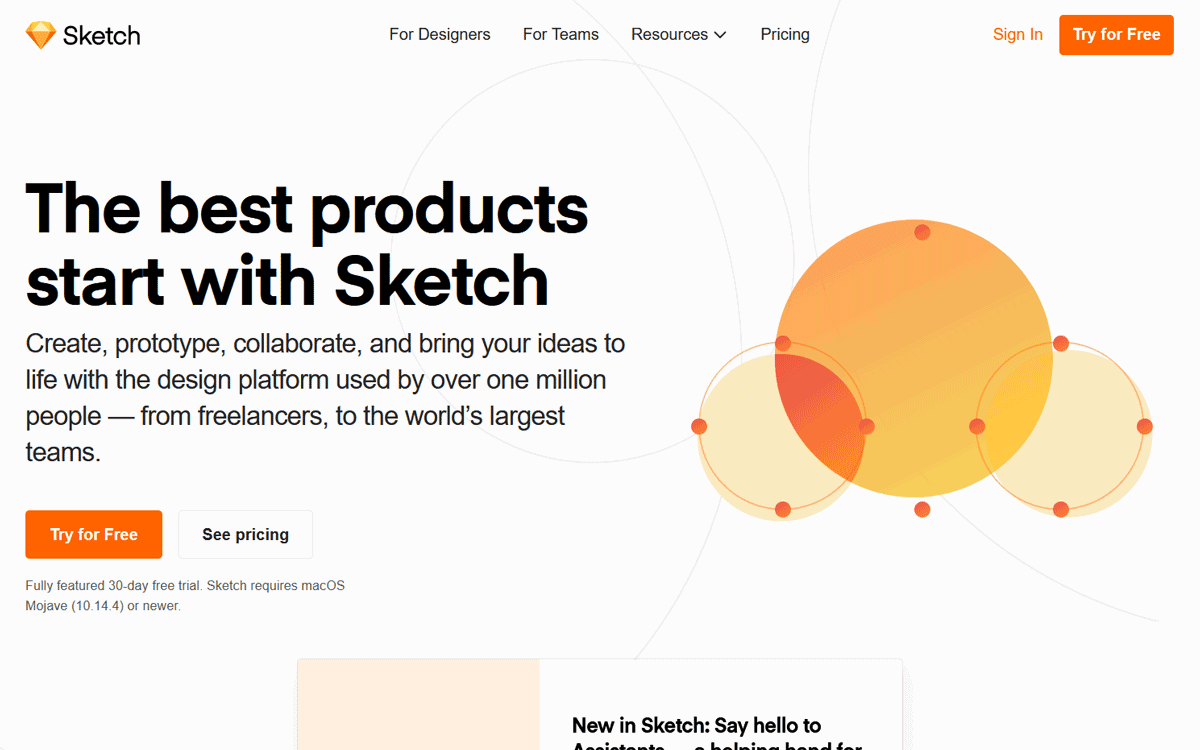 What sets Sketch apart from other UI tools is its superior user experience and a massive library of Sketch Plugins. Its minimalistic design is perfect for designers who prefer a clean and straightforward interface, but it's also incredibly feature-rich whenever needed. Sketch is ideal for designers of all skill levels, from beginners to advanced professionals.
One of the most significant benefits of using Sketch is the vast library of plugins available. These plugins make it easy to customise the tool to fit your specific needs, whether for wireframing, prototyping, or other design tasks. Plus, Sketch is incredibly intuitive to use, so you'll be able to get started quickly, even if you're new to the software.
However, one issue with Sketch is that it is exclusive to macOS users, which can be frustrating for designers who prefer other operating systems. Sketch has a separate web interface for stakeholder collaboration, alleviating this issue.
4 – Placeit
With more than 50,000 templates and a constantly growing library of designs made by professionals daily, Placeit is the perfect platform for creating eye-catching images to make your brand stand out. Whether you're looking to create logos, videos, or social media campaigns, Placeit has everything you need to create stunning visuals in just minutes.
One of the best things about Placeit is its easy use. With just a few clicks, you can select your favourite video template, customise your text, change the colour of backgrounds and shapes, and add your images or video clips. Plus, you don't need any design skills to use Placeit – everything is done through a simple drag-and-drop interface, so you can focus on creating stunning visuals without getting bogged down in technical details.
And if you're worried about your branding designs looking generic or cookie-cutter, don't be. Placeit's massive library of templates and designs means you can create something unique and tailored to your brand's style and voice. So, whether you're a solopreneur or part of a large marketing team, Placeit is a must-have tool for creating professional-looking branding designs in minutes.
5 – InVision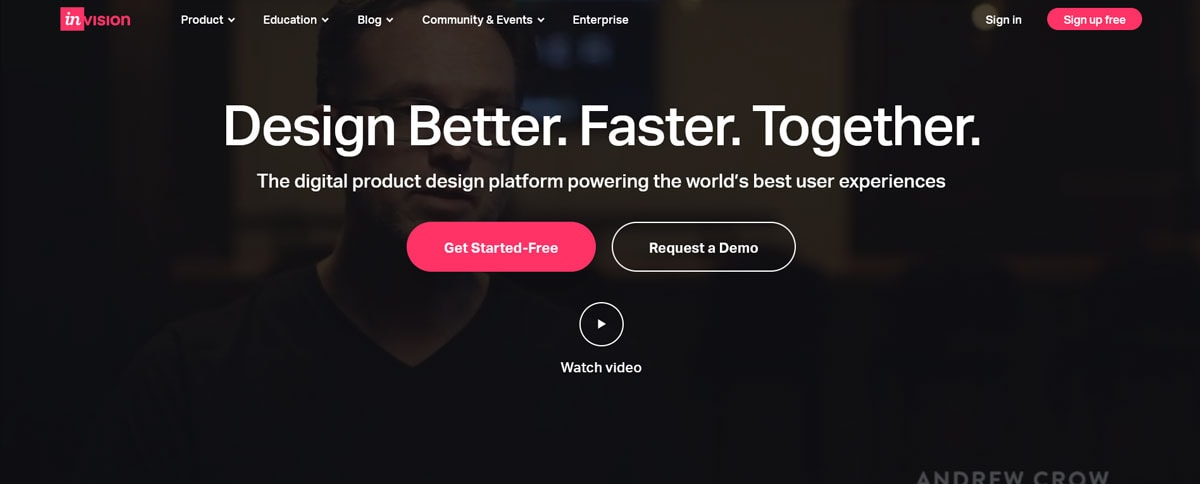 InVision is a powerful visual collaboration platform dedicated to improving how people work. They have a mission to make all kinds of work more collaborative, inclusive, and impactful. Their platform, practices, and community work together to help organisations enhance their processes and workflows, enabling them to maximise the potential of their people.
With InVision, companies can streamline their design process, improve team collaboration, and increase productivity. The platform offers a variety of features, including tools for design prototyping, design handoff, and design collaboration. These features help teams collaborate more effectively in the same office or globally.
InVision also offers a range of resources to help organisations improve their design processes and workflows. Their blog features articles and insights from industry experts, and their community forums provide a space for designers to connect, share ideas, and get feedback on their work.
6 – Crello
Crello is a versatile and user-friendly graphic design platform that enables anyone to create stunning visual content, regardless of their design experience. Its simple drag-and-drop interface, a comprehensive library of templates, and extensive design elements such as fonts, icons, and stock photos make creating engaging designs for social media and marketing materials easy.
Crello is an excellent choice for working with templates and patterned designs for designing graphics in bulk. Additionally, its video editing capabilities allow for easy animated graphics and short video creation.
While Crello may not have the advanced features of professional design software like Adobe Photoshop, it is a valuable tool for those looking to create professional-looking designs quickly and easily. However, for graphic designers who require a more robust set of tools and features, software like Adobe Photoshop may be better suited to their needs, depending on their work type.
7 – Piktochart
Piktochart is a fantastic tool for creating visually appealing designs and presentations without the hassle of complicated software. Whether you are a marketer, teacher, or blogger, Piktochart can help you bring your ideas to life with its easy-to-use platform and intuitive graphic elements.
One of the most impressive features of Piktochart is its ability to visualise complex data and information. You can turn boring spreadsheets into informative visual representations with various chart and graph options. And if you need help figuring out where to start, Piktochart offers a variety of templates and design elements to inspire your creativity.
From brochures and posters to infographics and online presentations, Piktochart has everything you need to create stunning designs. And with its user-friendly interface, you don't need any prior design experience to get started.
8 – Snappa
Snappa is a cloud-based graphic design tool designed to help small businesses create visually stunning graphics for their ads, blogs, social media, infographics and emails. One of the most significant advantages of Snappa is its ability to create graphics in the correct dimensions for each platform, so you don't have to worry about resizing or editing your graphics after the fact.
Snappa's intuitive drag-and-drop interface and library of templates, graphics, and stock photos make it easy for anyone to create professional-looking graphics, even without design experience. With Snappa, you can create everything from social media graphics to full-blown infographics in just minutes.
And the best part? Snappa is affordable, making it accessible to small businesses with limited budgets. With a subscription to Snappa, you get unlimited access to all its features, including the ability to create unlimited graphics, for a fraction of the cost of other graphic design tools.
9 – GIMP
GIMP, the GNU Image Manipulation Program, is a free and open-source image editor that has been a long-time favourite for many users. While it may not have the sleekness of some of its more expensive competitors, it more than makes up for it its functionality and community-driven development.
GIMP has come a long way since its early days, and the upcoming version 3.0 is set to bring even more exciting features to the table. While the release date has yet to be announced, users can expect many new tools and improvements, such as better handling of high-resolution images, improved colour management, and enhanced text editing capabilities.
What makes GIMP truly special is the passionate community of developers and users who have dedicated their time and resources to make it a top-quality image editor. It's a shining example of the power of open-source software and the benefits of collaboration and sharing.
10 – Lunacy
If you're looking for free and user-friendly graphic design software that caters to UI, UX, and web design, then Lunacy is the perfect tool for you. Developed by designers for designers, it aims to streamline the workflow and minimise distractions that could hinder the creative process.
What sets Lunacy apart from other graphic design software is its versatility. It can be used on Windows, macOS, and Linux, making it accessible to many users. It also boasts a massive library of icons, illustrations, and photos that can save you the valuable time you would have spent searching the internet for graphics.
One of the unique features of Lunacy is that you can use it offline, and most of its features work without the need for an internet connection. Additionally, it supports up to 21 languages, making it more accessible to users from different parts of the world.
But that's not all – Lunacy is also powered by AI, which automates repetitive tasks such as background removal, image upscaling, and text generation. This feature allows designers to focus on the creative aspects of their work rather than spending hours on mundane tasks.
Wrapping Up The Best Tools for Freelancers
In conclusion, being a freelancer is an exciting and challenging journey. To achieve success, you need to have the right set of tools that can help you scale and grow your business. The 50+ tools we've covered in this post are designed to help you streamline your workflow, manage your projects, and stay organised, allowing you to focus on what you do best – creating high-quality work for your clients.
Remember, as a freelancer, your time is your most valuable asset. So, investing in the right tools and software can help you save time and increase productivity, ultimately leading to more clients and revenue.
Whether you're a graphic designer, writer, web developer, or freelancer, a tool on this list can help you take your business to the next level. So, start exploring and find the tools that work best for you.
And always remember, success doesn't come overnight. It takes dedication, hard work, and a willingness to learn and adapt. But with the right tools and a positive mindset, you can achieve anything you want.
So go out there, and start scaling and growing your freelance business today!