25 SEO Writing Tips to Create Perfectly Optimised Website Content
Writing SEO-friendly content is an art. It can take your website to a whole new level of success. Here are SEO writing tips for creating perfectly optimised content for your website.
Writing SEO-optimised articles is an important content marketing strategy to help your website rank higher in search engines. For many content writers and marketers, writing perfectly optimised website content your readers will love is challenging. In SEO writing, you must create the best answer for a search query to create a positive user experience. SEO writing perfectly combines SEO best practices, expertise in a particular topic, and good writing skills.
Today's users are over-smart; they instantly recognise an authoritative tone and low-quality content. From a keyword perspective, creating SEO-optimised content for your website can significantly create a positive brand image and boost traffic and conversions.
Here are the best SEO writing tips according to freelance SEO consultants to improve your website content, strengthen your SEO efforts and prepare your website for higher SERPs.
25 SEO Writing Tips to Optimise Your Website Content
1 – Conduct Keyword Research
Before writing any content, conduct keyword research to identify the keywords and phrases your target audience is searching for. Performing keyword research will help marketers better find which keywords they should target and gain valuable insights into the search queries. The search terms you get during keyword analysis will help your marketing team to create a solid SEO content strategy for your website.
When conducting keyword research, make sure to consider these essential elements:
Relevance
Authority
Search Volume
Use Keyword Research tools to create more keyword ideas that you can incorporate into your website content:
Google Keyword Planner
Ahrefs
Ubersuggest
Free Keyword Research Tool
SECockpit
Keywords Everywhere
Moz
KeywordTool.io
KWFinder
2 – Do Competitor Keyword Analysis
Performing competitor keyword analysis is a great SEO writing tip to help you find relevant keywords your audience wants to read. You can use different tools to find other topics, popular articles, questions people usually ask, primary keywords and related topics. When performing keyword research, consider search intent, keyword volume, difficulty, and topic efficiency. It will help you get the right keywords to incorporate into your website content to educate your target audience better and solve their problems.
3 – Identify the Keyword Search Intent
Regarding SEO writing, it is advised to identify the keyword search intent. It helps marketers understand the user search query's goal and create more relevant content. By understanding the user's meaning, businesses can tailor their content to meet the needs of their target audience, provide better solutions and improve their chances of appearing in relevant search results.
Here are some common types of keyword search intent:
Informational intent: The user searches for information on a particular topic or question. Example: "How to make pancakes"
Navigational intent: The user is looking for a specific website or webpage. Example: "Facebook login"
Transactional intent: The user wants to purchase or engage in a transaction. Example: "Buy Nike shoes online"
Commercial investigation intent: The user compares products or services before purchasing. Example: "Best smartphones 2023"
Local intent: The user seeks information or services in a specific location. Example: "Pizza delivery near me"
4 – Use Keywords Strategically
Once you have identified the keywords, use them strategically in your content. Use the keyword in the title, the first paragraph, and throughout the content, but avoid overstuffing the keywords.
If you want to optimise your blog post or website content, use keywords strategically. Use them where they matter most to help search engines understand the content's intent. To increase the visibility of your content, strategically place keywords in the following places:
Meta Title and Description
SEO title tag
H1, H2, H3
Anchor text links
Image Alt-tags
URL
Internal links within content
5 – Create a Content Outline
Once you identify the target keywords, it's time to create a content outline. Remember, an outline is the most crucial step in SEO writing. Outlining your content can increase writing efficiency and flow. It helps writers speed up the writing process and ensure high-quality content. Creating an outline allows you to consider all the vital SEO details, such as:
Target keywords
The goal of your content
Unique selling proposition (USP)
Title of the article
Headings and subheadings of your content
Drafting an outline can provide you with many benefits, including:
Adding the right keywords
Satisfy the searchers' intent by adding relevant information
Improve the content flow
Arrange information in a logical order
Help you write an SEO-optimised article
6 – Write a Draft
Once you create an outline, start writing a draft. It allows you to refine your valuable ideas, perform in-depth research, arrange the flow of content, and change and revise things to polish the final product. You can use Google Docs to write your draft as it allows editors, designers, and other team members to share their opinion and improve the writing piece.
7 – Create an SEO Title
Believe it or not, creating an SEO title is essential for your website content as it helps your content rank higher in search engine results pages (SERPs). A title provides search engines and users with a clear and concise description of your content.
When you create an SEO title, you craft a headline for your content that includes relevant keywords that people might search for. Remember that the title tag should be about 60 characters, so ensure it consists of the most important keywords that describe your website or blog post idea. By incorporating these keywords into your title, you sign to search engines that your content is relevant to a specific query.
An SEO title also plays a vital role in attracting users to click through to your website. When users search for something, they are typically presented with a list of results, including the title, URL, and a brief description of each piece of content. Creating a compelling and descriptive SEO title can entice users to click through to your content and increase website traffic.
You can check the overall score of your article title through CoSchedule – an excellent headline analyser to check your title's grammar, readability and length.
8 – Optimise Meta Tags
Meta tags are the HTML elements that appear in the search engine result pages and provide information about your website's content. Although the meta description is not a ranking factor, carefully optimising your title tag and meta description is advised. Write a meta title and description like ad copy to entice users to click through. Make sure to include your target keyword and accurately describe your content. Add a CTA in a meta description to attract searchers to click on your website and take a specific action.
9 – Use Subheadings
Subheadings help break up your content and make it easier to read. Use H1, H2 and H3 tags to organise your content and include your target keywords in the subheadings. Use relevant keywords in subheadings to provide better value to readers. It will help users find direct answers to their questions and get the most out of the information provided.
By categorising your content, you can provide better clarity to users, improve readability, and help readers to understand the hierarchy of information on the page. Moreover, using subheadings in your content can help search engines understand the page's structure and increase the chances of achieving higher SERPs.
10 – Find the Ideal Length of the Article
Identifying the ideal length of the article you should create is crucial to maximising your chances of getting higher rankings on the first page. Remember that word count and article length are not the essential ranking factors. However, there is no accurate number for the length of an article; it all depends on the topic and purpose of the content. For instance, if you want to educate users and drive traffic, creating at least 1500 words is advised.
According to a 2021 HubSpot study, the ideal length for an SEO-optimized article should be between 2100 – 2400 words. However, news-based pieces are usually shorter. To create SEO-friendly posts, ensure your content provides enough information, including relevant keywords, without being too long or too short.
11 – Add Visuals
Unsurprisingly, eye-catching visuals can increase curiosity and entice people to read your writing. Adding relevant and exciting visuals to your blog posts can help readers understand the main point and create a positive user experience. It encourages users to share your blog posts on social media, increasing website traffic.
12 – Optimise Images
According to recent statistics, Google Image searches account for 22.6% of all internet searches. Optimising your images can improve accessibility on your site and strengthen your chances of getting higher rankings on Google Images. Marketers can optimise site images using descriptive file names, image alt tags, and compressing the file size.
Optimising site images can generate more traffic to your website by showing images in the search results. Furthermore, images can help users better understand and engage with content. So, add alt tags or alt attributes to your website images to help search engines better understand the context of the image. You can perform a site audit to check all the photos without alt text and add HTML code to the specific images.
13 – Add internal Links
According to statistics, approximately 58% of SEO experts and business owners believe link-building can significantly impact their SERP rankings. It is always a great idea to strategically use internal links to optimise your website content and make your site SEO friendly. For instance, if you are writing a new blog post, use links to your previous blog posts so that readers can navigate and go to other website pages.
Internal linking helps Google understand the relevance of your content and allows it to re-crawl older posts. Adding internal links to your content can make your website search engine user-friendly. It can improve the navigability of your site and reduce the bounce rate. In SEO writing, add at least three to five internal links of other relevant pages to every post.
14 – Add External Links
When you write content for your website, include some recent statistics and essential facts to help readers better understand the point. Adding external links to the article can position you as a credible resource and industry expert. It can help readers to explore a topic in more depth. External links to reliable and authoritative sources can better support your content claims. Make sure to choose relevant links that are useful for readers. Choose reputable publications for external linking to build trust and improve user experience.
15 – Target Featured Snippets
To get the first position in the SERPs, use the prominent SERP feature, Featured Snippets. Short snippets of information appear at the top of search engine results pages and provide instant answers to users' queries. According to the Semrush report, almost 6.36% of all questions have a Featured Snippet.
Google shows different types of featured snippets, such as:
Paragraph
Numbered list
Bullet list
Table
Video
You can win that top organic position – snippet by following the best practices:
Provide accurate and concise answers to common questions related to your website content. Use headings, bullet points, and numbered lists to make it easier for Google to identify your content as a potentially featured snippet.
Focus on answering long-tail queries that begin with "how," "what," or "why." These types of questions are more likely to trigger a featured snippet.
Use schema markup to identify the most critical information in your website content. This can help Google understand the structure of your content and make it easier to display as a featured snippet.
Optimise your content for voice search by incorporating natural language and conversational phrases.
Use high-quality images and relevant videos to improve your content quality.
Make sure your content is mobile-friendly and loads fast.
Build high-quality backlinks to increase your website's credibility and visibility.
16 – Add FAQs
Adding an FAQ section to your website content effectively improves your website's search engine optimisation (SEO) and increases your visibility in search results. Google loves the FAQs section and values your website if you provide the relevant information users want to make a well-informed decision.
By providing clear, concise, and factual answers, you can enhance the user experience, build credibility, and improve the efficiency of your customer support. A well-written FAQ section can directly respond to search queries and drive highly targeted traffic to your website. For many marketers, FAQ content is integral to an SEO content marketing strategy.
Adding a FAQ section to your website content can be beneficial in several ways:
By including relevant keywords and phrases in your FAQ section, you can improve your SEO rankings.
FAQs provide quick answers to common questions, attracting potential customers to take an educated decision.
A well-structured FAQ section can improve the user experience of your website, increase engagement, and reduce bounce rates.
A comprehensive FAQ section can demonstrate your knowledge and expertise in your field, which will build credibility and trust in your business.
By providing quick answers to common questions, you can provide excellent customer support, easing the burden of your customer service representatives.
17 – Structure Your Content
Web Pages that are poorly written, difficult to read and have readability issues have a high bounce rate. However, a well-structured article that is easy to read can reduce the bounce rate of your website. Google loves well-written and well-structured copy. Make sure to structure your website content to make it SEO-friendly. Your website content includes an introduction, body, and conclusion.
However, content marketers can divide the content into sections to convey the point. If truth be told, good structure is integral to creating perfectly optimised website content. Improving the structure of your website content can significantly enhance readability and user experience. You can improve the content structure to ensure better readability.
Here are some tips for content marketers to structure articles and make them readable:
Use clear and concise headings
Use bullet points and numbered lists
Break up your content into shorter paragraphs
Use images, videos, SlideShare, infographics, and graphs to make your content more engaging
Use white space to separate sections, paragraphs, and images
Use a font that is easy to read and appropriate for your content
Use online readability checkers to check the readability score of your SEO content
18 – Use Compelling Headings
Use headings and subheadings to break your content into smaller, more easily digestible sections. Ensure your headings are compelling, clear, and concise to improve content readability. You can use subheadings to highlight the main points of each section. The title of your article should contain an H1 tag with a primary keyword. At the same time, the main areas should include subheadings with an H2 tag and H3 tags.
19 – Write SEO-Friendly URLs
An SEO-friendly URL is the most critical ranking factor, so it should be easy for search engines and human users to read and understand. It includes relevant keywords and phrases that describe the content of the page. You can create SEO-friendly URLs to improve your website's visibility and attract more traffic from search engines. Use the following tips to create an SEO-friendly URL:
Use descriptive and concise URLs to give users and search engines an idea of what the page is about.
Include relevant keywords for each page to help improve its SERPs
Use hyphens to separate words in a URL
Keep URLs short and relevant
Use lowercase letters to avoid any confusion
20 – Optimise Your Content for Mobile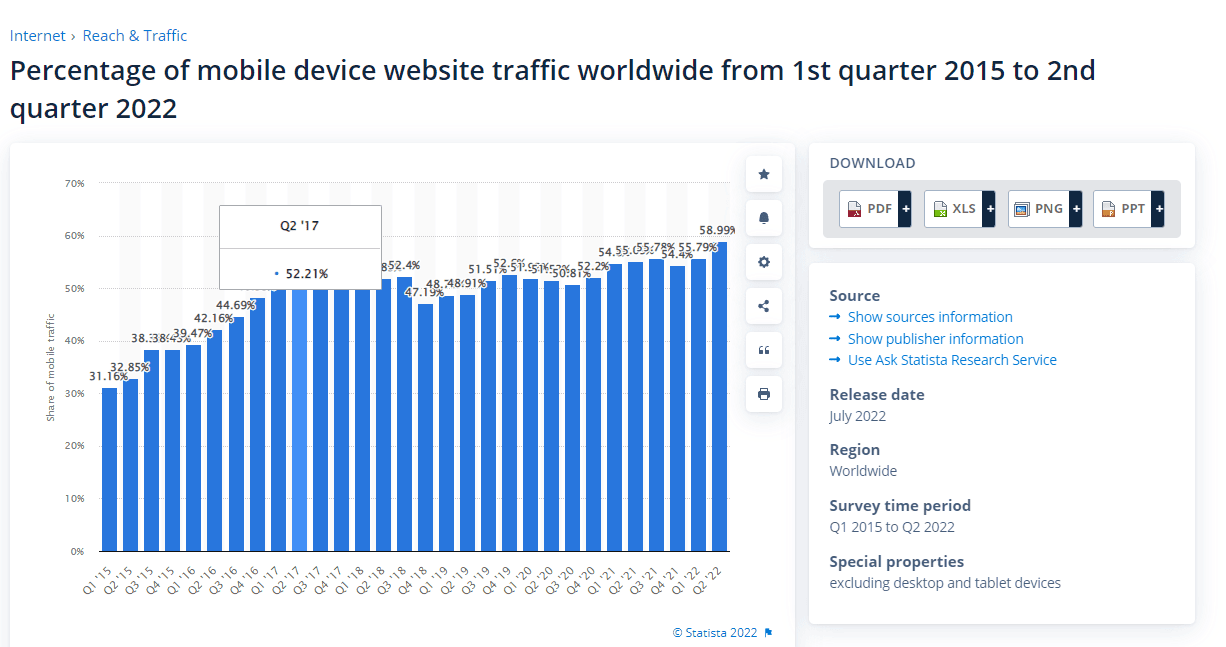 According to Statista, half of the global web traffic comes from mobile devices. Mobile optimisation is a significant ranking factor for driving more traffic. Optimising your website content for mobile devices is vital to achieving higher rankings in SERPs.
Here are some easy ways to optimise your content for mobile devices and ensure that it reaches a broader audience of mobile users.
Use a responsive design to ensure that your content will adjust to fit any screen size
Keep your content concise
Use larger fonts to make your content readable
Use high-quality images to make it more engaging for mobile users
Use short paragraphs and subheadings to break up your content into manageable chunks
Use bullet points, numbered lists, and bold or italicised text to make your content more scannable
Testing your content on multiple mobile devices to ensure it looks and functions well
21 – Write Informative, High-Quality Content
The quality of your content matters. Write informative, engaging, and relevant content that provides value to your target audience. Longer and more detailed content tends to perform better in search engines. Writing informative, high-quality content for your website is essential for engaging your audience and establishing your brand as a thought leader in your industry.
Before writing, you must understand your target audience and what they seek. What are their pain points? What questions do they have? What are they interested in? Once you collect this helpful information, you can craft content that addresses your potential customers' needs and interests. Use reputable sources to gather information and statistics that support your ideas.
22 – Promote Your Content
Share your content on social media, email newsletters, and other relevant channels to increase its reach and visibility. Use social share buttons on your website content to encourage people to click and share your high-quality content around the web. Share your content on social media platforms such as Facebook, Twitter, Instagram, and LinkedIn to promote your content to a broader audience. You can use branded hashtags and mention influencers, industry experts, and other brands to increase visibility.
23 – Use SEO Analysis Tools
Fortunately, many search engine optimisation (SEO) tools are available to help you improve your SERP rankings. With the help of SEO tools, you can perform an in-depth SEO audit of your website to check the best-performing keywords, analyse your link profile, and detect bad links and other possible issues. These tools can guide you in checking the relevance of your target keywords, optimising your links and improving your website content.
Here is the list of the best SEO analysis tools:
SEMrush
HubSpot Website Grader
Ahrefs
Sitechecker
SEOptimer
Woorank
Moz
AnswerThePublic
Seomater
ContentKing
SE Ranking
24 – Update Your Content Regularly
Updating your website content regularly is essential to keep your website fresh and engaging for your audience. By posting engaging, quality content regularly, you can attract new visitors to your website, making your site more trustworthy. Furthermore, Google will consider your blog a credible source for searchers.
Consider adding new content formats like videos, podcasts, or infographics to keep your content fresh and engaging. Use analytics tools to track your content's performance and use that data to inform future updates. Make sure that your content is relevant to your audience and industry.
So, update your website content frequently to maintain your SEO performance and improve your search engine rankings.
25 – Include Schema Markup
Schema markup is a type of structured data you can add to your website's HTML code to help search engines understand the content on your pages. Including the appropriate schema markup for your publications can help search engines understand the type of content and display rich results. Add schema markup to all relevant content on your website, including products, blog posts, events, and more. Schema Markup can help you increase your website traffic and delight your customers with relevant answers. It will improve search engine rankings and increase visibility in search results.
Wrapping Up
Following these SEO writing tips, you can create perfectly optimised website content that ranks well in search engines and provides value to your target audience.
Last update on 2023-04-18 / Affiliate links / Images from Amazon Product Advertising API