Top 10 Graphic Design Courses for Students
Hey there, budding design enthusiasts! Welcome to our latest article, "Top 10 Graphic Design Courses for Students." We know you're eager to dive into graphic design, and we're here to give you a leg up on your creative journey.
With the digital age in full swing, the demand for skilled graphic designers has skyrocketed. Whether you want to make a career change, refine your existing skills, or nurture your passion, you're in the right place!
This article will provide an overview of the top 10 graphic design courses tailored for students like you. We've carefully curated this list to include a diverse range of options that cater to different learning styles, budgets, and levels of expertise. We've covered you, from free online courses to prestigious design schools!
As we walk you through each course, we'll highlight the unique features, curriculum, duration, and potential career outcomes. This lets you decide which course best aligns with your goals and aspirations.
So, are you ready to embark on your design journey and explore the world of colours, typography, and visual storytelling? Great! Let's dive in and discover the top 10 graphic design courses for students that will help you unleash your creative potential.
1 – Graphic Design Basics
If you're interested in mastering the art of graphic design, then you're in luck because Ellen Lupton and Jennifer Cole Phillips have a 35-minute class that can help you crack the code to great design!
The key to great design is having a solid foundation of core principles. This is precisely what this class offers – a walk-through of five basic principles of graphic design that are perfect for all types of projects that involve images and type. This includes creative design, marketing materials, and even photography!
The lessons in this class are super informative and interactive. Not only will you be given examples of each principle, but you'll also get to see a demonstration of how to apply them in practice. By the end of the class, you'll have a solid foundation to create inspired, functional designs.
Here are some of the things you can expect to learn from the class:
Identify and define five basic design principles
Critique your work for effectiveness and balance
Apply each core concept in future projects
Ellen and Jennifer are co-directors of the Graphic Design MFA Program at the Maryland Institute College of Art (MICA), so you can rest assured that you're learning from experts in the field. The class is inspired by their popular textbook, Graphic Design: The New Basics, which is now in its second edition and available online and through Princeton Architectural Press.
It doesn't matter if you're new to these principles or looking for a refresher – this class is designed for everyone. You'll gain a solid understanding of the visual language that fuels all great design, and you'll be able to apply these principles to your projects immediately.
2 – Adobe Illustrator CC – Essentials Training
Dan Scott is a designer with Adobe Certified Instructor and Adobe Certified Expert credentials. The course is designed to teach students how to use Adobe Illustrator effectively while working on practical, real-world projects.
The course is geared towards individuals new to Illustrator and design in general. The instructor will start with the basics and guide students through step-by-step processes.
Students will learn the essential techniques required to create various designs using Illustrator during the course. This includes icons, logos, postcards, and hand-drawn illustrations. The course will cover topics such as lines and brushes, manipulation of type, and using colour like a pro by exploring Illustrator's clever secrets.
In addition, students will learn how to push, pull, cut, and repeat artwork. They will also learn how to redraw real-world examples of famous logos. The course will cover essentials such as correct saving and exporting techniques and other valuable tips and tricks.
By the end of the course, students will be able to create stunning designs using Illustrator and have the necessary skills to bring their creative ideas to life.
3 – Adobe Photoshop CC – Essentials Training Course
Are you looking to take your Photoshop skills to the next level? This course has the 'secret sauce' to enhance backgrounds and remove people from images with just a few clicks!
By the end of the course, you'll have super skills and be able to master advanced techniques that will make your images stand out. You'll learn how to mask anything, even pesky hair, and use these skills to clearcut images.
Making type interactive is another vital skill you'll acquire during the course. The instructor will walk you through popular visual styles and teach you the tools and tricks needed to recreate them. There's a fun section where you'll learn how to distort, transform and manipulate images!
But that's not all. You'll also learn how to create your graphics from scratch using simple techniques. The instructor will show you how to retouch photographs like a professional and even teach you how to put an island inside a bottle!
Don't worry if you're a beginner; the course is designed to help you easily follow along. Exercise files are available to download, and the instructor will set plenty of assignments so you can practice what you've learned.
4 – Adobe InDesign CC – Essentials Training Course
One of the first things you'll learn is how to work with colour. Dan will show you how to choose and use corporate colours and pick those that work well together. You'll also explore how to choose and use fonts like a professional.
Images are also an essential aspect of document design, and in this course, Dan will teach you how to find, resize, and crop images for your documents. But it's not just theory – there are projects for you to complete, so you can practice your skills and use these for your creative portfolio.
Dan has supplied exercise files for you to follow to make the learning process even more accessible. He'll also save his files as he goes through each video so that you can compare yours to his – this is especially helpful if something goes wrong.
And don't worry if you get stuck – Dan will be around to help. If you need help, drop a post in the video's Questions and Answers section, and he'll be sure to get back to you.
Dan has over 15 years of design experience and is excited to share every design trick he's learned. His ultimate goal is for you to finish this course with all the necessary skills to start making beautiful documents using InDesign. So, let's get started!
5 – Social Media Content Creation in Canva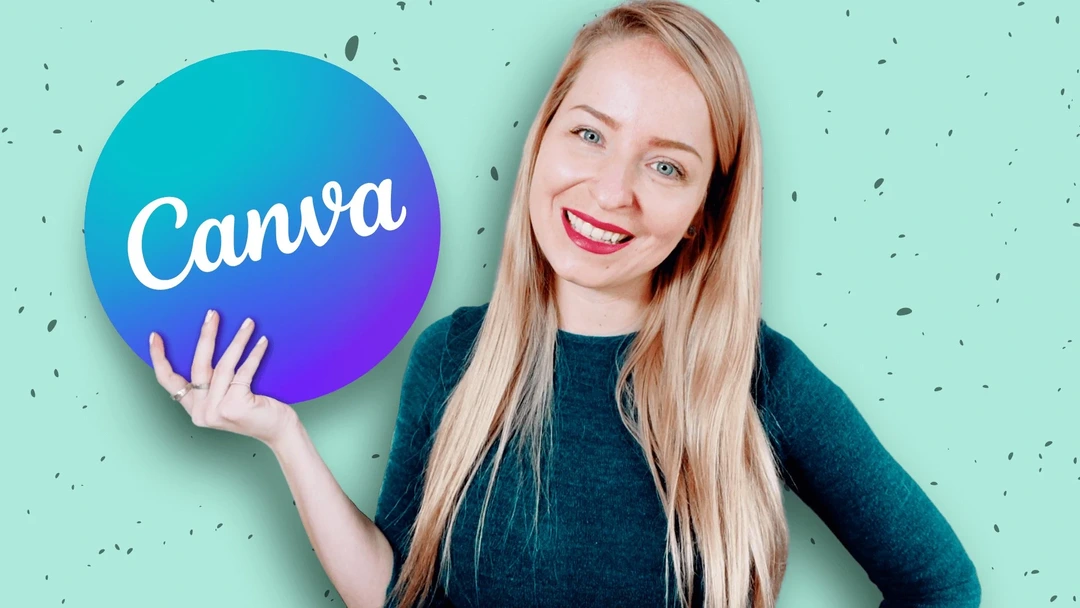 If you're a beginner in social media content creation, or an expert looking to pick up some new tricks, there's something in this course for you! This course is designed to teach you how to create beautiful graphics within Canva that will help turn your online presence into something truly remarkable.
Throughout the course, you'll be taught using follow-along videos where the instructor shares his screen with you, so you can create your projects at your own pace as you watch! Plus, you'll receive custom, downloadable, mobile-friendly templates to ensure that each graphic you create will look fabulous on mobile too.
If you want to improve your content creation skills for Instagram, Facebook, Pinterest, YouTube, and other social media platforms – this course is the perfect place to start. You'll learn how to make the most of the Pro (Paid) version of Canva, but the instructor will also show you how to get around some of the premium features for those of you who will be using the free plan of Canva by using some clever hacks and helpful external tools.
This course has exciting, valuable lessons that teach you how to create stunning graphics. Whether you're just looking for guidance on basic graphic creation or an expert looking to take your skills to the next level, this course has something for everyone.
6 – Graphic Design Masterclass
If you're eager to learn all the skills and techniques you need to create incredible designs, this class is the perfect choice! This class is tailored to beginners in graphic design who want to learn the basics of design theory and practical skills for creating logos and branding packages.
Throughout the course, you'll extensively review typography, colour theory, layout and composition, and how to use photos in the design. You'll also learn about photo manipulations and editing, magazine layout design, branding, and logo design – to name a few topics.
The course also covers the basics of Adobe Photoshop, Illustrator, and InDesign, essential tools for every designer to know and master. You'll get to work on projects with real-world applications, allowing you to practice your new skills and create designs you'll be proud of.
Don't worry if you're intimidated by learning Photoshop, Illustrator, or InDesign – the instructor will guide you through the learning process step-by-step. By the end of the course, you'll have a solid understanding of the essential tools and techniques required to create unique designs.
So, what are you waiting for? Sign up for this course today and start your journey to becoming a fantastic designer!
7 – Typography That Works
Have you ever wondered why some designs look clean and intelligent while others appear clunky and incompetent? It all comes down to typography! Good typography can elevate your content and make it a pleasure to read, while bad typography can suck the energy out of your content and leave it dead by the side of the road.
In this course, you'll learn all about clean, innovative typography and how to create designs that make you (or your client) look clean and bright. You'll discover what gives a sans-serif typeface its unique character and how to create a palette of light and dark tones that work together seamlessly.
You'll also learn to exploit the fussy details of a full-bodied serif-type family and how to customise slab faces, which can be heavy furniture in a design. By the end of the course, you'll have a solid understanding of the different types of typography and how to choose the right one for your design.
The course is designed to be accessible to anyone, regardless of their previous design experience. The instructor will guide you through each lesson step-by-step, giving you plenty of opportunities to practice your new skills.
So, if you're ready to take your typography skills to the next level, sign up for this course today! You'll learn to create clean, intelligent designs that stand out from the crowd and capture your audience's attention.
8 – Logo Design with Draplin
Aaron Draplin is a designer based in Portland who brings pride and craftsmanship to every project he takes on. Whether designing for clients like Nike and Ride Snowboards at his Draplin Design Company or working on his brand, such as his iconic Field Notes memo notebooks, his work always stands out as functional, nostalgic, and iconic.
In this 70-minute class, you'll get a behind-the-scenes look as Aaron shares his logo design process for a personal project – his family crest.
He'll walk you through the entire process, from conducting background research to choosing geometric structures and typography and selecting the perfect colours. Aaron provides helpful tips and shortcuts in Illustrator throughout the class for creating beautiful work hyper-efficiently.
One of the key takeaways from the class is the importance of simplifying designs to create compelling logos. Aaron emphasises this throughout the course and shows you how to apply this technique in your work.
This class is perfect for designers, creators, and anyone who wants to be inspired by a master at work. Whether a beginner or an experienced designer, you'll leave this class with new skills and techniques to apply in your design work.
9 – Practical Graphic Design
Graphic design is all about communicating an idea effectively, which is needed in every industry. If you want to take your message to the next level, you can do so with InDesign by learning practical graphic design principles that will help catch your viewer's attention and guide them through your design.
In this class, graphic designer Kyle Aaron Parson will walk you through the basics of InDesign and show you practical ways to communicate effectively through layout design. You'll learn how to use production terms like trim, bleed, and margins to create visually appealing layouts, as well as how to establish structure in your designs using hierarchy.
Throughout the class, you'll also gain a solid understanding of typography basics, an essential skill for any designer. You'll learn how to apply what you learn to client files, giving you real-world experience for your design work.
One of the best things about this class is the provided interactive practice files. These files will help you develop your abilities and knowledge throughout the course, so you can apply what you learn quickly and easily. By the end of the course, you'll have polished layouts to add to your portfolio, which will help you stand out in a competitive industry.
So, if you're ready to take your design skills to the next level and learn from a seasoned professional, sign up for this class today! You'll gain practical skills to apply to your design work, making you a more effective and confident designer.
10 – The Branding Masterclass for Graphic Designers
Have you ever struggled with the brand development process and felt unsure of how to turn your ideas into a fully finished project that will impress your clients? You're not alone! Creating successful brand designs takes more than technical skill – it requires a deep understanding of the client's needs and a creative approach to brainstorming and ideation.
In this class, you'll learn how to take a practical, real-world approach to branding by following a case study for a sushi restaurant and delivery service. The instructor will guide you through each step of the branding process, from brainstorming and ideation to creating a finished, polished design that will impress your clients and showcase your skills.
One of the best things about this course is that it's designed to help you land bigger, higher-paying clients and take your design career to the next level. You'll gain the tools and knowledge to spark creativity and develop and implement meaningful ideas. Plus, you'll learn several tools to help prevent creator's block, so you'll never have to stare at a blank page again.
By the end of the course, you'll feel confident filling those pages with finished, polished content that will wow your potential clients. You'll understand the branding process and the skills you need to create successful designs to help your clients achieve their goals.
So, if you're ready to take your branding skills to the next level and start landing bigger, higher-paying clients, sign up for this course today! You'll gain practical skills and real-world experience to help you stand out in a competitive industry and propel your design career forward.
Wrapping Up These Graphic Design Courses for Students
In conclusion, the dynamic world of graphic design continues to grow and evolve at an unprecedented pace, making it increasingly crucial for aspiring designers to receive the best education and training possible. The "Top 10 Graphic Design Courses for Students" outlined in this article represent diverse educational opportunities, each with its unique approach, philosophy, and specialisation.
By choosing a course from this curated list, students can be assured they will receive a comprehensive education emphasising graphic design's technical and conceptual aspects. These courses provide students with a solid foundation in design principles, typography, colour theory, and digital tools while fostering critical thinking, problem-solving, and collaboration skills.
In today's competitive job market, it is essential for designers to not only be proficient in their craft but also to be adaptable and capable of embracing new challenges. These top graphic design courses prepare students for the ever-evolving industry by encouraging them to push the boundaries of their creativity, experiment with new techniques, and remain curious about the world around them.
Choosing a graphic design course ultimately depends on the individual's goals, interests, and learning style. Whether it's an intensive summer program, a full-time degree, or an online course, each of these top 10 options can equip students with the knowledge, skills, and experience they need to succeed in the competitive world of graphic design.
As a design educator, I encourage aspiring designers to pursue their passion and strive for excellence in their chosen fields. With dedication, hard work, and the proper educational foundation, there's no limit to what the next generation of graphic designers can achieve.