18 Latest Web Design Trends To Create Stunning Websites
The domain of web design is ever-evolving, and 2023 promises to be a year of innovation and boundless creativity. As digital experiences continue to shape how we interact with everything, from information conception to seamless user journeys, staying at the forefront of design trends becomes crucial.
This article delves into the 18 latest web design trends that define websites' aesthetic and functional aspects in 2023 and beyond. From immersive visuals to intuitive user interfaces, we explore exciting concepts that will enable designers and businesses to craft stunning online experiences that captivate, engage, and inspire visitors. 
Why should you know the latest web design trends? 
Understanding the latest web design trends is essential because they shape today's online experiences. These trends dictate how websites look, feel, and function, directly impacting user engagement and satisfaction. By staying informed about these trends, you ensure your website remains visually appealing, easy to navigate, and relevant to modern user expectations.
Whether adopting responsive designs for seamless mobile browsing, integrating intuitive navigation for effortless exploration, or incorporating vibrant visuals for a captivating aesthetic, embracing these trends helps create a user-friendly and impactful online presence that keeps visitors coming back for more.
Web Design Trends To Watch Out For
1: Behavioural Design: Shaping User Habits Through Engaging Experiences
In the past, tracking your daily activities and habits through a mobile app seemed like a distant dream. Fast forward to today, and we use mobile apps to meet our fitness goals, build new habits, or even track our calorie counts. Behavioural design is at the core of this shift – a captivating blend of psychology, innovation, technology, and creativity that aims to trigger specific user behaviours through engaging experiences.
Imagine this: You download a fitness app that tracks your daily walks and calculates the calories burnt. As those numbers increase, you are filled with accomplishment and motivation. Moreover, the app rewards you with badges and recognition, reinforcing your commitment to maintaining a healthy routine. This is a prime example of behavioural design in action. The app is not only providing an enjoyable digital experience to users, but it is also helping them shape their behaviours and habits in positive ways. 
At its core, behavioural design seeks to answer one fundamental question: "Why do people do the things they do?" This question is a guiding principle for designers eager to understand user motivations, and reflecting on it empowers them to drive desired actions. By studying user behaviour patterns and conducting experiments, UI/UX design agencies can create interfaces and experiences that attract attention and encourage long-term engagement and behaviour change.
One notable success story of behavioural design is the meditation app Headspace. The app's popularity can be attributed to its ability to engage users actively. It encourages users to participate in daily meditation sessions, gradually shaping healthy habits. Through carefully designed interactions, as shown in the image, Headspace taps into the user's desire for personal growth and well-being, demonstrating how behavioural design can be a powerful tool for cultivating positive routines.
2: Memphis Design: A Nostalgic Revival With A Modern Twist
Nostalgia has a unique way of influencing design trends, and in 2023, the web design domain witnessed the surprising return of Memphis Design. Rooted in the vibrant aesthetics of the 1980s, this design trend uses bold colours, geometric shapes, and playful patterns to create visually striking digital experiences. While Memphis Design has its origins in the past, its revival in the present comes with a modern twist that captures the essence of both eras.
The appeal of Memphis Design lies in its ability to break away from convention. It encourages designers to think beyond the ordinary and infuse a sense of freshness, creativity, and uniqueness into their work. By challenging traditional design norms, Memphis Design brings boldness and bravery, leaving a lasting impression on users. 
The snapshot shows Upperquad's website, a creative company that uses striking geometric shapes and vibrant colours, creating an engaging online experience for users. 
3: Visible Borders: Creative Content Structuring
Grids typically define web designs, though in the past, the norm has been to keep the grids invisible. Now, visible borders have emerged as a design trend that adds a touch of realism and elegance to websites. Borders are more than mere dividers. They create a sense of structure and organisation when used thoughtfully, enhancing the overall user experience. In 2023, web designers are leveraging this trend to develop layouts that guide users and provide a visually appealing browsing journey.
The magic of visible borders lies in their ability to separate content into distinct sections, as seen on the website of Devran Dogarogulu. 
This streamlines navigation and allows designers to present more information without overwhelming the user. By embracing visible borders, designers balance aesthetic appeal and functionality, ensuring that users can explore content effortlessly while appreciating the careful arrangement of elements.
4: Moving Type: Typography Takes The Spotlight 
Typography has long been a cornerstone of design, crucial in conveying information aesthetically. However, in 2023, typography takes on a new dimension with the integration of animation. The combination of moving type and animation breathes life into websites, creating an interactive and engaging user experience, as in the website of the Jomor design agency. 
This trend disrupts traditional notions of static text, inviting users to explore content dynamically and captivatingly.
Once reserved for graphic elements and transitions, animations are seamlessly intertwined with typography. By carefully choreographing movements, designers can enhance the readability of text while capturing users' attention. From subtle rotations to more complex animations, moving type transforms the reading experience into an art form, allowing users to interact with content in visually pleasing and informative ways.
5: Complex Gradients: Adding Depth And Dimension 
Gradients have evolved notably, transitioning from simple colour combinations to complex and captivating visual elements. In 2023, complex gradients emerge as a vibrant trend that adds depth and dimension to flat images. These gradients serve as versatile tools for modern web design, offering a unique way to enhance visual interest and engagement.
The revival of complex gradients can be attributed to their ability to balance minimalist and visually captivating aesthetics. Take a look at the website of Vita Architecture.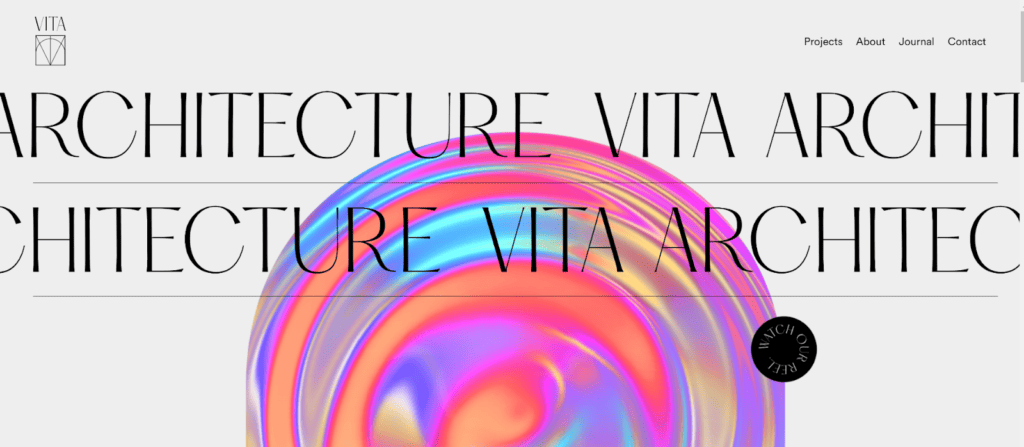 By blending multiple colours, designers have created visual layers that capture users' attention and encourage exploration. Complex gradients, as used in the example above, breathe life into digital visuals, adding a touch of creativity and interactivity that resonates with today's audiences.
6: Claymorphism: Playful Interactions 
As web design trends evolve, Claymorphism emerges as a fresh and captivating approach in 2023. The trend combines light, pastel, and vivid colours with rounded corners and double inner and outer shadows. The result is a friendly and interactive 3D aesthetic that seamlessly blends realism with minimalism, inviting users to engage with captivating visuals.
Claymorphism's charm lies in its ability to balance the tangible and the digital. By infusing digital elements with a sense of tactility, designers connect users and the online experience. The website of Christmas Wannathis effectively uses Claymorphism, as you can see from the image. 
The trend's emphasis on playful and approachable design elements resonates with audiences, instilling a sense of connection and interaction that transcends the screen.
7: Oversized Typographic Hero Image: Creating A Memorable First Impression
Your website's ability to captivate visitors hinges significantly on the initial impression. The hero section – the visual gateway to your online domain, is the hero here, as the name suggests. A poorly designed hero section risks losing a visitor's interest before they even begin to explore. This year, the hero section will see a transformative shift. The era of traditional hero images created a groundbreaking trend: oversized typographic hero images. 
See the trend in action on the website of Azzerad Studios. Bold and hefty letters reign the hero section. Though it's devoid of videos or photographs, it commands attention. 
As the inaugural touchpoint for website visitors, the hero image speaks volumes, increasingly encouraging modern designers to embrace this captivating 2023 trend.
Typography of unconventional proportions injects an air of novelty into design philosophies. Opting for larger-than-life text creates a striking initial impact and seamlessly weaves disparate design elements together. This versatile technique, fitting for minimalist and maximalist designs, lends a fresh twist to user interfaces, setting the tone for immersive online experiences.
8: Engaging Interactives: Immersive User Experiences 
Interactive web design is more than just a fad. It is a cornerstone of modern digital experiences. More than an aesthetic trend, it is a strategic imperative for every designer. The task is to create websites that attract, retain, and educate visitors. In an era where simplicity reigns supreme, excessive plainness can prove counterproductive. This is where the allure of engaging interactives steps in, like that of the website design of the interior design company Moooi.
The driving force behind such interactive web design is ensuring visitors linger, actively exploring the online platform you have created. 3D animations, videos, and graphics are powerful tools to magnetise attention. Using editors like Blender, interactive backgrounds that captivate and add flair to home pages can be built. Such elements invite users to interact through clicking, scrolling, swiping, and dragging and establish meaningful engagement. This reduces bounce rates and offers visitors value by making a deeper connection with your website. 
Infusing interactivity into your design sparks curiosity and piques interest. This brings in an unspoken dialogue between users and your company. In this digital era, attention is a prized possession, and this trend could be a pivotal element in crafting a captivating and enduring online presence.
9: Interactive Fonts: Evoking Emotion Through Typography 
Gone are the days when fonts were mere tools for conveying words. In the modern digital arena, fonts wield influence, leaving lasting impressions on visitors. As technology advances and resources flourish, fonts metamorphose into vessels of creativity and imagination.
Consider Dillinger's website, where a cursor's dance triggers a font's transformation, showcasing its versatility. 
The interplay between text and background creates a seamless read, enhancing user experience. Contemporary no-code platforms empower designers to explore elaborate font effects with ease. Yet, moderation is key. While animated fonts captivate, excessive use can divert focus. Striking the perfect balance ensures that fonts complement, rather than overshadow, the website's essence.
10: Parallax Scrolling: Providing A New Browsing Experience 
Remember when websites used to be plain and simple? Well, not anymore! Scrolling down specific web pages makes you feel like going on a fun journey. This nifty trick is called parallax scrolling!
In the past, scrolling was like turning pages in a book. But now, it is like entering a whole new world. The page moves along as you scroll, just like in a movie. It is like strolling through a beautiful painting that comes alive. This unique scrolling makes you feel like you are part of the story, not just watching it.
And guess what? Parallax scrolling isn't just for looks. It lets you do things on the page. You can click and play with stuff as you scroll. It is like having a game and a story all in one. In 2023, websites are taking on an aura of magic, where you are not just visiting but part of what is happening. The website of Admire and Amaze makes the best use of parallax scrolling. 
11: Handmade Graphics: Creating Authentic Connections 
Nothing adds a personal appeal like a human touch. In the era of stock images and surreal illustrations, hand-drawn art makes a mark with honest and emotional appeal. It is not super polished and smooth like computer graphics, but it is flawed and casual, making it extraordinary. It adds a human feel to websites; web designers use this art to stand out. 
Handmade graphics are like a unique stamp on your webpage. This cool trend grabs users' attention and reminds them that real people are behind the websites they visit. It makes websites more attractive and genuine and creates authentic connections. The website Sweet Magnolia says it all. You can see the hand-made art all around the webpage. 
12: Abstract Illustrations: Artistic Flair 
Picture a world where websites become canvases for artistic expression. That's where abstract illustrations come in, adding a touch of nature and human creativity to the digital space. While clean and colourful graphics have been the stars of web design, a new trend is emerging – one that feels more natural and unique.
Abstract illustrations are like drawings made with ink and paper on a computer. They bring out the artist in web design. It's like blending different textures – watercolour, ink, and even the feel of paper – to make the pictures look exciting and authentic, like that of the website of 'how many plants'. 
The lines in these drawings are soft and gentle, like brushstrokes on a painting. They show the human touch that makes things unique. Among the many web design trends, abstract illustrations stand out. They add a creative twist to websites, making them feel warm and inviting, like a piece of art you can interact with online.
13: Illustrations: Captivating With Creativity
Illustrations have firmly established themselves as a cornerstone of modern web design, captivating visitors and breathing life into digital spaces. In 2023, this trend continues to flourish, with designers leveraging creativity through two distinct styles: Collage and Abstract. 
College-style illustrations weave diverse elements to craft visually engaging narratives, while Abstract graphics embrace the surreal and the unexpected, creating a unique visual language that sets websites apart. These illustrations are potent tools to captivate audiences, convey complex ideas, and forge a memorable online presence. Here is an example of a website design by Danielle Toledo that uses illustrations well. 
14: Less Neumorphism: A Shift In Focus
Neumorphism, a standout trend in 2020 and 2021, brought a touch of realism and futuristic touch to UI design. With soft shadows and a modern aesthetic, it caught the eye and held attention. However, the tides are turning as designers prioritise accessibility. Neumorphism's distinct appearance doesn't excuse overlooking the crucial aspect of website accessibility. It is a reminder that aesthetics should harmonise with usability, ensuring an inclusive and seamless user experience. In 2023, the design community embraced a more balanced approach, letting aesthetics and accessibility coexist harmoniously like the web design shown in the image. 
15: Scrapbook Style: Bringing Together The Real And Digital World 
Imagine making a scrapbook with your favourite pictures and doodles. Well, websites are doing something similar – it is called the scrapbook style. This trend mixes real things like drawings and cut-out pictures with the digital world.
Think of it as a combination of old and new. Do you know how sometimes old things feel cosy and friendly? That is what this style does to websites. Hand-drawn doodles and handwritten words make it feel personal and social. It is like adding a bit of nostalgia to your digital adventures.
This trend makes websites feel personalised, warm and cosy, like flipping through your scrapbook.
The web design of Hakaji is the best example of the Scrapbook style. 
16: Material Design: Texture And Usability
Material Design, introduced by Google in 2014, continues to make waves in 2023. Amidst the sea of minimalism, Material Design stands out by infusing colour, shadows, and textures to create a visually engaging digital environment. It is an evolution of the flat design trend, enhancing user experience and usability by combining aesthetics and functionality. Material Design reminds us that good design is not just about appearances. As in the image below, it is about crafting intuitive interfaces that users can effortlessly navigate and engage with. 
17: More Social Proof: Building Trust Through Validation
Trust remains an indispensable factor in cultivating relationships, be it personal or professional. As websites often serve as the first point of contact between businesses and customers, fostering trust through websites becomes paramount. In 2023, web designers tap the power of social proof through various means, including gauging overall customer satisfaction, showcasing customer references, and prominently displaying ratings from platforms like Google and Yelp. These trust-building elements reinforce the credibility of brands and encourage users to engage more confidently. The image below shows the website design of Vendasta, in which the user is first guided through the testimonial. 
18: Overlapping Text: Breaking Free From Conformity
The grid has long dictated web design, a structured framework maintaining order. However, rebellious spirits among designers have emerged, challenging this order with techniques like Neo-brutalism. This rebellion has given rise to the captivating trend of overlapping text. Websites in 2023 embrace the allure of text layered over imagery, creating a dynamic and visually arresting effect. The controlled chaos of this trend injects a sense of vitality and spontaneity into digital spaces, a departure from the rigid conformity of the past. By breaking the rules, web designers craft pages that intrigue and entice while maintaining an overall harmonious aesthetic, as shown in the image below. 
Latest web design trends for enhanced user experience
Incorporating some of the latest web design trends into your website will elevate your online presence in 2023. While integrating these trends may not be feasible or necessary, you can selectively choose a few prominent features or subtle nuances to enhance your site's visual appeal. This can drive heightened engagement, increased clicks on your calls-to-action, and a more favourable outcome for your online business. By embracing these design elements, you can create a website that stays current and delivers a seamless and captivating browsing experience for your visitors.