The 10 Best Gas Station Logos from Around the World
Gas stations are everywhere, whether you're cruising down the interstate or filling up at your local corner stop. But not all gas stations are created equal regarding their logos. Some sport iconic and memorable designs that drivers can spot from a mile away, while others have forgettable logos.
This post will count down the ten best gas station logos worldwide. From the clean minimalism of Japanese gas stations to the retro flair of American favourites, these logos are more than just markers to tell you where to fill your tank. They're pieces of branding ingenuity and design.
These logos have stood the test of time, becoming ingrained in the landscapes and cultures of their respective countries. They represent companies that revolutionised the gas station industry and brought mobility and convenience to millions.
So rev up your engines and get ready to explore 10 of the most creative and enduring gas station logos globally. You may be surprised at what makes the cut – some are hyper-modern, while others embrace vintage charm. One thing's for sure – these logos have serious design pumped into them.
The 10 Best Gas Station Logos
1 – Shell
Shell is a multinational oil and gas company that operates gas stations and provides global energy services. With over 70,000 employees worldwide, Shell has a far-reaching presence across over 70 countries on six continents.
The company's retail division, Shell Oil, runs over 44,000 gas stations under the Shell brand name. Shell gas stations are instantly recognisable thanks to their distinctive bright yellow and red logo. The logo, which features a mussel shell, has been a core part of the company's visual identity since 1900 when Shell Transport and Trading Company was formed.
In the United States, Shell is one of the largest gasoline retailers. There are over 14,000 Shell-branded gas stations nationwide where motorists can fuel up and take advantage of Shell's rewards programs. The Shell brand aims to provide a quality fueling experience with extras like convenient locations, clear signs and pricing, clean restrooms, and friendly staff.
Globally, Shell gas stations offer drivers high-quality Shell V-Power gasoline containing proprietary fuel additives. Shell also provides other fuels like diesel and liquefied petroleum gas at stations worldwide. In recent years, some Shell stations have begun adding electric vehicle charging points as demand for EV charging infrastructure increases.
Beyond gasoline retailing, Shell is a fully integrated energy company involved in oil and gas exploration, production, refining, distribution and marketing. However, its retail gas stations are what most consumers associate with Shell. The ubiquitous Shell brand name and logo have become synonymous with convenient and reliable fueling for drivers worldwide.
2 – ExxonMobil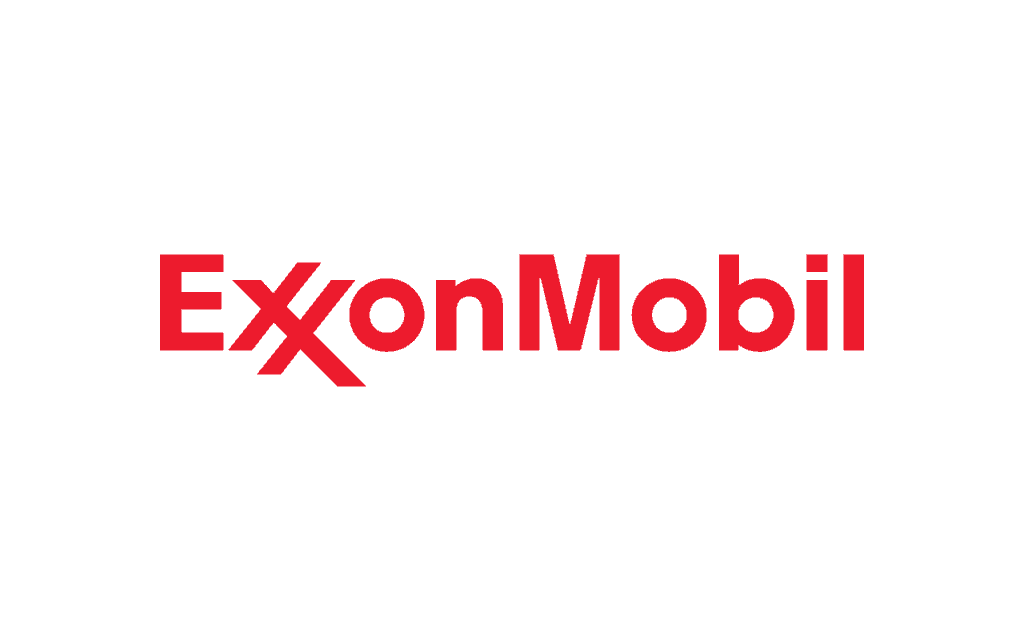 ExxonMobil is one of the world's largest and most well-known oil and gas companies. Headquartered in Irving, Texas, ExxonMobil has operations spanning the globe, with a presence in over 200 countries. The company traces its history back to the late 19th century with the establishment of Standard Oil by John D. Rockefeller. Over the decades, Standard Oil split into multiple companies, with two of the largest successor firms being Exxon and Mobil. These two companies merged in 1999 to create the modern ExxonMobil corporation.
In the United States, ExxonMobil has a widespread network of oil refineries, pipelines, and gas stations, many of which feature both the Exxon and Mobil brands. At its peak in the early 2000s, over 10,000 Exxon and Mobil gas stations were combined across the country. While the number of stations has declined somewhat in recent years due to mergers and shifting business priorities, Exxon and Mobil remain two of the most ubiquitous gas station brands, providing fuel and convenience stores to millions of American drivers.
Beyond its substantial presence in the U.S. retail fuel market, ExxonMobil is also a global leader in oil and gas exploration and production. The company primarily operates upstream in places like the Permian Basin in Texas, the Gulf of Mexico, Canada's oil sands, and across Africa, Europe, and Asia. ExxonMobil is also involved in major liquefied natural gas (LNG) projects to export natural gas worldwide.
Overall, ExxonMobil remains a titan in the energy industry. With its integrated operations spanning from oil and gas wells to pipelines to refineries to branded gas stations, ExxonMobil has a hand in multiple links of the fossil fuel supply chain. The company's scale and reach are immense, touching the lives of millions of consumers who stop at Exxon or Mobil stations to fuel their vehicles. As the energy landscape continues evolving in the 21st century, ExxonMobil will likely remain one of the most influential energy corporations worldwide.
3 – BP (British Petroleum)
BP, formerly British Petroleum, is a leading British multinational oil and gas company headquartered in London. With operations in over 70 countries, BP is one of the world's largest energy corporations. It provides its customers with fuel for transportation, energy for heat and light, lubricants to keep engines moving, and the petrochemicals used to make everyday items.
The company has a significant global footprint, especially at the retail level. BP gas stations sporting the firm's iconic green and yellow sunburst logo are familiar in many parts of the world. In the United States alone, there are over 7,000 BP-branded service stations. BP also has a significant presence in Europe, South America, Australia and Asia. Its extensive refining and marketing segment supplies fuels, lubricants and related products to wholesale and retail customers globally.
In recent years, BP has worked to position itself as a broad energy company, investing in renewable sources such as wind and solar. However, the company's core business remains oil and gas exploration and production. BP's most important oil and gas operations are in the North Sea, the Gulf of Mexico, Azerbaijan, Angola, Trinidad and Tobago. The Deepwater Horizon spill (2010) was a significant setback for the company's efforts to promote itself as environmentally progressive.
BP is embedded in the global energy infrastructure with operations spanning the oil and gas value chain from extraction to end consumer sales. The company produces around 3.7 million barrels of oil equivalent daily and has estimated proven reserves of 18.2 billion. BP plays a vital role in meeting the world's energy demands even as societal pressures mount on fossil fuel producers over climate change concerns. Its vast reach and brand recognition from its service stations make BP one of the most visible energy names worldwide.
4 – Chevron
Chevron Corporation is a prominent American multinational energy corporation headquartered in San Ramon, California. Founded in 1879 as the Pacific Coast Oil Company, it is the second-largest oil company in the United States after ExxonMobil. Chevron has operations worldwide in exploration and production, refining and marketing, chemicals manufacturing, mining, and power generation.
The company has a strong retail presence with its Chevron, Texaco, and Caltex gas station brands. There are over 7,800 Chevron-branded gas stations in the United States alone, making it one of the most ubiquitous brands at the pump. The famous Chevron logo featuring the Chevron Hallmark has existed since the 1930s. Chevron also owns and operates refineries that supply its retail network and other distributors.
In addition to gasoline and diesel fuel, many Chevron stations have convenience stores under the ExtraMile brand. Chevron is continually evolving, with some locations featuring electric vehicle charging stations and renewable diesel pumps and implementing other sustainability initiatives aligned with the company's net zero ambitions. As a Fortune 500 company and industry leader, Chevron's extensive reach and brand recognition make it one of the most visible energy companies for American consumers.
5 – Texaco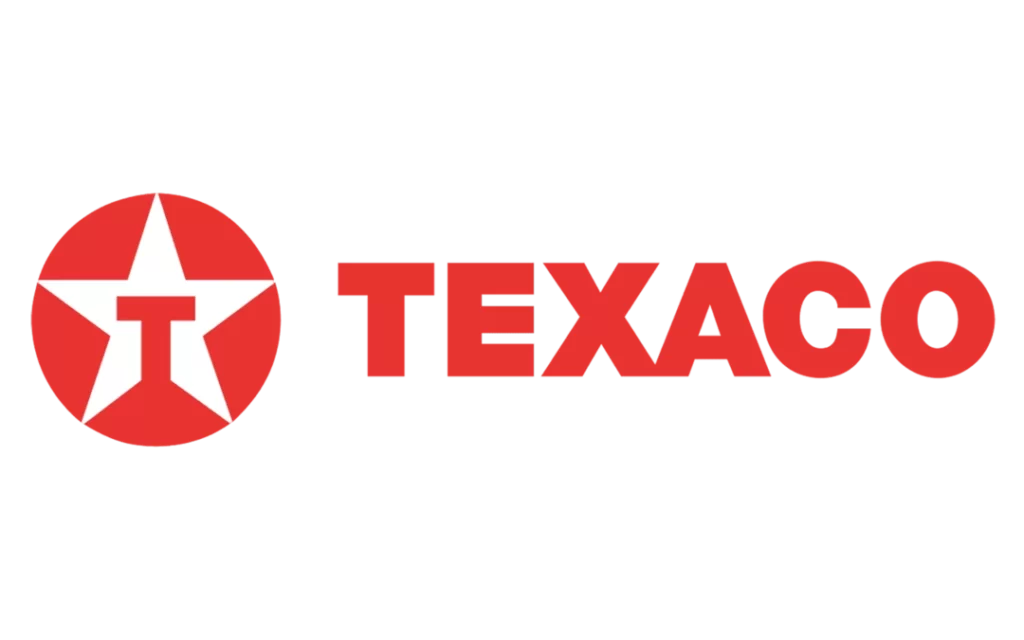 The Texaco brand has a long and storied history in the oil and gas industry. Founded in 1901 as the Texas Fuel Company, it was initially based in Beaumont, Texas. In 1902, the company launched its iconic star logo, which would become one of the most recognisable symbols in the industry.
Texaco operated as an independent oil company for decades, competing against other major brands like Esso, Gulf and Shell. It expanded across the United States and into international markets. Texaco service stations with the star logo became common across America's highways. The brand was known for innovations like the Sky Chief gasoline introduced in the 1930s as a premium fuel.
In advertising, Texaco's brand image was built up through campaigns like the "Trust your car to the man who wears the star" ads. The white-uniformed Texaco service station attendants proudly wearing the star logo came to represent dependable, trustworthy service for generations of American motorists.
The 1980s and 90s saw Texaco struggle through financial difficulty and scandal, including a bankruptcy filing (in 1987). In 2001, the company was acquired by Chevron and became a wholly-owned subsidiary.
While the Texaco name is now just a brand under the Chevron corporate umbrella, the legacy of its star logo lives on. For drivers who remember the classic Texaco stations, the star is an emblem of motoring history and nostalgia from the golden era of American auto culture. Though no longer independent, the Texaco star remains a beloved icon of the oil industry's past.
6 – Esso
Esso is a major international oil and gas company that operates gasoline stations and refineries worldwide. Initially founded in 1911 as Standard Oil Company of New Jersey, it adopted the name Esso in 1972. The Esso name comes from the initials of Standard Oil, as the company was commonly known for many decades.
Today, Esso is a retail brand for ExxonMobil's downstream operations in over 90 countries worldwide. While it has a significant presence across Europe, the Esso brand is also used extensively in Asia Pacific, Africa, and South America. Some of the key countries where Esso gasoline stations and convenience stores can be found include the United Kingdom, Germany, Italy, Sweden, Belgium, Luxembourg, and Denmark in Europe. In Asia Pacific, major Esso markets are Singapore, Malaysia, Indonesia, Japan, and Australia.
As an iconic gasoline brand with over 110 years of history, Esso has a strong reputation for quality fuels and convenient retail locations. ExxonMobil leverages the trusted Esso name to sell gasoline, diesel, heating oil, lubricants, and other petroleum products to commercial, industrial, and retail consumers. Esso stations also often feature convenience stores for food, beverages, and automotive accessories.
The extensive international reach of Esso reflects ExxonMobil's scale as the largest publicly traded oil and gas company. While the Esso brand provides a familiar consumer face for ExxonMobil worldwide, it also operates refineries and production facilities under other names. ExxonMobil produces around 3 million barrels of oil equivalent daily and has proven oil and gas reserves totalling about 17 billion barrels. With its strong brand recognition and service reputation, Esso continues to be a leading energy brand globally.
7 – QuikTrip (QT)
With over 800 locations across the Midwest and Southern United States, QuikTrip is one of the country's largest and most recognised convenience store and gas station chains. Founded in 1958 in Tulsa, Oklahoma, QuikTrip has grown tremendously over the past 60+ years while maintaining a reputation for exceptional customer service, ultra-clean stores, and high-quality food and beverages.
QuikTrip's focus on store design and appearance is part of what makes it stand out. The interiors are spacious and brightly lit, with shiny tiled floors cleaned multiple times daily. Shelves are neatly stocked, and products are conveniently located for customers. The made-to-order kitchens serve hot foods like pizza, tacos, and sandwiches around the clock. There is ample seating inside and outside for customers wanting to dine in.
The brand is known for its top-rated touch-screen food ordering kiosks and bean-to-cup coffee bars. Customers appreciate being able to customise their orders and have them ready quickly. QuikTrip aims to provide speed, consistency, and accuracy at every location.
Additionally, QuikTrip operates state-of-the-art gas stations with numerous pumping stations, so customers rarely have to wait long for fuel. The pumps have modern payment terminals that accept all major credit cards. Customers can also pay directly from their cars at select "QuikPay" locations.
By focusing on customer service, cleanliness, food quality, and efficiency, QuikTrip has become one of the most popular and trusted convenience store chains across its footprint. The company continues to innovate and set the standard for the industry after more than 60 years in business.
8 – Sunoco
Sunoco has a strong presence across the eastern United States and operates an extensive fueling station network and convenience stores. Founded in 1929 and headquartered in Dallas, Texas, Sunoco is one of the largest fuel retailers in the country. The company operates over 5,000 fuel outlets in over 30 states, with a heavy concentration along the East Coast and Mid-Atlantic regions.
Sunoco offers various fuel options for retail and commercial customers, including gasoline, diesel, ethanol blends, compressed natural gas, propane, and electric vehicle charging. The company has invested heavily in expanding its offering of higher ethanol blend fuels like E15 and E85 as demand for renewable fuels increases. Sunoco's fuel stations also provide amenities like public restrooms, air pumps, cash-back services, and fresh food through its APlus convenience stores.
In addition to fuels, Sunoco convenience stores provide a variety of hot and cold snacks, packaged goods, and beverages to meet the needs of travellers and commuters. Popular food offerings include breakfast sandwiches, pizza, hot dogs, fresh fruit, and snacks. Sunoco APlus stores also feature proven coffee brands like Starbucks to appeal to customers looking for a coffee fix on the go.
With its long history and extensive reach along major highways and traffic corridors, Sunoco has become one of the most ubiquitous and trusted fuel brands in the eastern U.S. The company continues to evolve by adding more environmentally friendly fuel options, upgrading its convenience stores, and enhancing the overall customer experience. Sunoco's consistency, reliability and innovation mix have helped solidify its foothold in the East.
9 – Petro-Canada
Petro-Canada is one of Canada's largest and most recognisable gas station chains. With over 1,500 stations nationwide, Petro-Canada has established itself as a Canadian fuel retail industry leader since its founding in 1975. What sets Petro-Canada apart is its commitment to providing high-quality fuels and exceptional customer service.
The company offers a full range of petroleum products, including its proprietary gasoline, diesel fuel, and lubricants formulated to improve engine performance. Petro-Canada was also the first major Canadian retailer to remove lead from gasoline in 1990 and sulfur in diesel in 2006, reflecting its environmental leadership.
In addition to fuels, Petro-Canada stations feature large, well-lit convenience stores stocked with various snacks, beverages, and travel items for grabbing food or supplies on the go. Many locations also have car washes, electric vehicle charging stations, and maintenance garages for motorists' needs.
With its recognisable logo and red, white, and blue colour scheme, Petro-Canada has become a familiar and trusted presence from coast to coast. Drivers can rely on the consistent quality and service provided at Petro-Canada stations across the provinces and territories. The company's commitment to developing top-tier fuels and providing exceptional customer experiences has helped Petro-Canada become a leader in Canada's gasoline retailing and convenience store industry.
10 – Gulf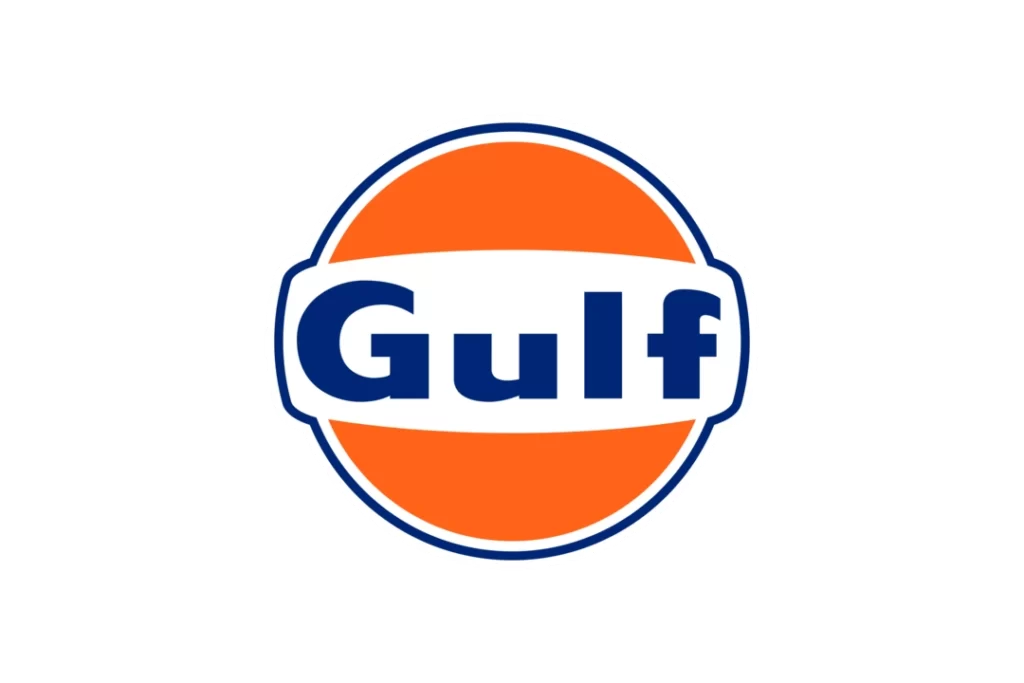 Gulf Oil is an iconic American brand that has been around for over a century. The company's distinctive bright orange disc logo is immediately recognisable and evokes images of the golden age of gas stations and roadside service. Gulf Oil was founded in 1901 by investors, including industrial giants like Andrew Mellon and Henry Clay Frick. It was one of the pioneering oil companies that helped propel America into the automotive age.
In its early decades, Gulf Oil operated oil fields, refineries, and service stations across the United States. Its orange-branded stations with attendants standing at attention were a common sight along America's roadways by the 1920s and 1930s. Gulf Oil sponsored auto racing and aviation events to cement its association with speed and mobility in the public imagination. Gulf Oil logos were famously displayed on the hoods of winning race cars at the Indianapolis 500 throughout the century's middle decades.
Over its long history, Gulf Oil has weathered many industry changes and mergers and acquisitions. But it remains a beloved American brand that conjures up nostalgia for the early days of the open road. The signature orange disc is a bright symbol of America's heritage as a nation on the move. Gulf Oil has fueled our journeys and collective imagination for over a hundred years.
Wrapping Up
Gas station logos may seem mundane, but they offer fascinating insights into graphic design, marketing, and cultural differences worldwide. As we've seen, gas station logos reflect essential aspects of a country's values, history, and aesthetic tastes. Companies invest heavily in developing symbols that resonate with local customers while conveying their brand image.
The best logos balance visual impact, meaning, and adaptability across changing media landscapes. Global gas station branding runs the gamut from the classic elegance of Esso's tiger to the patriotic flair of PetroChina's panda logo. While fueling customer vehicles remains the core business, gas station logos reveal that these companies provide much more than petrol. They offer roadside comfort, pride, adventure, and even wit through their innovative iconography.
The logos explored here show that there is indeed creativity to be found along the highway – creativity that stretches across cultures. Whether they rely on national symbols, clever concepts, or simple shapes, the top gas station logos of the world drive home the importance of great design.
Frequently Asked Questions (FAQs)
What is the significance of a gas station logo?
A gas station logo visually represents the brand's identity and values. It helps consumers recognise and trust a particular gas station, creating a sense of familiarity and reliability.
How do colours in gas station logos affect consumer perceptions?
Colours in gas station logos can evoke emotions and influence perceptions. For example, red may convey a sense of urgency, while green can represent eco-friendliness and sustainability.
Why are some gas station logos more memorable than others?
Memorability in logos often stems from simplicity and consistency. Symbols that are easy to recognise and have maintained their core elements over time tend to be more memorable.
How do gas stations balance tradition and modernisation in logo design?
Gas stations often balance tradition and modernisation by evolving their logos while preserving key elements that reflect their history and values.
What does the future hold for gas station logo design?
The future of gas station logo design may emphasise sustainability, technology integration, and adaptability to changing consumer preferences.